Blind Recruitment - What is it and does it even work?
Blind auditions are nothing new in the music industry with the Boston Symphony Orchestra first introducing the approach in 1952. But does this approach of blind recruiting translate to other industries?
In this post I'll cover:
What is blind recruitment?
Blind recruitment is a way of removing all personal identifying information from candidates' applications and resumes. It reduces the risk of conscious and unconscious bias in the recruitment process and gives applicants confidence that their application will be fairly considered.
How does a blind recruitment process work?
The blind recruitment process involves removing identifying factors such as name, age, location and school names from candidates' applications.
This makes it easier for hiring managers and recruiters to make recruitment decisions based on a candidate's skills, experience, and suitability for a role, by reducing the risk of bias (whether conscious or unconscious) affecting the hiring process.
Whilst many organizations already remove candidates' names from applications (a process known as name-blind recruitment), fully blind recruitment is becoming increasingly popular.
Typically, the following information will be removed from applications and resumes in a blind recruitment process:
Name and photos
Names can give signals about socio-economic background or ethnicity but, more than that, studies have shown that people with easy-to-pronounce names are more likely to be hired because names that are easy to pronounce are associated with trustworthiness.
Names of schools and previous employers
Names of schools and employers can give information about countries that a candidate has lived in which can give signals about ethnicity.
Each school or university has its own academic reputation and links are often made between a candidate's education and background or intelligence. However just because a candidate attended a particular school doesn't mean they're necessarily the right person to hire.
The same goes for company work history. Having worked at Google doesn't necessarily equate to suitability for a role.
Age
Whilst it's possible to get an idea of age based on the years' of experience, removing the dates that someone worked for a particular company or studied a particular course will help to reduce the risk of age bias during the hiring process.
Is bias really a risk in recruitment?
Whilst the majority of hiring teams would never claim to consciously introduce bias into their decision making, unconscious bias is almost always a risk.
Unconscious bias is particularly dangerous because it occurs automatically - individuals make assumptions and judgements based on their own past experiences and background without realising what is influencing their decision making.
Unconscious bias can affect recruitment and promotion decisions and can result in discrimination when it relates to protected characteristics
Is blind recruitment actually effective?
Whether or not blind recruitment will be effective depends on your objectives.
Blind recruiting is designed to help organizations objectively hire the best person for the role. And it can have positive side effects. Publicizing your decision to use blind hiring can also improve the diversity of candidates that apply because they're confident they will be treated fairly.
But problems occur when organizations turn to blind recruiting as a "fix-all" for improving diversity. There is no way that blind recruiting will solve your whole diversity problem on its own and it can even create more diversity problems in some cases. For example:
If you have specific quotas around diversity, the results of blind hiring may not help you to meet these quotas. For example, if you use blind hiring when shortlisting candidates to put forward to hiring managers, it's not possible to create shortlists that are equally split by gender.
Blind recruiting doesn't automatically result in a more diverse range of applicants. Improving the diversity of your workforce also involves well-thought-through recruitment marketing, a compelling employee value proposition, and proper management of your employer brand.
Whilst blind recruiting can help reduce bias during the first stage of the selection process, it doesn't reduce the risk of bias during the interview stage or once the candidate has been hired (think promotions and performance management).
That said, if you are attracting objectively good candidates from a diverse range of backgrounds and believe that bias in the selection process is causing good candidates to be rejected, blind hiring can be massively helpful.
And despite there being well-publicized examples of blind recruitment trials that backfired, blind hiring can still help even when trying to meet diversity quotas. It just needs to be applied in the right way. For example, if an organization is looking to meet a gender diversity quota, the in-house recruitment team could put forward equal-split shortlists to hiring managers with blind hiring used by the hiring managers when reviewing the shortlist.
Blind Recruitment Statistics
Leading organizations like the BBC, the NHS, KPMG, HSBC, Deloitte and Virgin Money use blind hiring or name-blind hiring in their recruitment processes.
92% of founders are familiar with the term "unconscious bias" but only 45% are taking steps to reduce it.
People with ethnic sounding names need to send out 50% more resumes before they get a callback.
When orchestras ran blind auditions, the chances of selection of females increased by between 25% and 46%.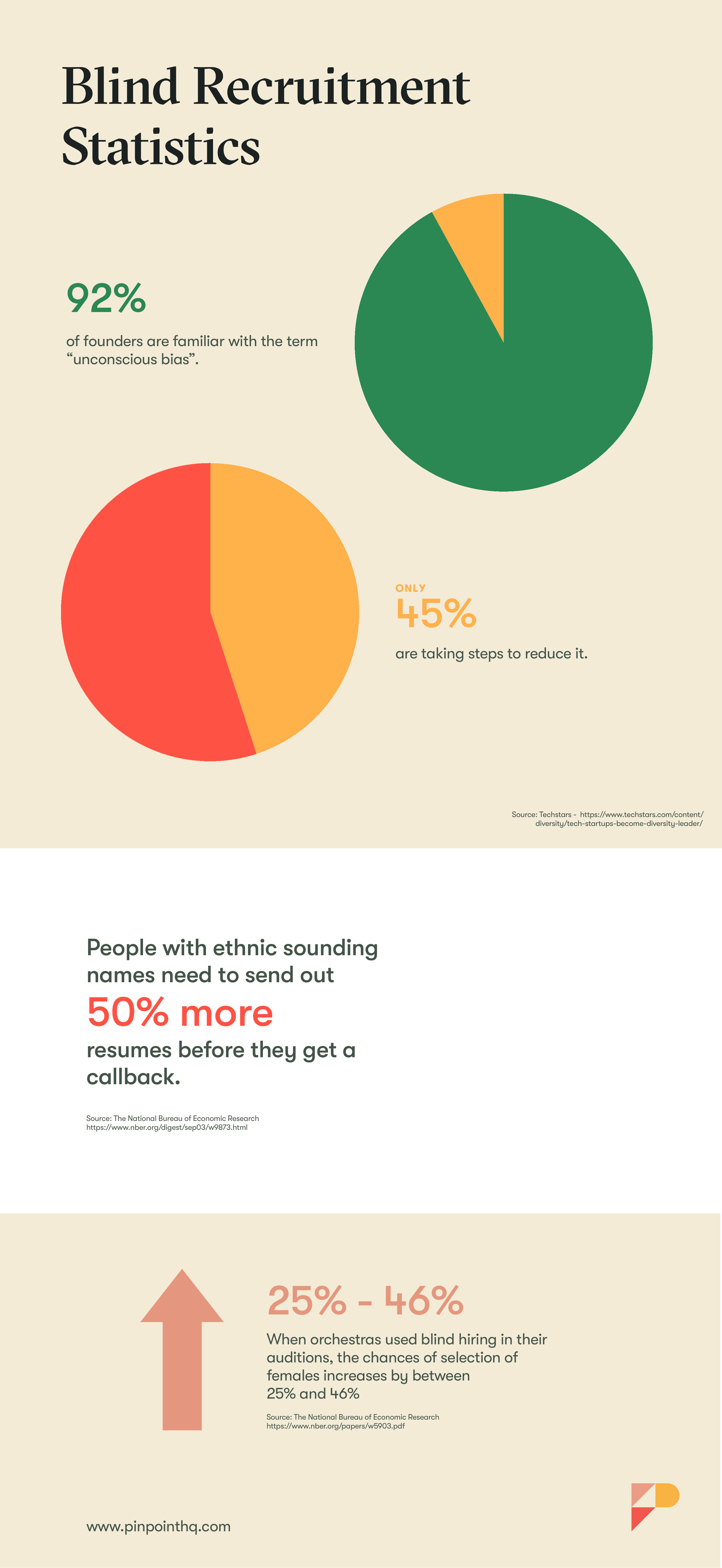 The problems with blind recruiting
If you don't use an applicant tracking system that incorporates blind recruitment software, you will need to manually obfuscate the personal information from applications and resumes. This will be massively time-consuming if you receive a large number of applications and could delay your recruitment process meaning an increase in time to hire.
It can be more difficult to assess someone's cultural fit before the interview because information about hobbies and interest may be excluded from the information presented to the hiring team.
It can be more difficult to assess someone's personality before the interview stage too. Because you have standardized the applications, you won't be able to see things like the formatting of resumes. It can be more difficult to make selection decisions (especially when hiring for creative roles like a graphic designer where the presentation of the CV could have an impact on your selection decision).
Getting started with blind recruiting
Begin by thinking through your objectives. As we've already discussed, there's a big difference between how you'd approach the goal of reducing bias in your recruiting vs the goal of improving diversity.
Think through how your goals will affect which parts of the hiring process blind recruiting should apply to. Will it be just at the point of hiring manager review or will it be used as part of the process to shortlist candidates?
You'll also want to monitor how blind recruiting affects your hiring decisions. Set benchmarks before you start, then review over time to determine whether blind hiring is working for you.
How can Pinpoint Help?
Pinpoint is a recruitment marketing and applicant tracking system with built-in blind recruitment tools.
When you turn on 'Blind Hiring' for a specific job Pinpoint will read the data submitted in applications and resumes and present it so that personally identifiable information is removed.
Interested? Get your free demo here.
Get started with Blind Recruitment
We'd love you show you how Pinpoint makes it easier with an automated process for removing personal information from applications at the press of a button.