Insight
7 Ways to Attract More Retail Candidates for a Seasonal Staffing Boost
October 3rd, 2023
10 minute read
Last year, nearly 9 in 10 retailers were short-staffed for the holiday season, according to Resume Builder.
From high turnover rates to competition for the best workers, retail recruiters face a myriad of obstacles during this time of year.
To get ahead of holiday hiring woes, Pinpoint hosted a webinar in collaboration with Sam Lucking, Senior Recruiting Manager for L'Occitane in the UK and Ireland. In this article, we'll distill Sam's expert insight into 7 actionable takeaways, including a downloadable checklist to help you provide a better candidate experience and stay ahead of the competition this year. 
Make every interaction count with a stand-out candidate experience
When we sat down with Sam to ask how she secures top talent during the holiday rush, she was generous enough to share her advice. According to Sam, the key to hiring great talent during retail's busiest season is an inclusive and timely candidate experience. 
Here are 7 steps to transform your candidate experience, attract more applicants, and make a lasting impression that inspires them to return. 
Grab our Candidate Experience Checklist
1. Design mobile-friendly applications
Make sure your applications provide a great mobile experience. Apply for a role via your own mobile device to get a true understanding of the candidate experience. Use QR codes so people can apply immediately from stores or hiring events. We've found that candidates who apply via QR codes are 8 times more likely to be hired than candidates from job boards.
We live in a world where we want everything instantly. So if you're a candidate and you're applying for a role on your mobile, it needs to be quick. It needs to be simple.
2. Make CVs optional
Many candidates will be entry-level and may not have enough experience to fill a CV. Consider making CVs optional and asking for a personal summary to understand their personality and potential. Simpler applications will be more inviting for candidates with less experience, which can help expand your talent pool.
The reality is, the CV didn't matter; there were still some great conversations with just a personal summary.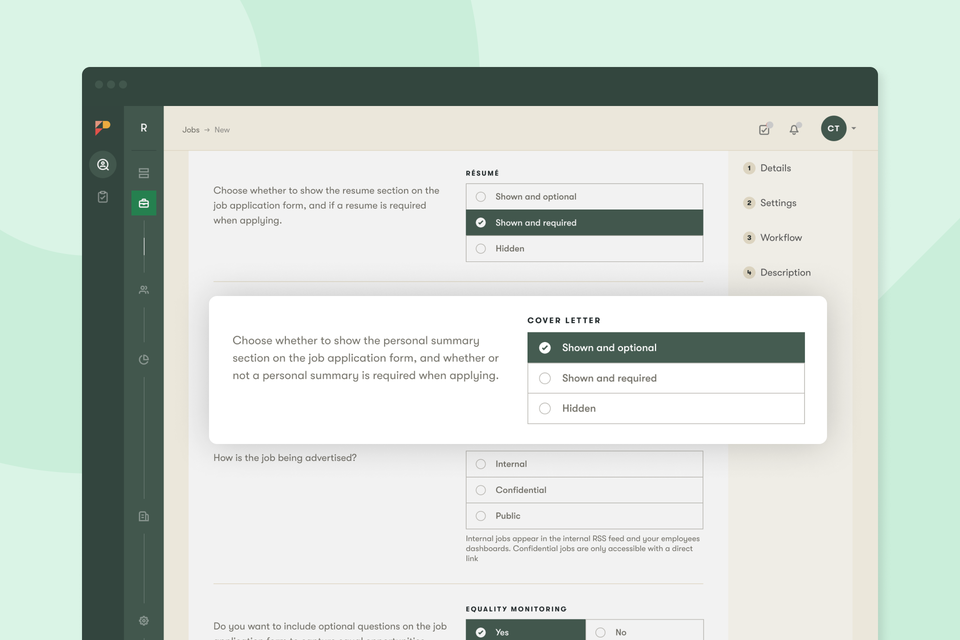 3. Engage your talent pool
Reach out to previous seasonal hires and other qualified candidates from your talent pool. Returners will already be familiar with your brand and processes, making onboarding easier. Candidates from your talent pool have already shown interest and may already be vetted, so your hiring process can move faster.
We have people who come back every year. Lots of temps come back to us because they had a great experience when they joined.
4. Offer multiple interview formats
Offer interviews in-person or virtually to reach more candidates. Hiring managers will appreciate the options, too! You can also host "hiring days," where candidates can drop in during designated hours to talk to your team, creating a less formal environment to get a sense of candidates' personalities on the floor.
Yes, face-to-face is ideal, but sometimes the pace of Christmas makes that impossible. Don't let the interview format deter you from moving forward.
5. Keep the hiring process short
A faster hiring process with fewer steps will keep candidates engaged and increase your changes of hiring them before competitors. It also makes for a better candidate experience: For Pinpoint customers, reducing time in the interview stage by just 5 days can improve candidate Net Promoter Scores by 20%. Learn how to identify bottlenecks and shorten your process here.
6. Respond to candidates quickly and across multiple channels
Keep candidates engaged with quick communication via email and SMS. Create on-brand templates to respond quickly and give applicants the information they need without sounding robotic. Even a simple acknowledgment that their application was received can make a world of difference.
7. Continue learning with feedback surveys
Run candidate surveys to get data on what's working and what's not. Consider sending surveys only to candidates who interviewed at least once, and keep the feedback focused on actionable improvements.
Every year, we ask our Christmas temps and our BMs for feedback. What could be better? A lot of good learnings come from those conversations.
Download your Candidate Experience Checklist here
Plan ahead and be ready for anything
Sam's overall approach to seasonal hiring is proactive but realistic: Plan ahead, she says, but be ready to adapt if the plan isn't working. She also strongly recommends a trial run before the holidays get underway. "Whatever your recruitment and onboarding process will look like, try it beforehand. Don't launch cold at Christmas," she cautions.
It's never too late to start planning for holiday hiring. Watch the webinar on-demand for more of Sam's top tips on retail recruitment for the busy season.