Millennials are set to make up three quarters of the active workforce by 2030. What can you do to attract, hire, and retain them?
In this article we'll look at some of the major challenges faced by all organisations today and explore the differences between Millennials and other generations.
Millennials were born between 1981 and 1996.
Millennials are old enough to have experienced and understand 9/11 along with its aftermath, and were young adults finding their way following the global recession from 2008.
According to Michael Dimock from the Pew Research Center, the recession's effect on Millennials and the initial "slow start" to their careers "will be a factor in American society for decades."
What's different about recruiting millennials?
Over the next 12 years Millennials will make up three quarters of the workforce but their expectations for employment are drastically different to previous generations.
Baby Boomers place importance on things like willingness to work long hours and knowing your place. They worked in organisations with large hierarchical structures instead of flat management structures and collaborative ways of working.
Millennials have high expectation of themselves, enjoy working in teams, and seek out personal challenges. A healthy work life balance is very important to them, which is in stark contrast to their senior leaders.
Millennials look for quick career progression, social interaction and immediate reward, whilst their Baby Boomer managers have often set a culture that's contradictory to this.
This disconnect is a problem and something that can have an impact when trying to hire and retain millennials in your organisation.
What motivates millennials?
The media has labelled millennials as 'entitled flowers' who are 'career picky' but this could just be a misinterpretation of their need to connect at a deep level with what they do.
Pew's study where "loving what I do" outranked a "high salary" seems to support this idea. "Loving what I do", was so important to half of Millennials that they would prefer to have no job than a job they hate.
Boomers might consider Millennials self-important but this is a misunderstanding of what lies beneath. Millennials have ideas, they want to contribute, and they feel that their tech skills should be seen as an asset, rather than a distraction.
Millennials have grown up in the age of information, where answers to complex questions can be found in a matter of seconds. They want to use their creative thinking to find solutions to new and tough problems. They want to make a difference.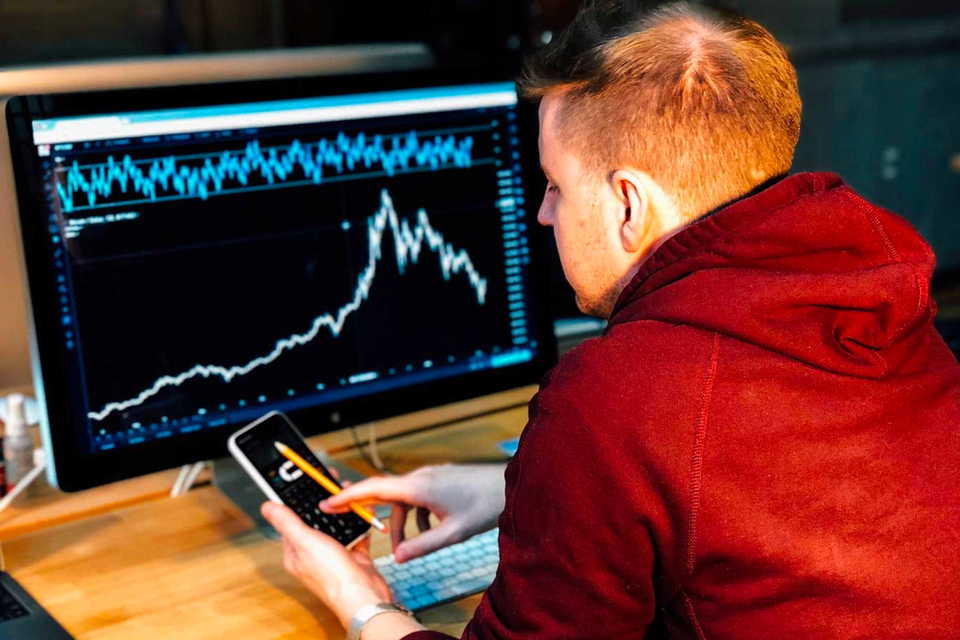 "Almost 70 percent say that giving back and being civically engaged are their highest priorities."
This is supported by research from Millennial Marketing which shows that almost half of Millennials would be more willing to make a purchase from a company if that purchase supports a cause.
Millennials are a very diverse and well-educated generation – 61% attended university (compared to 46% of Baby Boomers) and they want to share this knowledge with their co-workers, and use it to make a positive impact.
They also live in an 'on-demand' world. It's an ingrained expectation that they can have whatever they want, whenever they want it. Perhaps to a Boomer this expectation comes across as entitled or spoilt, yet it's simply a way of life.
Work-life balance is of utmost importance to them, in fact "a full 70% of Millennials say they need 'me time' at work versus just 39% of Boomers."
Millennials feel it should be a two-way street with their boss, learning from each other and providing feedback irrespective of the hierarchy that might exist. Where a Boomer might place their boss on a pedestal, a Millennial sees them as an obstacle.
A study by MTV called 'No Collar Workers' asked both Millennials and Baby Boomers to draw pictures of what they wore to work and what they wore outside of work. Millennials drew pretty much the same outfit, whilst Boomers drew formal attire at work but a completely different outfit outside.
Millennials don't see a distinction between work and non-work in terms of behaviours, what they wear, what they say, how they view their co-workers (which is the same as how they view their friends) – the two blend together. It's in stark contrast to Boomers.
In the same study, 66% of Millennials said they want to invent their own position in a job. This means they need enough space and creative licence to do so. Being autocratic with them simply won't work. They need to be given guidance and mentorship, not orders and boundaries. 75% said they want a mentor and 90% said they want senior people in their company to listen to their ideas and opinions.
How to recruit millennials
If you feel that your employee value proposition isn't attractive to Millennials, you're not alone.
Following a survey of more than 300 companies, Collegefeed found that 92% of companies believe they have a 'brand problem'. They feel they're not interesting to Millennials because they're not like Google and Facebook, they simply don't have the same level of appeal.
Fortunately, there's a lot you can do to change this.
Technology
There has been a major shift towards mobile, with 45% of job seekers using their mobile device to search for jobs at least once a day. 89% believe a mobile device is an important tool for job searching.
It's important that your careers page, application forms, and interview management tools work well on all devices and that you use technology to your advantage.
As regular users of apps, Millennials are used to a modern user interface and an exceptional user experience. If your application process feels like something from the 90's you'll lose them at the first hurdle.
Similar to any successful marketing campaign, unless a Millennial has heard of you, it's unlikely they'll apply to work for you. Consider running social media ads to showcase your Employee Value Proposition even before you're looking to make a hire.
Leverage online groups and provide engaging content to drive traffic. Write blog posts to provide a window into your brand personality, and show prospective employees what you're all about.
86% of people in the first 10 years of their career are likely to use social media in their job search, so use it to drive brand awareness and position yourself as an authority in your space. This not only helps generate new customers but also top talent.
Promote your blog content, share industry updates and demonstrate why someone should work for you. Most importantly, stand out.
Creating a great work environment for millennials
Following a survey of more than 15,000 Millennials, Collegefeed found that the two top questions young job seekers want to answer when considering a new employer are 'What is it like to work there?' and 'What kind of growth can I expect?'
And in terms of what they specifically look for in an employer, check out this chart: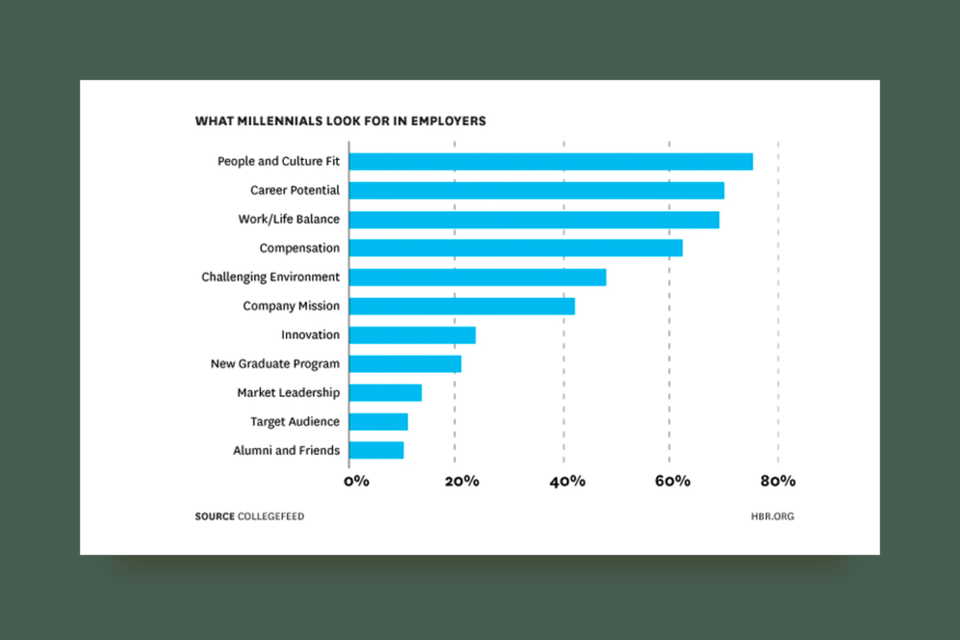 In a similar study by MTV an astounding 93% of Millennials said they want a job where they can be themselves at work. They want to work in a collaborative, social environment and they want to be empowered to effect positive change. They believe that outcomes are what matter, not how many hours they've clocked up.
This often means a drastic change in the culture and environment that's deeply ingrained in large, established organisations – most of which are still led by Baby Boomers.
Top tips to create a work environment millennials will flourish in
Create a social work environment
Consider your office layout. Do you have areas with relaxed seating where people can hang out? Are your desks laid out to encourage social interaction, or is everyone hidden in their own private cubicle?
If you don't have one, create a social committee to organise regular social events, paid for by the company. The bond created between people at these social events will be a powerful enabler in the workplace.
Consider Flexible Working Hours
When measuring performance, what's better – someone who worked 10 hours a day for a year and met three of their objectives, or someone who worked five hours a day and met six of them?
Do you pay someone to sit at a desk for seven hours a day? Or do you pay them to perform a role and produce a measurable output?
The nine to five workday is becoming a thing of the past. With globalization and technological advancements we're all connected 24/7. There's no longer a need to be at your desk in case somebody needs to phone you. We work differently now.
Trust your employees, empower them and watch efficiency rise.
Flatten Your Management Structure
Create a flat management structure where people can collaborate, feedback, and share ideas without superficial barriers. This encourages creativity and teamwork whilst preventing silo's and competing interests.
"Millennials want to feel like they are part of a community at work. Nearly nine in ten want a workplace to be social and fun and have a genuine desire to listen into organizational strategy sessions. "
Relax Your Dress Code
As we discussed earlier in the article, Millennials envisage themselves dressing the same inside work as they do outside. They want to be themselves and they will thrive in an environment where they can choose how they dress.
Does it really matter what people wear? If you could perform better as a company by allowing people to choose what they wear, should you do it?
Let them police their own behaviour
Nobody wants to be told what to do or how to act. Not only are we all unique, complex individuals but Millennials have been brought up in an age where they are free to express themselves and behave how they want.
Boomers on the other hand come from a hierarchical culture, filled with etiquette and conformity. This may have worked in the past, but this will suffocate Millennials and stifle their performance.
Create a culture where people feel empowered to contribute, provide feedback and solve problems in their own way.