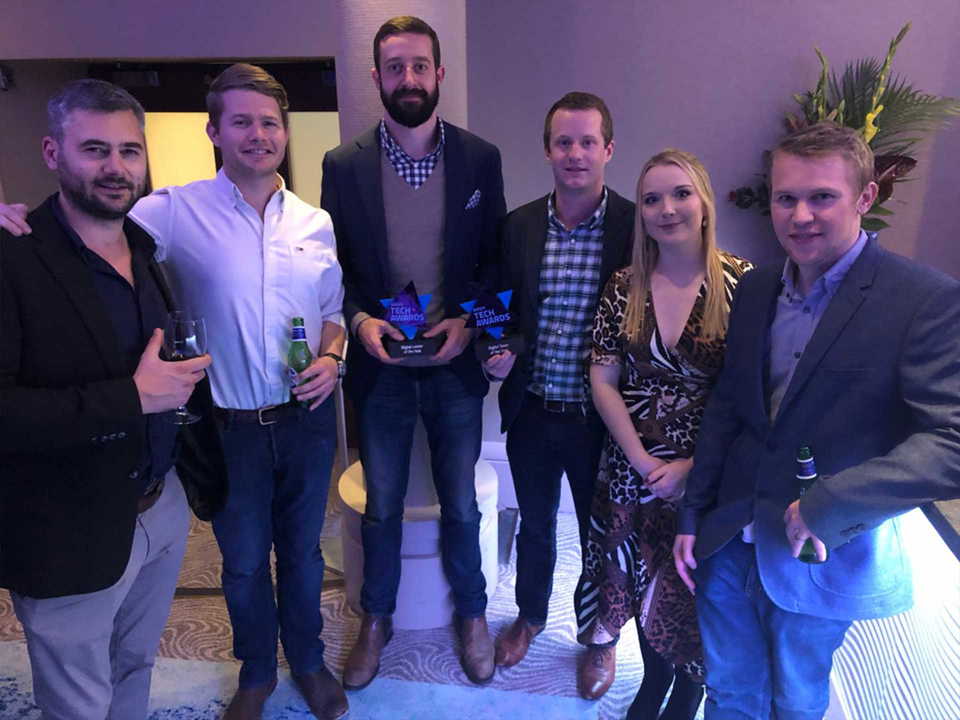 News
Pinpoint Recognized as Leading Digital Team
October 18th, 2019
1 minute read
Pinpoint, the software company that helps in-house recruitment teams attract and hire more of the best candidates, has won two awards at the Jersey Tech Awards 2019.
Pinpoint's CEO, Tom Hacquoil, has won Digital Leader of the Year while Pinpoint won Digital Team of the Year.
The Awards, organized by Digital Jersey, celebrate a wide range of digital and technological accomplishments – from local students and educators to innovative organizations, projects, and digital pioneers.
"We're immensely proud of this achievement. From the outset, Pinpoint has been about more than just technically great software. The judges have recognized the importance that all teams in our business, not just the developers, have to play in creating an exceptional product." Says Hacquoil
These wins round off a great week for Pinpoint, who also announced they've been listed in Accel's 2019 Euroscape – a list of the top 100 software as a service companies in Europe and Israel.
The company credits their rapid growth to delivering value to clients beyond just the software. Tom Hacquoil, CEO of Pinpoint, picks up the story:
"We have a consultative approach that goes far beyond just selling software. We invest massively in our Customer Success team and it's this team that helps our clients with almost anything you can imagine – from transforming out-dated job descriptions to designing ads, wording application forms and optimizing careers websites."
"We have the benefit of working with companies all over the world, so we continually learn; developing our software from the expansive data we gather to share best practice."
Commenting on the product itself, Tom explains:
"The majority of our competitors focus on quantity not quality when it comes to applicants. As a result, they've designed systems to help recruitment teams choose which candidate to hire and they've focussed less on candidate experience. There's an assumption that "the candidates will just come". But the biggest challenge in house recruiters are facing today is actually getting enough good quality applicants. That's why we've focussed so much energy on the sourcing side as well as traditional applicant tracking features. It's this unique combination of recruitment marketing automation, alongside more traditional applicant tracking features, all packaged in a simple, intelligent system that's helping our clients make better, faster hires."
We're passionate about helping organisations built better teams. If you're interested in how we can help your team attract and hire the best talent you can arrange a personalized demo here.