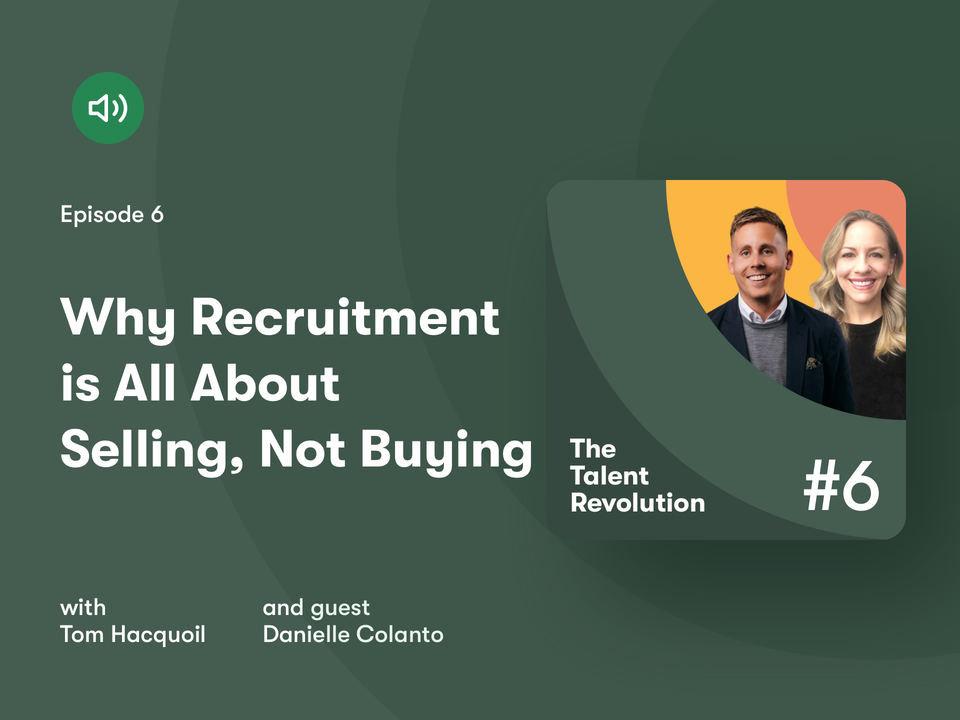 Podcast
Good Recruitment Means Selling, Not Buying—How Treating Candidates as Customers Will Drive Your Ability to Hire More of the Right People
June 15th, 2021
6 minute read
Welcome back to Episode 6 of the Talent Revolution!
If you've noticed that you seem to be hustling for candidates more now than ever before, you're not alone. Danielle Colanto, Director of Global Talent Acquisition at Yotpo, has seen this trend for a few years now: in today's hiring market, candidates have all the power. 
Talent acquisition teams are selling, not buying—and companies that don't adapt will get left behind.
Danielle has a long history of scaling diverse and high-performing teams around the world. Her first loves are fashion and retail; she's worked for some of the most widely recognized brand names in the world, including Armani and American Eagle. She has also developed a love for tech startups, and recently found the perfect union in Yotpo, an eCommerce marketing platform. 
The name may not ring a bell—but if you've ever shopped online, you've interacted with Yotpo whether you knew it or not. They partner with well-known brands like Patagonia and Steve Madden, and they're growing fast. After achieving "unicorn" status following a Series F round of funding, they're adding 300 new employees to their roster in 2021 alone.
In short, Danielle is a busy talent acquisition executive who knows what she's talking about. And as a firm believer in the power of honest feedback, she didn't pull any punches during our conversation.
Candidates are your customers
Companies that don't see themselves as selling to candidates in today's market, she says, are "up sh*t creek without a paddle."
There was a time when organizations had the luxury of choice, shopping around for the "pick of the litter." These days, that's no longer the case.
In a post-COVID job market, people aren't bound by commute times or even international borders. With a literal world of choice at their candidates' fingertips, companies must work hard to ensure that people understand who they are and what they're doing.
Money still talks, Danielle says—but not as loudly as before.
If you don't work at a tech startup, you aren't off the hook. The baseline that Google set for the tech space now extends to everyone. And with a growing number of workers doing their thing from home, at least part of the time, played-out office perks like ping pong tables don't matter as much as they once did.
Here's what does matter: showing candidates who they'll work with, the projects they'll work on, and the impact they'll have. 
Getting this wrong means getting left behind.
Settling for the CVs that land on their desk, without looking further, is one way for hiring teams to miss the mark. 
The proof is in the numbers: teams with a diverse array of backgrounds and experience have higher-performing output. If you aren't making an effort to seek those things out, and to hire the right people, you're leaving potential on the table.
So what exactly does it mean to "sell" your company to candidates, and how do you do it? 
According to Danielle, the best place to start is by offering a fantastic candidate experience. People want to work for companies that treat them well, and that begins with their earliest encounters.
One of the metrics we use at Pinpoint to gauge our success in this arena is offer acceptance rate, though probably not in the way you think. We believe that if your offer acceptance rate is 100%, you aren't interviewing the best candidates.
The right people have choice, and if you're not seeing people with choice, you're seeing the wrong people.
Share the good, the bad, and the ugly
Transparency in recruiting is the second pillar of Danielle's recruiting ethos. She suggests sharing the good, the bad, and the ugly with external candidates and internal stakeholders, like hiring managers and their teams.
You can keep some of the ugly stuff to yourself, she says, but tell candidates as much as you can.
One of the most effective approaches is to discuss Glassdoor reviews openly and honestly.
Yotpo has the luxury of overwhelmingly positive reviews, but they've still seen their fair share of negative comments, mainly about the heavy workload. Rather than dancing around these comments or trying to explain them away, Danielle and her team have coached hiring managers to discuss the feedback openly and honestly. 
These conversations went over surprisingly well with candidates, and that's because top talent gravitates toward authentic companies. 
At Pinpoint, we've found that these kinds of conversations go well with the right candidates and poorly with the wrong ones. In fact, Glassdoor reviews have become a very effective means of communicating our EVP to prospective team members.
If your EVP isn't weeding out bad-fit candidates, you're just creating more work for yourself in the long term, and a potentially miserable partnership in the meantime.
Treat candidates like humans
Danielle also talks a lot about humanizing the hiring process and treating candidates like humans at every stage.
This is easy to forget, especially when you have thousands of applicants to sift through. But on the other side of the screen is a person at a very vulnerable stage of life, and remembering this simple truth goes a long way toward enhancing your reputation in the market, even with people you don't hire.
Danielle shared a particularly memorable experience she'd had as a candidate, and why it stood out.
While interviewing for a senior talent acquisition role, she was asked to complete a large project involving 10-15 hours of outside work. This happened early in the interview process, before she'd ever met with senior leadership. (Be judicious about take-home work, she warns recruiters.) The project was to write a hiring strategy that the team could implement—and that's what she did.
And then … crickets. For weeks on end, she heard nothing back in response to the strategy she'd submitted. As a firm believer that companies can't make progress without feedback, she reached out to the co-founders to share her experience.
In return, she got still more silence. 
The experience didn't feel good, and it forever coloured the way she saw that company's employer brand.
"It's not about the end result in placing a candidate," Danielle explains. "It's about treating people with respect and trust and honesty."
Of course, dropping the ball on candidate communication can happen to anyone. (Full disclosure: I'm heavily involved in talent acquisition here at Pinpoint, and when things get busy, I regularly take longer than I'd like to reply to candidates.)
The point isn't avoiding mistakes altogether. It's course-correcting those mistakes after the fact.
Danielle points out that we underestimate the power of human connectivity in these moments. Righting our wrongs isn't difficult to do, but we must take the time to attempt it. A genuine apology goes a long way and can often save an otherwise disastrous interaction.
In Danielle's view, we underestimate the value of humanity in recruitment—keeping the "human" in human resources. Some connection points can't be automated, and candidates are keenly aware of the value in an organization that understands the power of valuing people as people.
Top talent is on the hunt for authentic voices in the marketplace. If you want to compete, make sure yours is among them.
Join us each week for powerful insights from the hiring heroes you most admire.