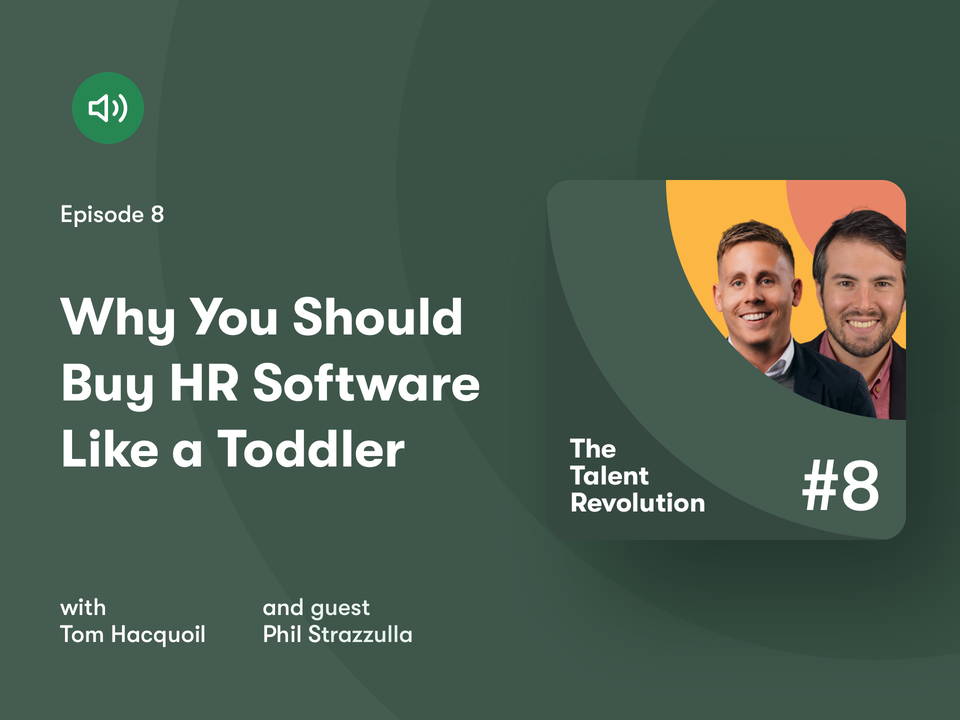 Insight
Why You Should Buy HR Software Like a Toddler
July 6th, 2021
5 minute read
When Phil Strazzulla asks himself what we'll all be kicking ourselves for in 10 years' time, he comes up with two answers: (1) social media and (2) neglecting People Operations.
I've witnessed firsthand companies that rank "people" among their top verbalized priorities—but talk is cheap, and if you look at where their money goes, their people don't even make the list.
Phil Strazzulla has been an engineer, an investor, and now an entrepreneur in the software space for over 10 years. He founded Select Software Reviews because he saw a gap in the market: a crowded HR software space with no reliable, helpful resources for People Ops teams searching for the right SaaS solution.
Phil believes that finding and implementing the right software for your business is harder now than ever. (Having worked in that space for a long time myself, I think he's absolutely right.)
Read on for the highlights of my conversation with Phil about how to vet your software vendors and why thinking carefully about your business before buying pays real dividends, or watch the video below.
Understand your requirements—and then ask all the questions
One of Phil's best pieces of advice for People Ops teams currently vetting SaaS solutions is to shop like a toddler.
That's because most people stop at the outermost layer when they're searching for an HR software solution. They might download a general RFP template and have vendors complete it, ask a few peers about the software they love or hate, and use that information alone to make a purchase.
The problem is, there's no one-size-fits-all software solution, so there's no one-size-fits-all approach to vetting software.
The generic templates you find online might guide a vendor to answer questions you don't really care much about. And by the same token, it could completely omit the one or two questions that matter most to your business.
The questions that really matter will differ from one company to the next, but they'll typically hone in on key pain points. Those might be attracting the right talent, onboarding, or employee retention. Maybe you care most about the ability to white-label, or the simplicity of the user interface.
Ask questions internally about what you need your software to do for you and why. Decide on the one or two most important modules before you even start to shop.
That way, you'll narrow your focus and quickly eliminate vendors that don't support the functionality you need, while floating to the top vendors that do those things very well.
To be clear, there's nothing wrong with asking around. But take the input you get with a grain of salt, and do a bit of detective work. Your friend who "hates" his ATS might do so for a reason that doesn't matter to your company one bit.
That's why Phil recommends buying software as if you were a question-hungry toddler. Keep asking Why and How until you arrive at the core of the matter.
For instance, you might ask:
What do you like most about X software?

How does X software enhance/detract from your daily experience?

What are your favorite and least favorite features? Why?
Thoroughly understand your requirements before you buy; they'll inform both the questions you ask and the answers you're looking for. Then dig well below the surface until you hit information bedrock. It takes a few extra minutes, but it's well worth the time investment.
HR Tech Business Case Template
Get budget approved for the software you actually want, not just the cheapest solution.
Shopping for HR software is more art than science
As a former engineer and investor, Phil is very numbers- and system-oriented. But even he describes software shopping as an art form.
That's because vetting, selecting, and purchasing software involves much more than ticking boxes related to security measures and feature offerings. There are other, subtler signals to look out for. 
One such signal is the quality of your sales experience. It may seem like you're interacting with one individual, but you can learn a lot about a vendor from the quality of your experience with a single sales rep.
Great sales reps are one potential indicator of a great product—they have portability and choice, and they usually choose companies with products that sell well because they work.
Keep in mind that there is separation between the sales experience and the product. This isn't a hard and fast rule, just one of many subtler signals to look out for. HR software is typically a long-term, strategic investment, so it pays to consider each piece of the puzzle—including the stuff under the hood.
Include vendor health checks in your due diligence
Phil recommends a holistic assessment of any vendor's company health, along with other strategic markers.
Keep an eye on indicators of health that might not show up in sales decks. Things like:
High net retention

Healthy finances: profitability, employee headcount growth, investment in R&D

Frequency of updates/code releases
Oftentimes, you'll find that newer, smaller companies actually out-perform the well-known companies on some or all of these, so don't shy away from software you haven't heard of (yet). You can get an amazing deal if you get in on the ground floor.
Paying attention to metrics like these positions you as a sophisticated buyer, which in turn leads to a better overall buying experience. 
As anyone who's ever purchased a car knows, it's good for you as a buyer to show up at a dealer armed with the research to make an informed decision. Come to the table armed with the right questions, and know ahead of time what's most important to you.
A crowded marketplace is a great thing for teams looking to buy a premium product without breaking the bank. The tips above will get you started—listen to the full episode for more on how to get to get to grips with your requirements and vet software the right way.
Join us each week for more tales from the trenches and best-practice people guidance.