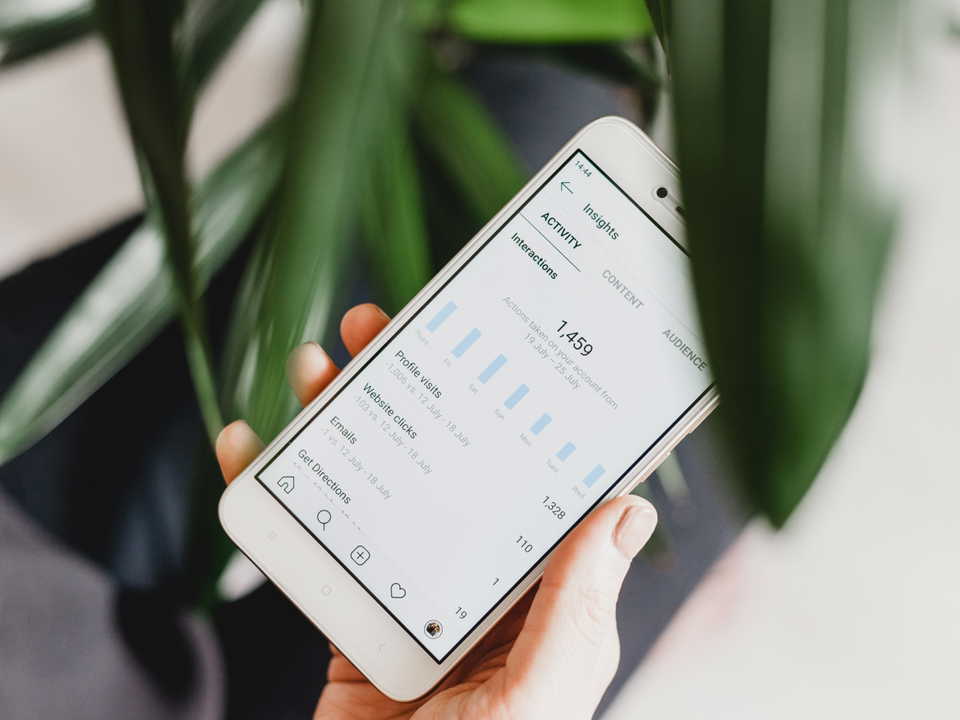 Insight
How to Get More From Your Recruitment Marketing Budget
April 30th, 2021
9 minute read
Recruitment marketing is exactly the same as any marketing—you can spend a lot of money targeting the wrong people.
Or you can invest some time up-front to:
Understand what your candidates want
Understand what you can offer that aligns with what they want
Figure out how to tell them about that
Get this prep work done, and it becomes much easier to reach the right candidates, with the right message, at the right time.
Step 1: Identify who you want to attract and what they care about
Stop focussing on attracting more candidates. The objective is to attract more of the best candidates and less of the wrong ones.
Until you have a clear point of differentiation, it's going to be difficult to convince the right candidates to apply.
"The riches are in the niches" is a common refrain in marketing. And it's the same for recruitment—
everything you do in terms of recruitment marketing and building an employer brand should be designed around what your ideal candidates want rather than being appealing to "everyone".
Most organizations don't take the time to figure out what candidates really want. So this is your opportunity to outsmart pretty much all of the competition.
Figure out who you REALLY want to hire
Figure out what they REALLY care about
Figure out what you can offer, that they care about, that your competitors aren't offering
Make your pitch
In doing so, you'll put off the wrong candidates (less work for you sifting through hundreds of irrelevant applications), and attract more of the right ones (which is the aim of all of this, right?).
And don't default to the easy options. This is all about positioning yourself as "different" rather than "better".
20 days' holiday doesn't make you different
A competitive salary doesn't make you different
Statutory parental leave doesn't make you different
Statutory sick pay doesn't make you different
Free coffee doesn't make you different
A ping pong table doesn't make you different
These are table stakes. They make you the same as every other employer. At best, you can be incrementally better until someone else outbids you.
These things make you different:
The chance to work with a team of A-players
The chance to voice opinions and influence decisions
Unlimited paid time off – because if you're getting the job done, who cares?
Real flexibility – work when and where you want as long as you get the job done
Extended parental leave on full pay
Fully paid training and courses
A mentor who helps you develop your skills and career
A team that covers for you when you have a family emergency
Identify what each group of candidates wants, and what you can offer them that others can't. Work through this for each cohort of candidates you need to attract using our candidate persona template.
Remember: you're not trying to attract everyone. Not everyone is right for your team and your team isn't right for everyone. Don't worry about alienating people who wouldn't be successful as part of your team anyway. Focus on targeting your EVP towards the right people—the ones you'll be excited to hire and who are going to thrive on your team.
Make planning easier with a free candidate persona template
Step 2: Find out where your ideal candidates consume content
Once you know whose attention you're trying to get, you need to have a plan for getting your message in-front of them.
Put yourself in your candidates' shoes. You need to understand where they spend their time online, what they read, and what social media channels they use. There's no point advertising for chefs on LinkedIn if they're spending all their time on Facebook.
So, for each of your different audiences that you've mapped out in step 1, there are a few questions that you need to answer:
Where do they hang out online?
Not just the social media platforms they use, but what blogs do they read? What podcasts do they listen to? What digital magazines are they subscribed to? Think about any different places that you can push your message in front of them.
Where do they hangout offline?
As much as digital is the quickest (and most measurable) way to get your message in front of people, that doesn't mean you should rule out offline marketing tactics for all audiences. Do they attend industry events? Do they read a particular paper or magazine?
What type of content do they engage with most?
When you hear content, what first comes to mind? Articles? Blogs? Videos? This is different for everyone, so you need to do your research and know what type of content your audiences are most likely to engage in. There's no point in writing blogs if your audience want a video!
These are the channels that you're going to be advertising on.
And don't forget to use your own team as a distribution channel. Employee referrals are an easy win, and  getting your team to share your content will help to warm up their network—making referrals easier than ever before.
Step 3: Figure out what's working and what isn't
We see a huge amount of wasted recruitment marketing spend because recruiters don't have the ability to report on which recruitment marketing channels attract quality candidates, and which are just delivering a huge volume of candidates that never get hired.
You should be using data from your applicant tracking system to understand which recruitment marketing channels help you attract quality candidates that you go on to hire, and turning off the ones that don't.
You'll attract less of the wrong candidates
You'll free up time to invest in the right candidates
You'll have more budget available to invest in things that do help you attract quality candidates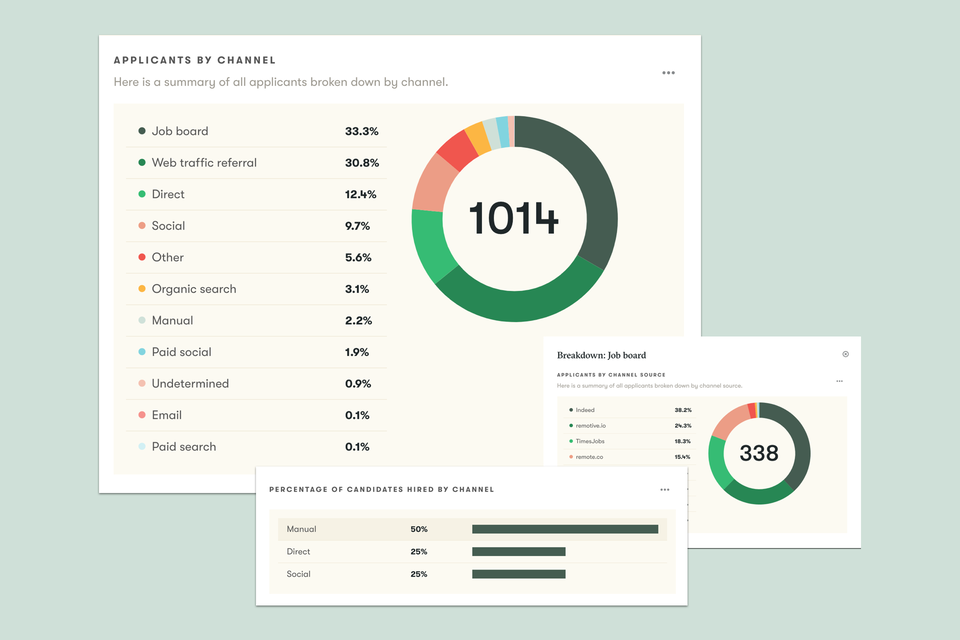 If you can't get data on this, then stop what you're doing and figure out a way to start tracking this before you pursue another talent attraction activity. If your applicant tracking system can't help, ask candidates where they found out about the job on the application form and manually track which channels are delivering the candidates you go on to hire.
Once you've got this optimized, and you've got the attention of the right audience, you need to ensure your application process is designed to persuade them to apply.
Step 4: Audit your application process
The last thing you need is to be getting the right people's attention, then failing to get them to apply.
We see time and time again people putting a lot of time and effort into stages 1, 2 and 3 but then offering a terrible application experience and losing out on the best candidates.
You need to be thinking about a few key areas that will make a huge impact on your conversion rate:
Job descriptions / job ads
Application process
Information about the business
Job descriptions
They have got to be compelling – are they going to convince your dream candidates to apply? Sure we still call them job descriptions, but they are ADVERTS not descriptions. Just like a product description on an e-commerce website is actually a product ad.
Tell the truth
The objective is to attract the right candidates—the ones you'll want to hire, and who'll be successful as part of your team.
Be honest about the role and what it entails.
When you are, you'll put off the bad-fit candidates, and attract more of the right ones.
Make it about your candidates, not you
It's not ok to use job descriptions as a long list of things you need from the candidate.
Think of them as a product description and make sure you explain what the candidate will be getting out of the role.
Use language like 'here's what you'll be doing', 'here's the type of person that would be a great fit', 'here are the main benefits'.
Don't overload it with 'essential' requirements
Take a look at your job ads.
All of the essentials and must haves…do you actually need them?
Limit the essential criteria to genuine must haves; ensure that they reflect the level of the role and be realistic.
We see job descriptions asking for 5 years' experience in a technology that's only been around for 2, or a requirement for degree-level education in a subject that even the head of the team doesn't have.
Use inclusive language
You'd be surprised by how certain tones of voice and phrases put off certain types of people. For example, gender coded words will destroy the diversity of your applicant pool.
Tools like this Gender Decoder can help you.
Application process
Are you making it unnecessarily difficult to apply for your roles? The best candidates have a choice and for every minute over 5 minutes that your application process takes, you'll lose 10% of your applicants. Require candidates to create an account in order to apply and you'll lose more than half of your candidates before they even begin the process.
Here are the most common mistakes we see:
Application forms that require an account to be created
Requiring applications to be sent by email (Or post. Yes, in 2020 we spoke to a company that was only accepting applications by post.)
Application forms that don't work on mobile
Application forms that run over multiple pages
Implementing a simple form that people can use on their mobile is an easy way to ensure that you aren't putting candidates off at the conversion point.
And don't use a 'one size fits all' form. You will need different information to assess candidates for different roles. Make sure the application process reflects those needs and is tailored to each role.
Helping candidates find the information they need
Candidates want to do their own research. In the same way you wouldn't reach out to sales to buy new recruitment software without understanding a bit about the product, the best candidates won't apply until they've learned about your organization and the role.
Your job is to get them the information they need, at the right time and the best place to bring all of this together is on your careers website. (Learn what a great careers website looks like here).
In the short term though, covering some of the basics in your jobs descriptions would go a long way.
What does it take to be successful at your organization?
What's your culture like?
What does success look like in the role / team?
How does this role contribute to the broader mission of the business?
What does the day-to-day of the role look like?
What's the recruitment process?
How often will candidates hear from you during the process?
How long will the process take?
Who will their manager be?
Who will their new colleagues be?
What do they need to prepare for the interview?
Who will be on the interview panel?
How will they be assessed?
What should they wear to the interview?
What support is available to them if they're hired?
What will their first 30/60/90 days look like?
What are the opportunities for progression, and how are they supported to get there?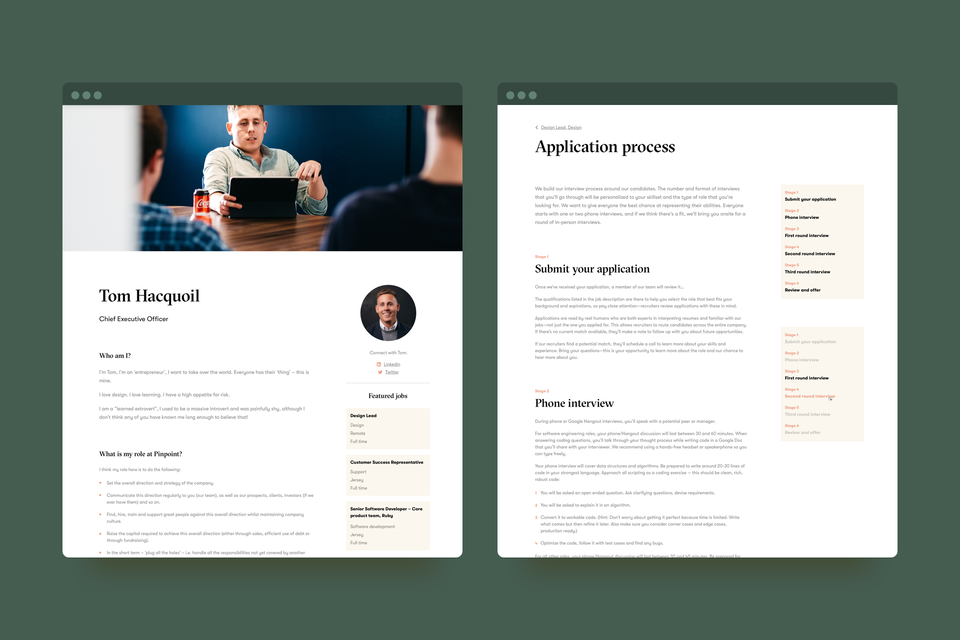 Ensure that all of your content helps answer the most important question in recruiting: "why would this person want to work for us?"
Candidates have questions. It's your job to answer them before they ask. You'll spend less time on email, attract more of the right candidates, and keep them more engaged in your recruitment process.