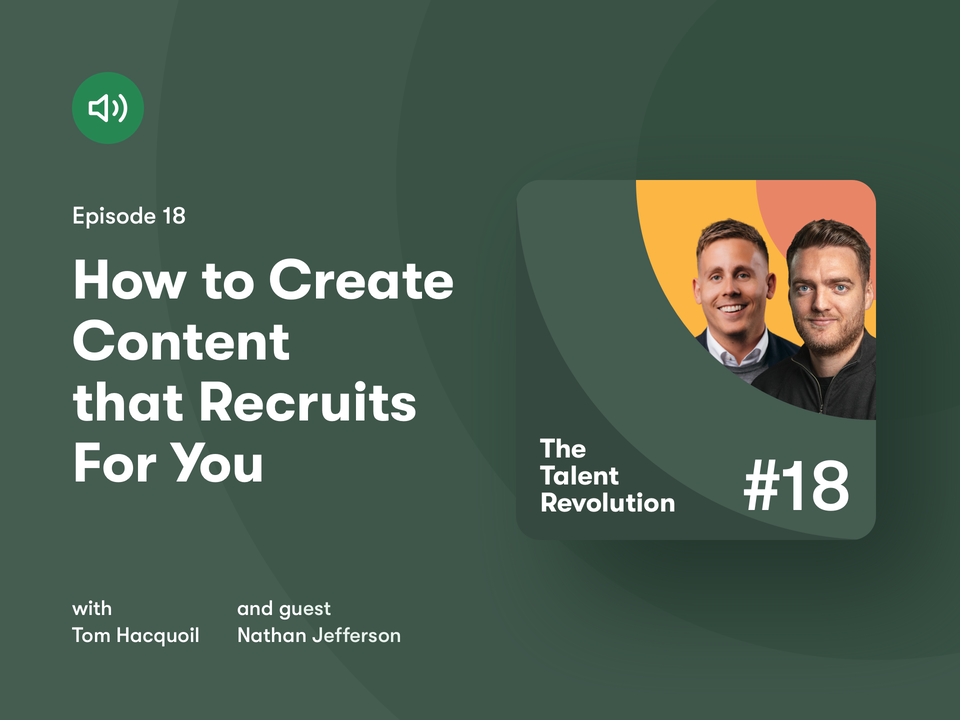 Podcast
Are Job Boards a Failing Model?
November 1st, 2021
6 minute read
What if you could ditch job boards and cold outreach for good in favor of a strategy that does the heavy lifting for you?
Peoplepipe founder Nathan Jefferson sees two conversations developing in the wake of the global pandemic. Both point away from job boards and toward an altogether different recruitment strategy.
Recruiter burnout:

Talent acquisition

teams are exhausted, but almost no one uses their workplace satisfaction to measure success. If you're meeting your hiring goals but burning out your team to get there, your approach is unsustainable.

Candidate insight:

When there's a rush to hire, candidates miss critical information about your company and their role. The long-term impact of this kind of hiring on attrition is yet to be seen, but if you're rushing the hiring process, we predict high turnover in your future.
The alternative? Inspiring applicants to find you by using content to build a well-regarded employer brand. 
This approach takes time to bear fruit, but it's well worth the trouble. Organizations with a well-known employer brand don't have to spend money on job boards or scale automated cold outreach into the hundreds of thousands. Instead, value-based content drives their recruitment strategy—and it doesn't have to cost a penny.
Read on to learn why planting the seeds of a content strategy now will put you miles ahead of the competition tomorrow.
Job boards are inefficient, especially at scale
The problem with job boards, Nathan argues, is that they work—they just don't work very well. One person in 100 might convert into a candidate for an open position, which leads already-overworked recruiters to a process of reasoning that looks like this:
If 100 cold contacts yield one candidate, 3,000 cold contacts should yield 30. Let's scale our outreach with automation! We'll meet our hiring quota with room to spare. 
Sure, the math adds up. But too many TA teams never look beyond the numbers game of job boards and cold outbounds even though it's an inefficient way to recruit. 
With overwhelmed recruitment teams already working overtime to keep up with hiring in today's environment, efficiency is everything.
A numbers-first strategy also comes with long-term negatives. It doesn't take long to burn through an entire marketplace—alienating most candidates along the way—with the wrong approach. And attrition from wrong-fit candidates who weren't disqualified at the right time makes constant hiring a self-fulfilling prophecy.
Nathan founded peoplepipe to replace transactional, reactive hiring with something better, helping in-house teams connect with candidates and provide the top-of-funnel insight they need to self-convert. 
He evangelizes meeting prospective candidates where they are, which isn't always on job boards: "When I've been unhappy in a role, the last thing I do is go home and want to scroll through Indeed. When people get home after a crap day at work, they're probably scrolling through Facebook or TikTok trying to have that little moment of escapism."
Content marketing as a recruitment strategy
Nathan has the utmost confidence in content as a recruitment strategy because he's seen the benefits firsthand.
Early in 2021, peoplepipe decided to stop all spending on job boards. Instead, they went all-in on a social media and content marketing strategy. They got active on Facebook, YouTube, and Instagram, hosted micro-events like webinars and live streams, posted thought leadership on LinkedIn, and generally handed out as much free advice as they could.
Within three months, they saw tremendous results. Social media filled their talent acquisition funnel, and they got more candidates than they knew what to do with. Over time, the results were exponential. Every person who liked their content told their network, and word of mouth grew peoplepipe's recruitment strategy for them. 
"You're almost creating this army of advocates outside the business who are becoming your recruiters," Nathan says.
While it isn't always possible to avoid reactive hiring strategies altogether, Nathan believes that content belongs at the heart of every good recruitment plan. Here are his top takeaways for how to get started:
Give value first:

Peoplepipe doesn't talk at all about vacancies. Instead, they focus on thought leadership and delivering value to their audience. Identify a knowledgeable CTO or senior engineer on staff and collaborate with them to share sought-after knowledge with your community.

Know your audience:

Some of the best insight comes from listening. Join industry-focused Facebook groups or subreddits and listen to what people say. Pay attention to the challenges they're facing, then seek to solve them. Prospects are guaranteed to find you if you directly answer their questions with your content.

Ditch the low-hanging fruit:

Traditional reactive practices are appealing because they're firmly within a recruiter's comfort zone and automation makes them easy to scale. But reinvesting even a small portion of the time and budget you'd spend on job boards into long-form content and market education pays massive dividends. After some lead time, the pipeline will build itself.

Balance is key:

You don't have to go all-in on one strategy or another, and testing out content doesn't mean you have to shut down your job board strategy overnight. It takes time to identify the right platforms and content for your business, so ease in with a hybrid approach and test as you go. Redistribute and repurpose content across platforms to see what sticks and what doesn't.

Give it at least three months:

Nathan believes that companies can build a

compelling employer brand

in just three months, assuming they invest their time and energy wisely. If you're getting a slow start on views or clicks, you can run paid campaigns on social media to accelerate your timeline. Peoplepipe saw significant traffic after just three months and overtook their previous year's figures at the six-month mark. 
If you build it, they will come
For organizations who have never dabbled in content marketing before, the first step can feel daunting. But Nathan encourages talent acquisition teams to try anyway. "You don't have to rip up the rulebook today," he says. 
As a first step, sit down with a subject matter expert in your organization and speak to them about the most significant challenge they're facing or industry issues that are top of mind. (Often, this is related to tech hiring.) Once you understand your audience's pain points, you can create content that addresses them directly.
Next, host one or two micro-events around those topics. Create a podcast, write a blog, host a webinar, or release a video. This takes less time than you think; peoplepipe spends about an hour a day on content. And you don't have to pitch your entire legacy recruitment process in the meantime, either.
If your team isn't jam-packed with enthusiastic content creators, don't worry. Here are a few other options: 
Engage in community outreach:

Pinpoint has run a coding program in Jersey, an island without much technical opportunity for aspiring engineers, for about seven years. Our volunteer staff spends two evenings a week leading a training program designed to provide students with the basic skills they need to find entry-level work in tech. The benefits of this program can't be quantified: community goodwill, an ever-expanding network, and off-the-charts job satisfaction for the employees who participate.

Outsource content creation:

There are writers, YouTubers, and podcasters aplenty looking to hone their skills and find more outlets for their content. If you've got the message but not the creative chops, pay a budding content creator a small fee to generate a podcast, video, or blog post on your behalf.

Pay to play:

If you're willing to redirect some of your advertising spend into social, investing some money on paid social can help jump-start your exposure and put you in front of more candidates in a less crowded marketplace.

Uplevel your cold outreach:

If job boards are central to your strategy, content still matters. Data shows that candidates who use job boards often don't even look at company or role information until they receive initial contact from a potential employer. That first message is your opportunity to tell your story and share your employer brand in a memorable way.
Join us each week for more tales from the trenches and best-practice people guidance.