Small Business Applicant Tracking System
The fast, flexible ATS for small businesses
Pinpoint is the easier way to attract the right candidates, select the best, and wow new hires from the moment they say 'yes'.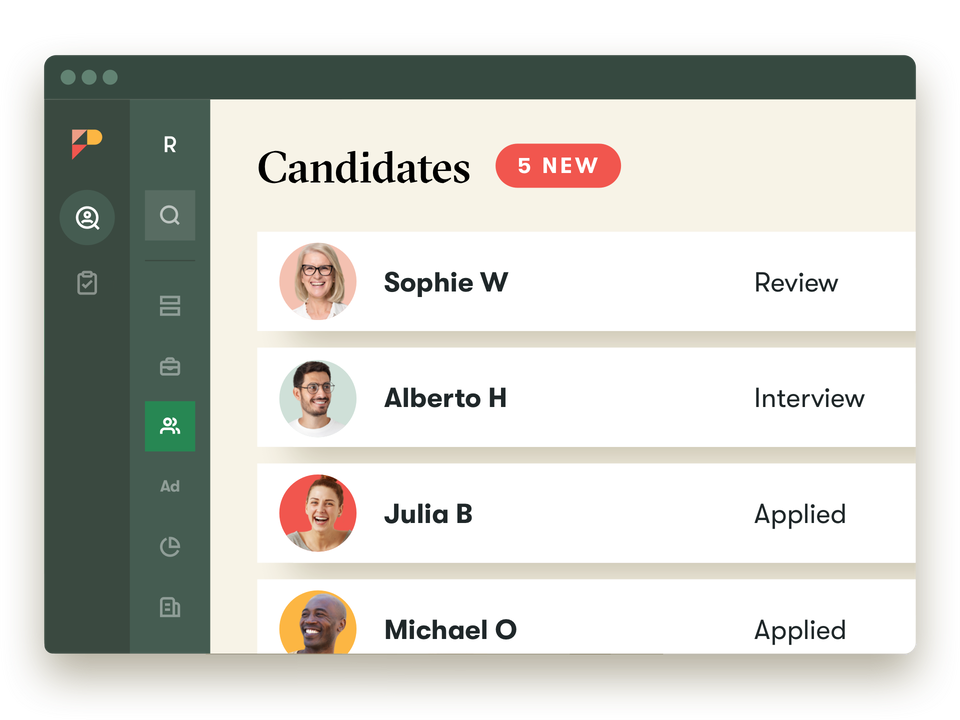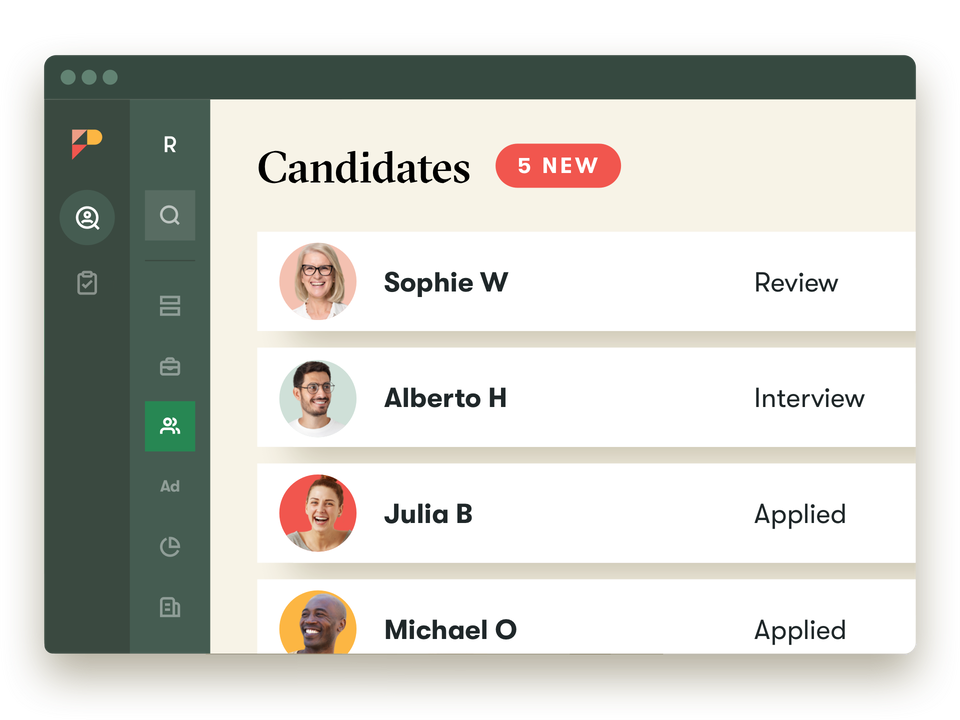 Get more control with the platform that's ready for anything
Always easy-to-use, with the functionality you need now and flexibility to add more over time
Businesses that use Pinpoint
4X
Attract 4x more candidates
40%
Make hires 40% faster
80%
Spend 80% less time on admin
Why Pinpoint is the best applicant tracking system for small businesses
Get started fast
Pinpoint's a powerful recruitment tool used by some of the best-known brands. But it's designed in a way that makes it quick to learn, simple to use, and easy to get started. 
The hard work's done for you
Setting up the system, building your careers page, creating templates, helping you choose where to advertise—we do the heavy lifting for you.
Get unlimited help and support
You don't just get recruitment software, you get unlimited access to our team of recruitment experts who help you make better hires, faster.
Offer a competitive candidate experience
Through automation, pre-built templates, and a fully branded careers page your small businesses will offer the same quality of candidate experience as your larger competitors—even the ones with a full-time talent acquisition team.
Built to scale
Expand into flexible workflows as you grow. Pinpoint is the hiring platform you won't outgrow.
Pinpoint is easy to use and has enabled us to streamline our recruitment process and improve communication with our candidates.
Small Business ATS FAQs
Q
Do small businesses use applicant tracking systems?
A
The short answer is "yes". The long answer is "it depends".
There are lots of reasons a small business would want to use an applicant tracking system. If a small business is struggling with one of these challenges, it's likely that they are using an applicant tracking system already (or should be):
They want to minimize recruitment admin
Whether it's posting to multiple job boards, scheduling interviews or getting feedback on interviews from managers, there's a ton of admin in recruitment and that time could be better spent growing the business.
Spending less time on admin and having one central source of truth for everything to do with recruitment (from emails to interview schedules and offer letters) is the top reason small businesses invest in an applicant tracking system.
They want to hire the best candidates
The best candidates have choice. And Small Businesses often can't afford the perks that larger organizations offer. By offering a better candidate experience, and getting to the offer faster they can compete with much larger businesses for the best talent.
They don't want to rely on recruitment agencies
Small businesses don't want to spend money unnecessarily. Recruitment agencies are expensive and don't always get you the best result. Using the marketing features included with modern applicant tracking systems you'll be able to quickly create a branded careers website, reach the right candidates on social media, and post your job to hundreds of job boards—and stop relying on recruitment agencies.
Q
How to choose the right applicant tracking system for a small business
A
Most large organizations use an applicant tracking system but it doesn't mean that all applicant tracking systems are right for small businesses.
Price
Price is a major factor in the purchasing decision for small businesses but not all applicant tracking software vendors can offer pricing that's competitive enough for small businesses.
Design
Small businesses need to get up and running quickly. A simple user interface and a tool that's easy to get up and running with fast is important.
Cloud vs On-Premises
Small businesses will usually look for an online applicant tracking system
Marketing tools
Most small businesses don't have a dedicated in-house talent acquisition team. Recruitment marketing tools like a branded careers website, job board integrations, and social media recruiting tools are table stakes for small businesses choosing an ATS.
Candidate Experience
It's hard for small businesses to compete for the best talent. Their larger competitors can often offer more benefits and a bigger salary.
That's why small businesses need to choose talent acquisition software that will help them offer a stand-out candidate experience and move quickly. The goal is to make an offer to the right candidate quickly, before a larger competitor gets in there.
Integrations
Small businesses use different HR software, payroll software, and assessment tools. When choosing recruitment software, they'll need to find a vendor that integrates with their existing HR tech stack (not just the software that's popular with bigger organizations).
Ability to scale
While there are lots of applicant tracking systems tailored towards the enterprise, there are lots applicant tracking systems tailored towards smaller business too.
If you're planning to grow your business over time, you need something in between. An ATS that's quick to implement, meets your budget, and has the right features and support to do what you need today, but that will grow with your business over time.