Applicant tracking systems can be total HR game changers if you select the right one. But choosing the 'right one' can seem a challenge.
Don't fret, we're going to show you all the things a great ATS should be able to do and help you decide what's right for you.
In this article, I'm going to explain what an Applicant Tracking System (or ATS) is, why using one would be useful to your business, and how you can go about choosing the perfect one for you. 
As an in-house recruiter, you deserve the same standard of support, tools and software that other teams such as finance, marketing, and sales get… don't you? We think so.
So, keep reading. We're gonna delve right in and uncover all the ways a really good ATS will save you time and money, while also making you killer at your job.
Sounds good right? 
Get your free ATS business case template
What is an Applicant Tracking System or ATS?
Essentially, an ATS is a piece of software that supports you as in-house recruiters, your hiring managers, and hiring teams to attract, hire and retain the very best people for your business.
Automating administrative duties and helping to sift through hundreds of resumes that aren't relevant is one way that your ATS will save you time.
But a great ATS should also help attract great people to your company through targeted recruitment advertising and employer branding campaigns, reduce administration throughout the entire hiring process with automation, and help you to offer a better candidate experience for your applicants. 
Basically, it should help you to do your job really well.
What are the benefits of an ATS?
A great ATS will help support the entire recruitment process. It will help you to attract great candidates, make applying easier for the candidate, and help you automatically filter out unsuitable applicants.
After you've attracted the right applicants, it'll help make hiring those people easy. Tools like interview scheduling, interview score cards, candidate messaging, and automatic collection of hiring manager feedback are priceless time-savers. 
Finally, a great ATS will help you build a talent pool of 'silver medalists'. It'll make keeping those people engaged and interested in new roles easy, and give you a simple central location to do all of the above. Sounds good right? It is.
How does an applicant tracking system work?
Attract
A great ATS will engage with the right people and encourage them to apply for your vacancies.
Your ATS provider's support team should help you to figure out your EVP (if you don't already have this nailed, check out our article and super-simple free template here) and the best applicant tracking systems will automatically create adverts to showcase your EVP and open vacancies to your ideal candidates. 
With a couple of clicks you can launch a social media marketing campaign, without any need to involve the marketing department. So now you can own the whole recruitment marketing process end to end.
Features like easy (yes, you really can build your advert with zero experience in social media marketing) social media advertising helps to create genuinely great adverts that are targeted to the audience you want to attract. So your ATS will be doing a lot of the legwork for you. 
Applicant tracking systems that do the "attract" piece really well will include employee referral software to help you with your employee referral program and to manage any external recruiters – all in one central system.
Hire
Once you've attracted these great candidates, a good ATS will make sure that the application process doesn't put any of them off. 
No more 100 question applications. No more ugly forms. Your ATS should be able to provide you with a dedicated, fully branded careers website without any help from your IT department to get it set up.
Now that your candidates have applied, your ATS's scorecard functionality will make it easy for anyone on the hiring team to login to the centralized software and score candidates on key skills and fit for the vacancy. 
Need to schedule interviews? No stress. Your ATS should have automated interview scheduling tools, so that your candidate can select the time slot that suits them (based on your interview panel's availability). This means no back and forth… just one email with a selection of times, sent from within the software.
So you want a new team member, but the process is laborious? An ATS can help here too, by helping to create, track, and approve job requisitions with multi-stage workflows and unlimited levels of sign-off. 
Far too often during the recruitment process really great candidates are lost if they didn't get the role that was available at the time. 
If these people were skilled in other areas and culturally suited your organization you should be keeping in touch. You can easily store their details within your talent pipeline within your ATS. So, next time you go to hire, you already have an engaged pool of applicants to approach. 
Retain
With a shift to remote working, onboarding has taken a 360. Now, relying on digital tools to aid new hires is a necessity. So having an ATS with built-in onboarding assistance is a real game-changer. This can hugely reduce administrative burdens and make sure that your new hire is engaged, supported, and productive from day one.
What is the difference between an ATS and an HRIS?
Long answer short, an HRIS (Human Resource Information System) is usually the tool you use post-hire. Whereas an ATS is what you use to help you hire. 
An HRIS is a system that helps to manage things such as accounting, payroll, and management. It includes features to help day-to-day recruitment operations rather than specifically attract, hire and retain tools.
Most applicant tracking software will integrate with your HRIS to allow you to push information about new hires directly into your HRIS. No manual data entry. No room for error.
What are the key features of an applicant tracking system?
This really varies depending on which ATS you're using, but in general, I'd say that the core features of most applicant tracking systems should be:
Recruitment advertising tools that help you attract the candidates you actually want

Career page hosting (so the ATS will create and host your shiny new careers website)

Job distribution across relevant job boards and social media

Receiving and sorting applications (imagine little robot elves going through the CVs and putting them into categories, before you see the final selection)

Candidate database (Ok, so that great applicant who was just pipped to the post? Get them stored in a talent pipeline for when a suitable role does come up)

Providing a centralized system to make collaborating with teammates easy (logins for all those people who need to be involved in the hiring process, allowing them access to the system where all your applicant info, interview notes, and communications are stored)

Messaging (send candidates messages within the software, so that everything is tracked and anyone who needs to see, can)

Interview scheduling (easy peasy, no more emails. Just block out time in your calendar and auto-send to the candidate to book themselves in)

Scorecards. Great applicant tracking software will offer candidate scorecards so that you can easily compare candidates and consolidate feedback. 

Worried about bias? Eliminate it completely with blind recruiting. This tool hides all other personal information, allowing you to assess purely skills and experience.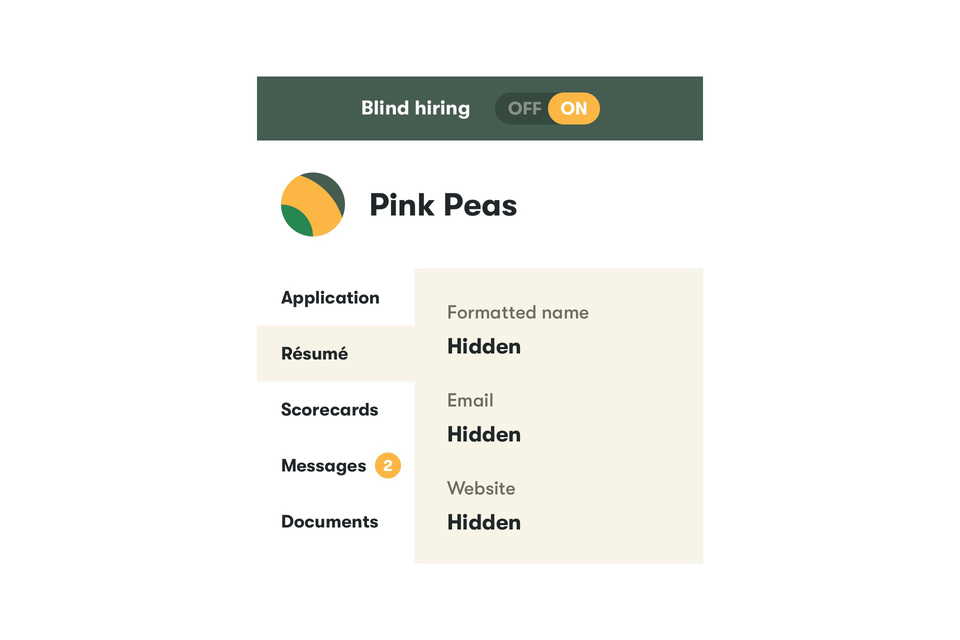 The best applicant tracking software will help you source as well as select great people. So, how do you select the ATS that is right for you? Well, a great beginning is to think about your objectives, what features you need to fulfil them, and then do a little comparison.
How do I choose an applicant tracking system?
What a great question. So. Really you need to think about what your core struggles are right now. 
Is your application process lengthy and boring?

Are you losing great applicants in the process?
Do you wish you could attract more good quality applicants?
Do you want to reduce reliance on external agencies?
Are you spending too much time on repetitive admin?
Are you getting loads of random applicants?
Do you need some decent filtering because you get 500 applications per job that you post?
Or, is it actually that you just want all applicants to be in the same place, making it easier for the hiring managers to keep track of things?
No matter what your key issues are, there's an ATS for you. Probably one of the easiest ways to work out how to select the best ATS for you is to follow these steps:

Identify your key challenges.

Identify the ATS providers that have the right features to solve those challenges.

Arrange a demo with at least 3 that make your shortlist.

Do your research – check out reviews on sites like Capterra to see what the service and support is really like. 

Consider price – but, more importantly, think about return on investment. And that return on investment should go beyond just time saved. Often the cheapest ATS won't be the best one for you.
What is the best applicant tracking system?
This truly depends on what you mean by best. The most user friendly? The easiest to get your entire team set up on? The one that saves you the most time? The one that designs a really nice process for the candidate? What is it that you're looking for? When you know this, then you can find 'the best' for you.
But lonnnnng answer short, it's us. We've created Pinpoint with a view of not just creating another good ATS software, but the best one (and you can get a demo here).
How much does an applicant tracking system cost?
There are a number of ways in which applicant tracking systems are priced. Things to be aware of before you invest in one, is that a lot of ATS providers will charge extra for various things such as the number of users, the number of roles you want to advertise, even onboarding and the customer support at lower tiers is often really limited. (Sidebar, at Pinpoint, we don't charge extra for any of this stuff. It all comes as standard because we want you to use all of the really useful features we've built – and our customer support is unlimited, always). 
Here are the main applicant tracking system pricing models:
Pay per recruiter (PPR): So, you pay per user you have on the system. We don't believe in this, as we want your whole company to use our ATS.
Pay per job: Again, we believe that this discourages use of the software… surely you shouldn't be penalized for using a system you've purchased?
Pay per employee: Total price of the software can be based on how big your company is – so there is a price per head. 
Flat fee: So, no matter how many users, how many roles or employees you pay one flat fee, once usually for a year's subscription. This is how our pricing works at Pinpoint. Why? Because we want you to really use the software to its fullest potential including using all features we've built to make your job of attracting, hiring, and retaining the best talent easier.
By choosing the right ATS, most organizations find they can get a positive return on investment. In this way, the cheapest solution often won't be the right one (even from a purely financial standpoint). So understanding the likely return on investment for your unique set of circumstances will be the best way to set your applicant tracking system budget.  
At Pinpoint, we have one price unlocking full access to our software and unlimited support – for as many users as you like because we believe everyone in the business should be involved in recruitment. Our enterprise plan also includes unlimited vacancies because we believe that great businesses are "always hiring" – even if they don't have vacancies right now.
Want to organize a free demo of Pinpoint so we can show you what all the fuss is about?