Why Pinpoint?
Attract, hire, and onboard more of the right people with Pinpoint
Traditional applicant tracking systems make candidates ignore you and hiring managers hate you.

Our fresh approach transforms your ATS into something your team, your candidates, and even your CFO love—not something they're forced to deal with.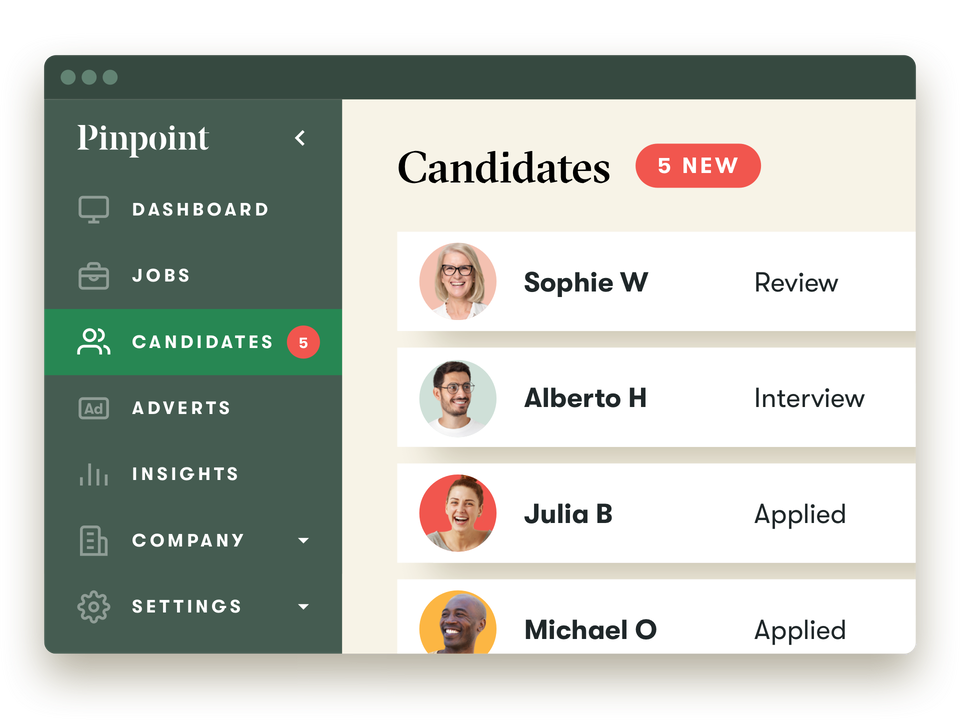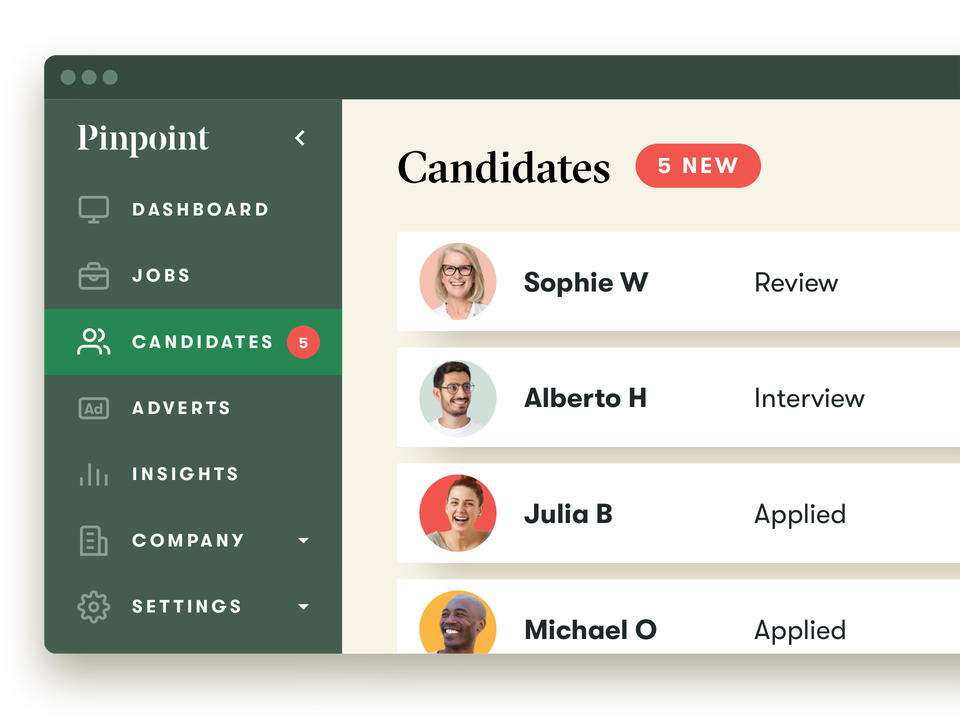 But clunky software, over-stretched talent acquisition teams, and a lack of buy-in from leadership means companies settle for hiring people their competitors reject
Teams that choose Pinpoint
4x
Attract 4 x more direct candidates
80%
Spend 80% less time on admin
40%
Make hires 40% faster
83%
Reduce recruitment agency spend by 83%
People ❤️ Pinpoint
They try all sorts of things before switching—traditional applicant tracking systems, email, spreadsheets, website forms... So what's changed since starting with Pinpoint?
The main driver for us for this solution was to reduce our time to hire, provide a better experience to our candidates and hiring managers, and reduce our reliance on agencies. After less than a month of having this solution we are already seeing the benefits. The support and guidance that Pinpoint has provided us has been first class.
I use the live chat, and there's no waiting on it. It's a great experience and we really love talking to you.
I really couldn't fault the customer service we have received, your team have been so helpful and professional throughout the implementation of Pinpoint and onwards.
Pinpoint is so quick and user-friendly. We have saved so much time on admin since we started using it. I don't think I could ever go back to our old way of recruiting!
Such a great tool! I'm very new to using Pinpoint but I can honestly say it's so user friendly and cuts out such a lot of time producing letters etc.
Pinpoint has modernised our recruitment overnight, we have already had positive feedback from our management team.
Goodbye recruitment agencies, hello Pinpoint! The customer success team have been so helpful and professional throughout the implementation of Pinpoint and onwards.
In the past, we have spent a fortune on agencies. I can now spend less, get better results from that money, and save money in the long-run. It's really exciting, the business is really taking recruitment seriously now.
There's always that little bit of uncertainty with a new process, but everyone has adopted Pinpoint really well. I think that the efficiency and user experience of the system has helped to gain our team's overall buy-in for the new process.
Want more reviews? Read them all 👉
How it Works
Simple, intelligent software and unlimited help from our team means you'll attract the right candidates, select from the best, and wow your new hires from the moment they say 'yes'.
Are we a fit?
Lots of people love us, but we're not right for everyone.
If this is you, let's talk
You want to consistently hire the right people at the right time.
You think it's cool when software vendors are more like partners and respond to your questions in less than 2 minutes, consistently.
You believe that hiring direct is the future of recruiting, and that most external recruiters don't add value.
You know that hiring's a team sport and engaging hiring managers with the process is key to success.
You care about getting the best return on investment from every software purchase.
You think that making one great hire is as important to your business as the biggest deal sales closed last month.
You care about candidate quality over candidate quantity and believe a strong employer brand is key to attracting the best people.
You believe that humans should hire humans—that great data should inform the process, but humans should be making the final decision.
You want a best-in-class talent acquisition platform that integrates with other best in class tools.
If this is you, we're not a fit... but we're happy to talk about other options
You're a recruitment agency looking for a tool to help you manage your candidates and clients. (If you're an RPO, we still love you so ignore this line).
You want to buy the cheapest ATS there is (we're by no means the most expensive, but there are cheaper solutions out there¬—with good reason).
You think making it difficult for candidates to apply is the right way to stop time wasters from applying.
You're looking for an HRIS with an ATS module (not Pinpoint), rather than a best-in-class recruitment platform that integrates with your HRIS (Pinpoint).
You want AI to decide who you should hire, without your input.
Pinpoint are keen to listen to any ideas and care about providing our team with a great service.
Pinpoint vs Traditional Applicant Tracking Systems
Built for internal teams, not agencies
100% of our time gets invested in building things that internal TA teams, hiring managers, and candidates care about.

The result? Pinpoint's easier to use, and we deliver tools to help you meet changing requirements in the candidate market and keep up with the latest recruitment best practice, faster than anyone else.
Employer branding is core to what we do
Attracting ten good fit candidates, hiring two and putting five in your talent pipeline is better than attracting 1,000 candidates and only hiring one—it's better for your time, it's better for your budget, and it's better for your candidates.

That's why we help you take care of employer branding too.

Everything from your careers website, to measuring and improving your candidate experience is built into Pinpoint.
We care a lot about design and user experience
Clunky applicant tracking software stops the best candidates applying, and makes your hiring managers hate you.

Pinpoint gives everyone the experience they want.

We want to talk, and we love your ideas
No submitting a support ticket into a black hole or waiting two days for a response. Want to ask us about best practice in an area you're looking to improve? Great!

Get unlimited access to our team through implementation and beyond. We respond to support enquiries in under two minutes.

Got an idea for how we could do better? Let us know. 1/3 of our development time is invested into building suggestions from our customers.
One simple price
Pay one price for unlimited users, candidates, and jobs.

You should be focussing on hiring great people—not worrying about your bill.
An open ecosystem
Sure, you can buy an all-in-one HRIS, ATS, onboarding, video interview, payroll, background screening, and performance management system. But it's a compromise. No single tool can be stand-out good at everything.

The best teams are choosing best-in-class systems that offer deep integrations with other best-in-class systems.

That's why we dedicate 1/3 of our product development time to building a huge ecosystem of deep integrations.

They have supported us every step of the way from pulling the business case together to training our people.
See Pinpoint in Action
Learn more about Pinpoint with our on-demand demo video.