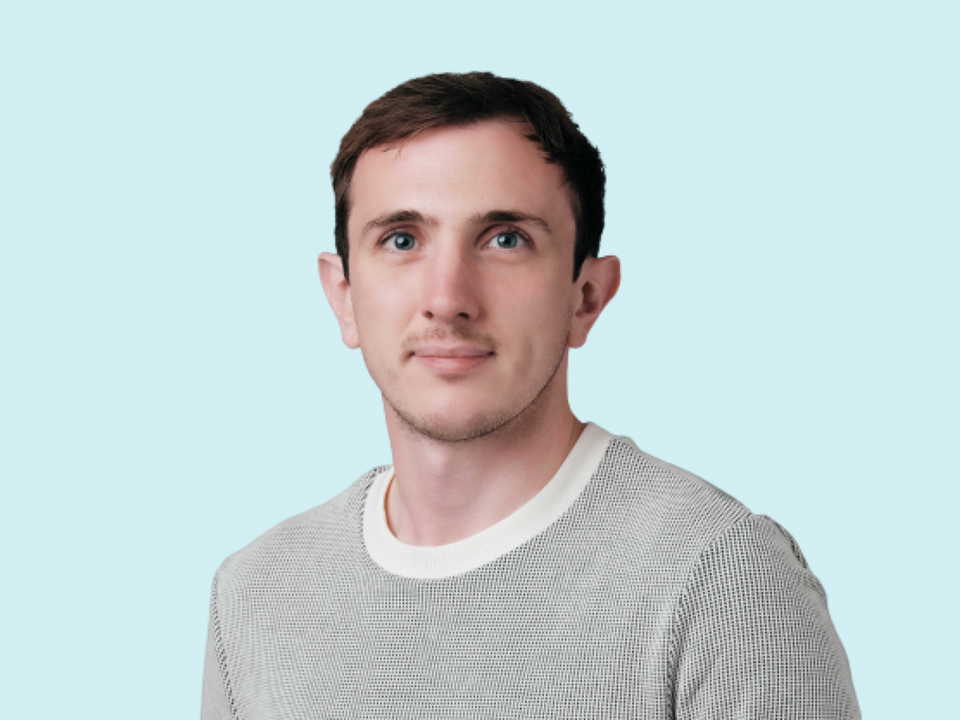 News
Product Spotlight – November 2021
November 9th, 2021
1 minute read
This month we continue with the theme of helping standardize your workflow through reusable templates with the introduction of Question Collections and Job Templates.
Plus, we're constantly looking for ways to make reporting more powerful, and help you make better decisions which is why we've introduced Recruiter Reporting.
Let's dive in…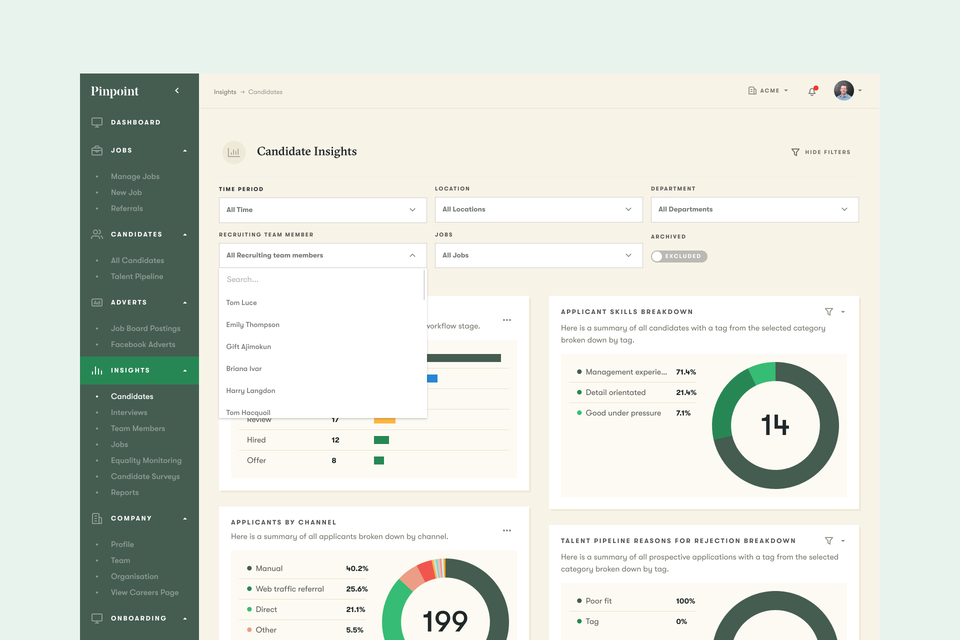 If you have lots of recruiters on your team, it can be difficult to keep track of who's working on what. Well, not anymore. Select the Recruiting Team Member that's responsible for each job you create in Pinpoint then quickly filter jobs and create reports based on the recruiter that's responsible for the role. Learn more here.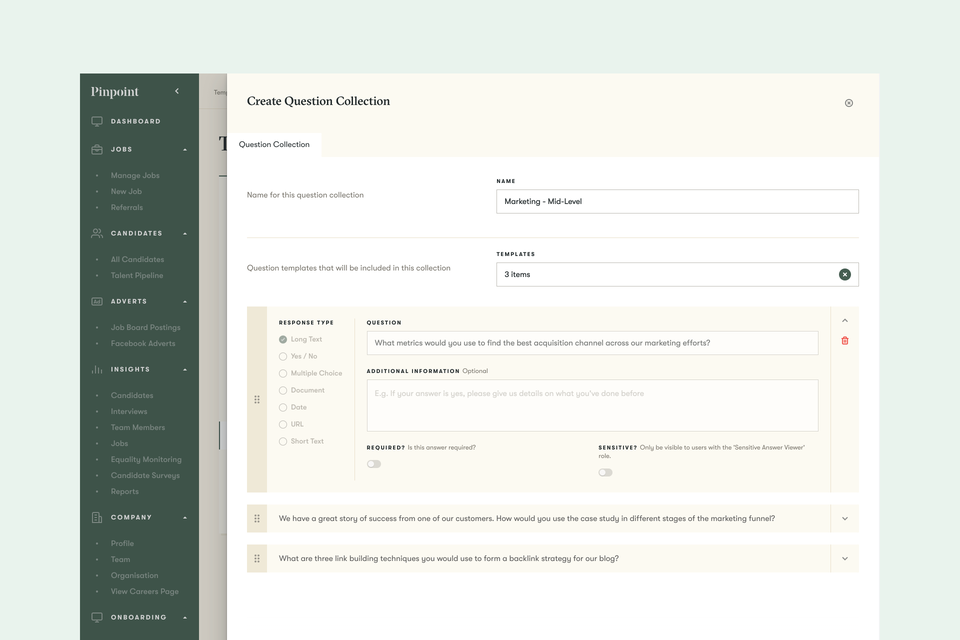 Now you can use Question Collections to create groups of questions that you use regularly, then apply that standard template each time you create a job in Pinpoint.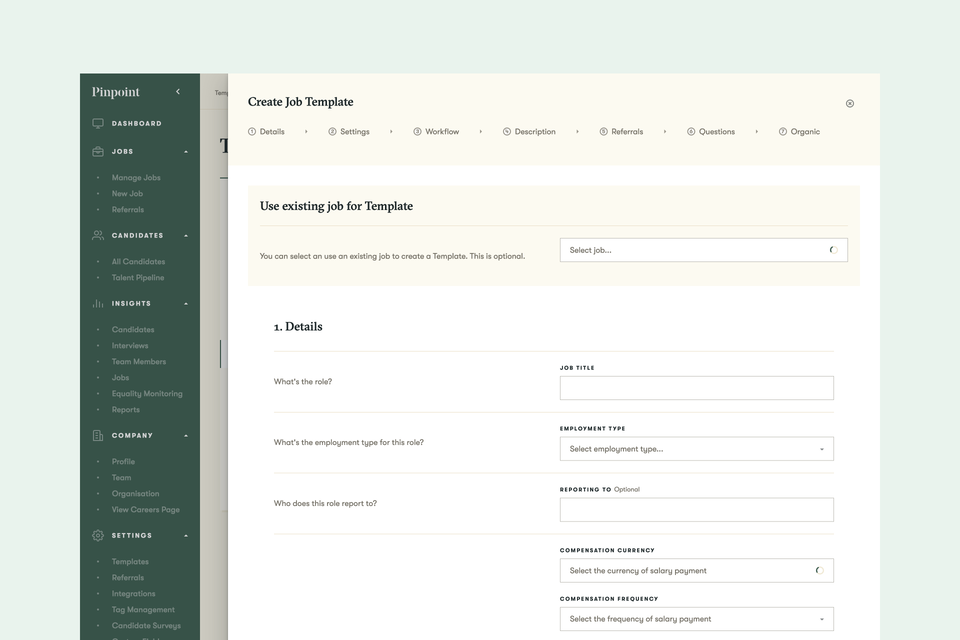 Previously, duplicating jobs was the easiest way to create a template. Now we have a dedicated job template builder. Create your job templates (Settings > Templates > Job Templates) and apply them when you create a new job.
Other small but mighty changes
Every month we make small improvements to Pinpoint that are a big deal for some of you. Here's what we launched this month:
Upgrades to Offers
Now you can:
Quickly edit the offer and offer letter before sending
Choose not to include "paid days off" and "reporting to" on offers
Email a copy of the signed offer letter to the applicant once they've signed
Upgrades to Interviews
After last month's huge upgrade to interview scheduling, we've continued to make some adjustments. Now you can:
Set the interview team for a stage in the configuration page – this default hiring team will be used when scheduling an interview
When the end date for scheduling an interview has passed, and a candidate hasn't scheduled an interview, you'll be notified in the interview status column
Now you can easily resend interview invites from Pinpoint to candidates who don't schedule within the set window
And finally…
When copying an applicant from one job to another, any answers to application form questions and documents are now also copied across
The Offer Compensation field is now available (unformatted) in the custom report builder
Company structures (locations, departments, etc) are available as API endpoints (more info in our API documentation)
And that's it for this month.
We'd love you to get in touch if there's anything we can help with, or if you have feedback on this latest product release.
Want to see Pinpoint in action?
We'd love to show you around. Watch our on-demand demo video today.