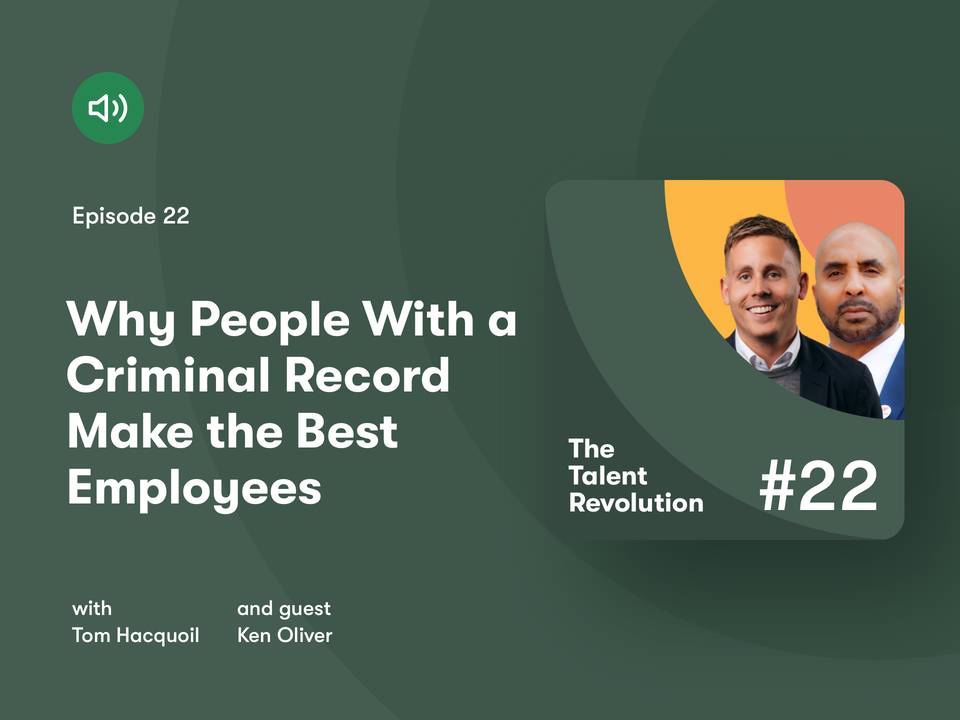 Podcast
Reduce Your Attrition Rate With Fair Chance Hiring
April 5th, 2022
5 minute read
We've all needed a second chance at one point or another. But for formerly incarcerated people, second chances are a rare thing.
They're often screened out of early recruitment rounds if they identify themselves as having a criminal record. Or job offers are rescinded after a background check—even if the job they're applying for is unrelated to the crime they served time for.
Here's what you need to know about the value of second chances. Data show that people with criminal records make more loyal employees; on the whole, the attrition rate of ex-offenders is lower than average. And people with a criminal record aren't just less likely to quit—they're more likely to get promoted and less likely to engage in workplace misconduct.
If you think we're talking about a small group, think again. Nearly one-third of U.S. adults have some type of prior arrest or conviction record. 
That group includes Ken Oliver, now the Executive Director of Checkr.org. Before he turned 30 years old, he was sentenced to life in prison for a nonviolent crime under California's three-strikes law. Eventually, with the help of Stanford University and law firm Mayer Brown, Ken secured his release after 24 long years in prison. 
Today, Ken has focused his career on fighting discrimination against formerly incarcerated people, working to get them equal access to safe housing, meaningful employment, and access to economic mobility. Read on to learn how Ken's mission might just lead to your next perfect hire.
Second chances benefit everyone
Imagine that you're 29 years old. A judge has just sentenced you to 52 years to life in prison for the crime of joyriding (being a passenger in a stolen vehicle).
When Ken Oliver heard that sentence, he was shocked. But he refused to believe that he'd die in prison or that he deserved to spend the rest of his life there. Instead, he immersed himself in books about philosophy, technology, business, and anything else he could get his hands on. 
"I validated my own worth in an environment where I was constantly met with a barrage of people trying to convince me I had no worth," Ken told me.
Then his incarceration took an even more difficult turn. Eight years of the 24 he ultimately served were spent in solitary confinement, sleeping on a concrete slab in a 6×9 cell. Ken was punished with solitary for reading a book about the Black Panthers. Though the book is a part of many college curriculums in the U.S., the State felt he was a "threat to the prison system" because he read "politically-charged" literature.
"The first thing that struck me was, this is what happened to my ancestors," Ken said. Slavery relied heavily on laws preventing African American people from educating themselves. So Ken doubled down, reading specifically about the law. He read over 1,000 Supreme Court cases from dozens of states, trying to unwind what had happened to him and how he could change his circumstances. 
This knowledge served him well; with a legal team at his side, he successfully filed a lawsuit in federal court against the California Department of Corrections, which ultimately led to his release after 24 years in prison. Most of us can only imagine that kind of resilience.
Ken credits his strength to refusing to believe the stories people told him about himself. "I never set well with people defining me for me," he says. 
Fair chance hiring means hiring the best person for the job
Today, Ken is dedicated to the mission of fair chance hiring, or securing equal opportunity for workers with a criminal record. It's an uphill battle; in the United States alone, there are 48,000 laws that make it difficult for people to secure meaningful employment after a conviction. 
As the Executive Director of Checkr.org, a foundation focused on normalizing fair chance hiring in corporate America, Ken is fighting to make sure those people don't become second-class citizens. A whopping 70 million people are faced with enormous barriers when accessing work, affordable housing, and economic mobility. 
So how can businesses make a difference? First, Ken says, there needs to be an internal conversation about second chances: Do we believe that people who may have committed a crime deserve the chance to rebuild their lives? And if we believe that, how can we ensure it happens within our business?
Most of the time, Ken says, an ex-offender is not a risk to your business. Their crime—or alleged crime, for those wrongfully convicted—is usually unrelated to the job at hand. In fact, some studies show lower incidences of theft and other workplace misconduct than amongst people who have never been convicted of a crime.
"We're not asking organizations to hire criminals," Ken told me. "We're asking them to hire the best person for the job." 
How to advance fair hiring practices
Non-inclusive job descriptions and judgmental HR managers are just the beginning of the obstacles ex-offenders face when trying to secure meaningful work. "It's terrifying for people," Ken says. "The barriers are vast."
That's why Checkr has made it their corporate mission to advance fair chance hiring practices and eliminate bias in the workplace. They've become a market leader in normalizing fair chance hiring, which is especially relevant now.
In the context of the talent shortage, businesses simply can't afford to exclude nearly one-third of the population when they're recruiting.
To achieve their objective, Checkr works on policy and advocacy, corporate education, and skill development for formerly incarcerated people trying to enter the knowledge economy. 
Ken also gave us a list of additional resources to help businesses who want to engage in fair chance hiring, but aren't sure where to start:
In closing, Ken left me with a final thought. The number one driver of mass incarceration is poverty, and the best way to alleviate poverty is through education and work. "It's not rocket science," he said. "It's just a matter of will."
Join us each week for more tales from the trenches and best-practice people guidance.