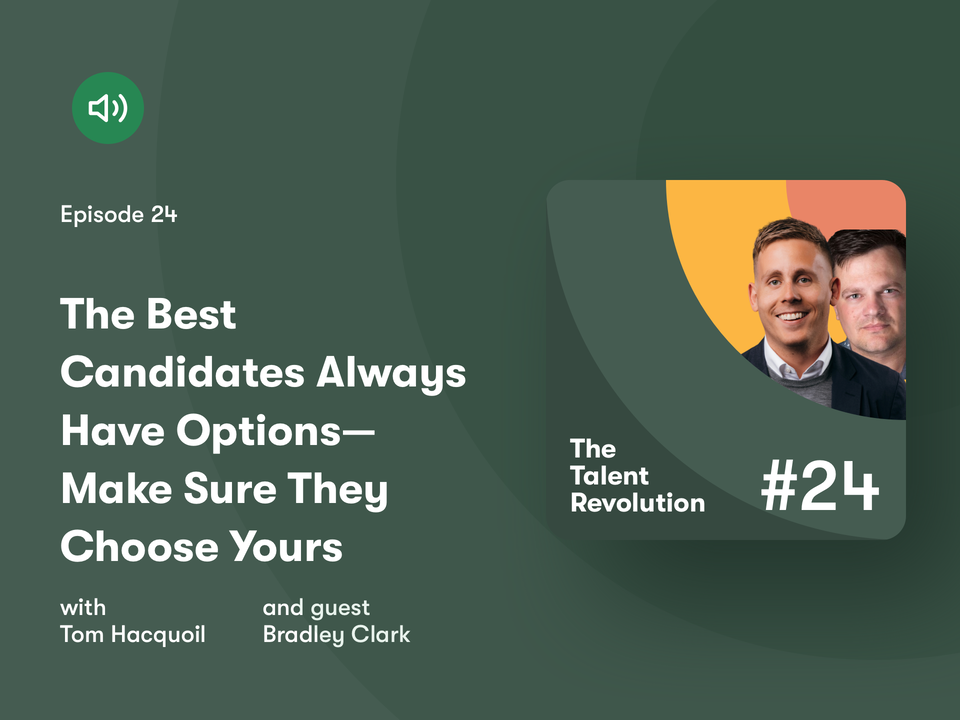 Podcast
Treating HR as a Product Will Transform Your Business
May 10th, 2022
6 minute read
It's hard to imagine now, but early in Brad Clark's career, the idea that recruitment was all about the candidates was a disruptive one.
It's hard to imagine now, but early in Brad Clark's career, the idea that recruitment was all about the candidates was a disruptive one. 
Before startup culture (and then COVID) came on the scene and turned traditional recruitment upside-down, most organizations considered candidates lucky to interview with them. Job postings were all about the company, not the employee experience.
Brad realized early on that the best people always have options. The best way to ensure they pick yours is to make recruitment all about the candidates, not the company.
Fast-forward to today, and Brad is the Director of Talent Acquisition at Article, a direct-to-consumer furniture company. Our short conversation covers a lot of ground:
How Brad's background in restaurants prepared him for building tech teams,

The right questions to ask

before

you scale at warp speed,

How to approach Diversity & Inclusion while building a global brand, and

Why treating HR as a product is an essential business move
Check out our entire conversation below or read on for my top takeaways.
Let customer obsession dictate recruitment
Article currently employs more than 1,300 people—but the team wasn't always so large. Last year was a period of hypergrowth; the 15-person talent acquisition team hired 1,000 "Particles" (people at Article) in a single year. The midcentury modern furniture company was founded by software engineers, which explains why they operate more like a tech company than a furniture company. 
When I asked Brad how his team supported such explosive headcount growth, his answer was all about customer obsession. Article is a customer-focused brand. They handle every step of the furniture-making process themselves, from sourcing and buying timber to the moment of delivery. 
This customer-obsessed brand experience extends to Article's talent acquisition function, too. Neither candidates nor hiring managers got everything they needed until the TA team was split into two parts: one serving the corporate team and the other serving warehouse and fulfillment. Yes, hiring engineers is tricky—but so is hiring warehouse and delivery staff. Now, Article's TA function supports both with equal focus.
Inclusion precedes diversity
Article's diversity game is strong, in large part because it isn't just a tech company recruiting from a small pond. It's a global brand, with offices in Vancouver, Canada and Ho Chi Minh City, Vietnam, and warehouses throughout the U.S. and Canada.
Their
Diversity & Inclusion
ethos is about making inclusion the top priority. "It's like an equation," Brad told me. "If you focus on inclusion, the result is diversity." Because Article didn't want anything other than meritocracy, they decided to widen the funnel and focus on broadening their range of applicants. 
For example, it's notoriously difficult to find female engineers, so Article supports efforts that bring women into engineering. "We're not just widening the funnel; we're bringing people into the funnel," Brad said. 
Knowing when (and why) to hire
Before Brad joined the company, recruitment at Article was decentralized. Hiring managers did their own recruitment without central coordination or direct engagement with larger company goals. 
When he came on board, he said, it was all about building trust. The hiring managers were getting some sorely-needed help, but they were losing a bit of control, too. Anxious to maintain that partnership, Brad kept the hiring managers closely involved whenever possible.
So how should talent acquisition teams determine how and when to hire—particularly during a period of hypergrowth? 
"We still don't have that nailed down, to be honest," Brad admitted. With so many new warehouse and fulfillment locations opening so quickly, the team scrambled to keep pace with the business. Brad described it this way: "Last year was about getting the right people on the bus. This year, it's about who sits where." 
Sometimes there simply isn't time to slow down and take stock. Most startups hope for the day when they desperately need to hire at scale. But this year, Brad's focus is on putting more intention around the hiring process. This means asking questions like:
What roles are really needed?

How should they be structured?

Why is each role important?

Does anyone else perform the same function?

If not, can they?
"We're slowing down and being really clear about why we're hiring and what that person is going to do," Brad explained. 
More clarity around your decision-making criteria admittedly means more pre-work, but it pays off. 
"If candidates get any sense of hesitation during the recruitment process, they're off to the next opportunity," Brad told me. Slowing down ensures that the team can confidently answer questions about what a candidate will do and why. (The alternative is what Brad calls "spaghetti recruitment": throwing things against the wall to see what sticks.)
Sometimes—like during periods of hypergrowth—a bit of spaghetti is unavoidable. But the clearer you can be about what you're looking for and why, the better the outcome.
It may sound strange, but Brad describes HR as an internal product. "We use a kanban system and build a backlog," he told me. "So we analyze the challenges and opportunities, and the teams weigh in to rank them." 
Next, they take an MVP approach to the challenges they opt to tackle. What does a v1 solution look like, and how can it evolve? 
"There's a tendency for HR to go, 'This needs to be a best-in-class system,'" Brad said. "But the reality is, you just need to make it a little better." As long as TA makes incremental gains and consistently delivers value, they're meeting the demands of the business far better than a team that's trying to "boil the ocean" and build monolithic programs. 
As every tech startup knows, trying to bring a perfect solution to market is a fool's errand. By the time your solution is finally ready, market demands have changed. The same is true within a business. 
Rather than sweeping, revolutionary change, work for one-percent gains. The former is always a day late and a dime short. The latter delivers solutions when they're needed: today. 
Join us each week for more tales from the trenches and best-practice people guidance.