Job Board Advertising Software
Make posting to multiple job boards fast and hassle free.
Pinpoint helps you get smarter about which job boards are best for you, meaning more of the right applicants with less effort.

Advertise on hundreds of the best job sites—all from within Pinpoint.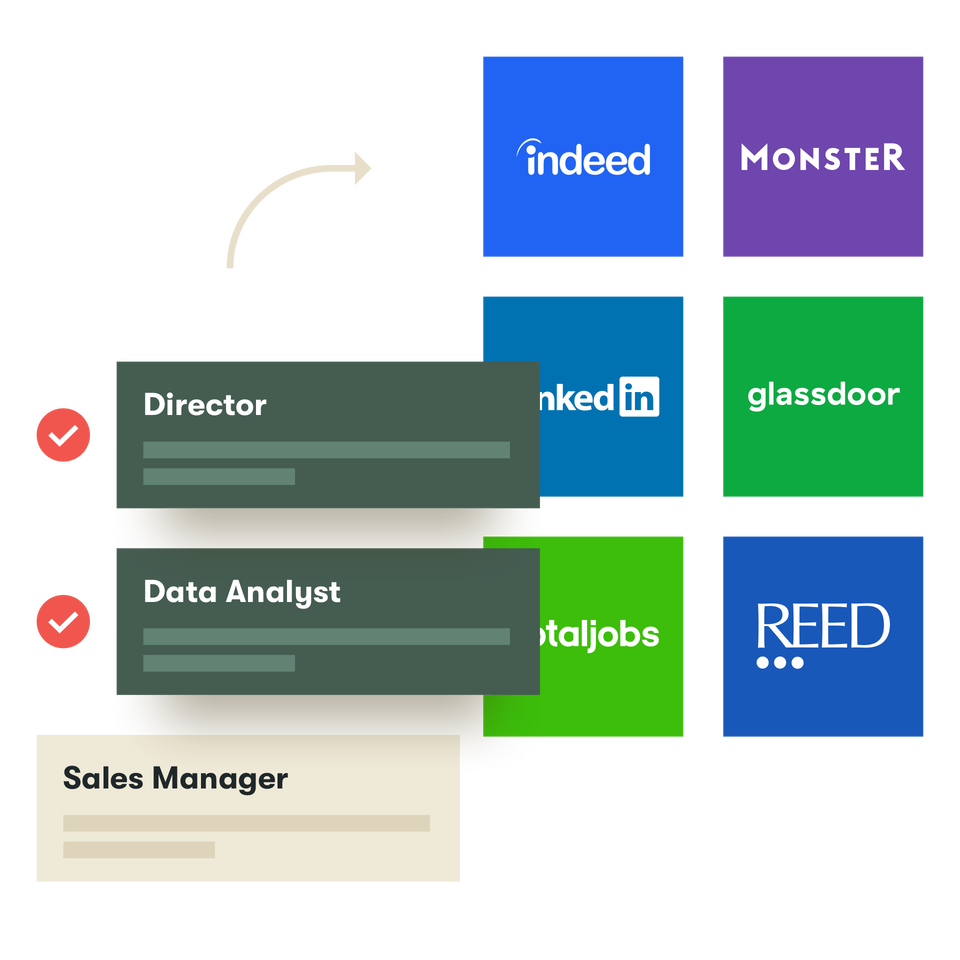 Save time
Manage all your job adverts and candidates in one place. Post to as many job boards as you like with just a couple of clicks.
Save money
Get discounts on job board advertising, and focus your budget on job boards that actually get you results.
Know you're getting it right
Detailed reporting and unlimited help from our team means you'll know which job boards get you the best candidates.
Job board advertising frequently asked questions
Q
What are the best job advertising websites?
A
The best job advertising websites are the websites your ideal candidates visit.
Most recruiters default to job boards when considering job advertising sites, but remember, this only gets you in front of active candidates. While this approach can produce quick results, the best candidates may not be actively in the market, so job boards should just be one part of a multi-channel approach to recruitment marketing.
Q
Do you offer diversity job boards?
A
Yes, there are lots of diversity recruiting job boards included in our job board marketplace. These include diversity job boards, focussed on women in technology, veterans, and candidates with disabilities.
Q
Does Pinpoint offer location-specific job boards?
A
Yes, Pinpoint includes lots of location-specific job boards. By choosing the job boards your ideal candidates visit, you'll get more of the right applicants and less bad fits. One way to do this is by target location.
Q
Does Pinpoint you offer industry-specific job boards?
A
Yes. As with location-specific job boards, industry-specific job boards are a great way to find the best candidates who are looking for a role in your industry. We include a huge number of industry-specific job boards, with industries ranging from food manufacturing to software development.
Q
Which job boards are included in the Pinpoint job board marketplace?
A
There are hundreds of job boards included in the Pinpoint job board marketplace. Feel free to get in touch if you want to know whether a specific job board is included.
Q
Can I integrate Pinpoint with my existing ATS?
A
Pinpoint's job board advertising feature is part of our overall applicant tracking software and can't be used as a stand-alone feature to integrate with other applicant tracking systems.
We do integrate with most HR information and payroll systems and have many clients that use Pinpoint as an applicant tracking system for recruiting, then push hired candidates' data to their HRIS or payroll system.
Q
I need a job posting service to integrate with my existing ATS. What do you recommend?
A
If you're looking for a stand-alone job posting service, other prospects that we talk to speak quite highly of Broadbean.
I like how I can see all my applications in one place and it's really easy to track the stages of each candidate. It's made our recruitment process a lot quicker and the team at Pinpoint are always available to help you.
Want to see Pinpoint in action?
We'd love to show you around. Watch our on-demand demo video today.