It's hard to grab (the right) candidates' attention
One of the most difficult challenges for any recruiter is capturing the attention of qualified candidates. Sometimes the quantity of applicants is high but the quality is low. Other times the CVs barely trickle in due to a crowded landscape of career opportunities.
A strong Employee Value Proposition can make a big difference in reaching your recruiting goals by reducing time to fill, elevating the caliber of talent, and keeping costs within budget—a bad employer brand can cost companies 10% more per hire. While it does require some investment of time and attention, the payoff can be exponential and has a long-term impact on company hiring and performance.
If you find yourself facing your own recruiting challenge, I hope I can be helpful by sharing my story and some examples from brands I admire.
Stand out with a strong Employee Value Proposition
You can stand out with strategic and accurate EVPs that emphasize the human side of work. Experts at Gartner and the Harvard Business Review say EVPs should speak to more than just salary and benefits, focusing on growth, connection, purpose, and candidate/employee needs.
Per Gartner, "HR leaders must evolve their EVP management by delivering a more human deal centered around the whole person, designed to provide an exceptional life experience and focused on the feelings and features that match employee needs."
In general, the best EVPs go beyond vague corporate speak ("diversity" or "great benefits") to highlight what is truly unique about their company compared with candidates' other options.
Admirable EVPs from strong brands
When considering what makes effective EVPs, I often think of companies whose brand reputations I admire and look at how they communicate their differentiators on their careers pages.
Disclaimer: I wasn't personally involved in creating any of these examples, and I know there are many other great examples I've left out, so this list is definitely not exhaustive.
With nearly 2,000 stores and over 350,000 employees in the U.S. and abroad, Target is a huge employer with roles across corporate, retail, and distribution. Target has built a reputation as an employer that generally does right by their employees—paying them higher-than-average wages and treating them well.
This EVP is reflected in their careers page which emphasizes relationships, investing in people, and doing the right thing as a team. This is especially appealing to retail, customer service, and distribution employees, reassuring them they will be treated like a valuable team member and not just like a cog in a wheel.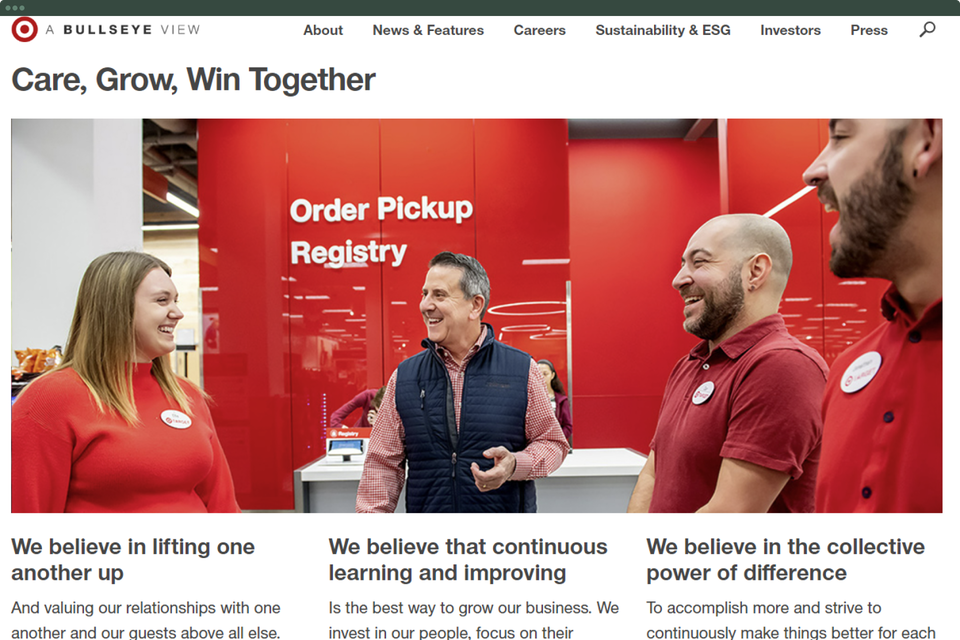 Culture Amp is an Australian-based software company with somewhere around 500-1,000 employees globally. Their product is an employee engagement platform that conducts surveys and produces insights for people teams to understand how they can best support and retain their employees.
They've made a name of themselves by bringing on thought leaders with a unique and authentic point of view, like their Senior Director of People Operations & Strategic Programs Aubrey Blanche-Sarellano. They've also positioned themselves as a known entity in their space by hosting free virtual conferences with influential speakers.
These actions are in line with the core concepts communicated on their careers page—collaboration, leading by example in creating a better world of work, fueling employees' learning and growth, and celebrating small wins. These values especially resonate with candidates in the tech industry and people/talent communities.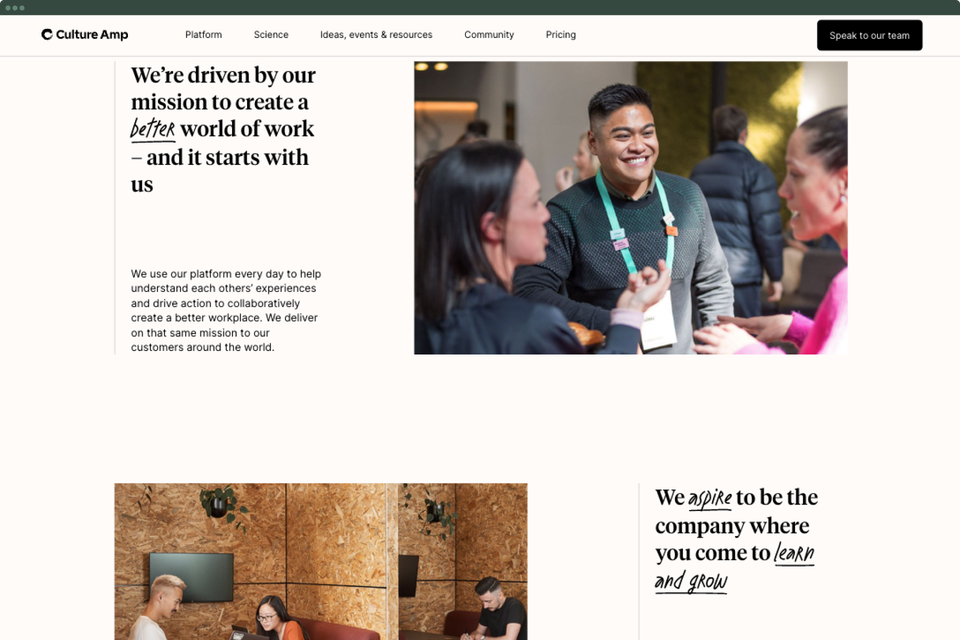 Icario is a nationwide healthcare software company with 200+ employees headquartered in Minneapolis, Minnesota. They have a high priority on their employer brand and the experiences of their customers, employees, and candidates—especially because their mission is all about empowering people to live better, healthier lives.
Icario's careers page includes essential information about their impressive benefits, but it also, most importantly, places their EVP front and center. The messaging about their inclusive, friendly, and innovative culture certainly aligns with what a lot of tech talent is looking for and mirrors their overall company ethos.
Perfecting the candidate experience is huge…We're happy with where things are, but it can always be better—especially with how competitive the talent market is right now.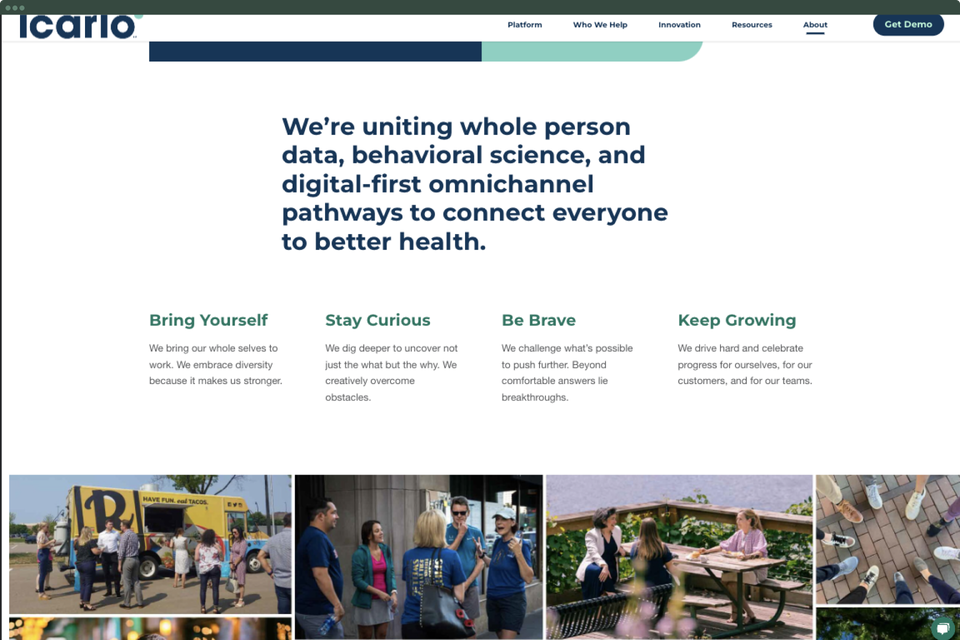 Based in Ottawa, Canada and with more than 10,000 global employees, Shopify is an eCommerce platform of online stores and retail point-of-sale systems used by over 1 million businesses. As a tech company powering online businesses, they have to be able to recruit a large number of software engineers, arguably some of the most difficult roles to fill for any employer due to high demand.
They appeal to this audience with a direct and no-nonsense tone on their careers page that definitely stands out against typical corporate jargon. They emphasize why someone might not want to work there, and get to the heart of what's different about working at Shopify. Their offering of challenging impactful work, getting stuff done fast, and operating on trust speaks directly to the desires of many software engineers.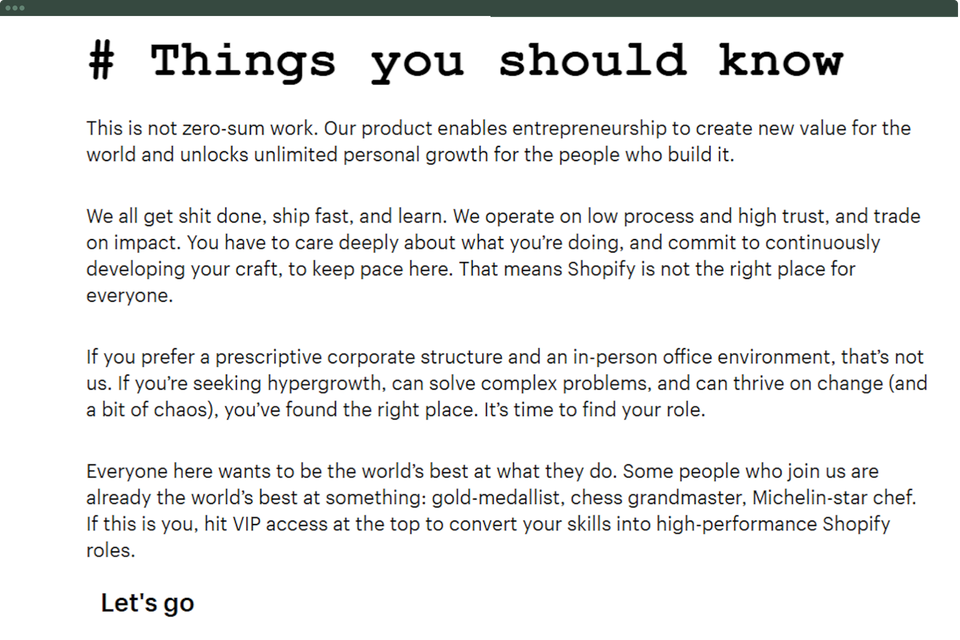 Across various industries and company sizes, an authentic and accurate EVP can help you beat out talent competitors of any kind. Whether you're on campus at top tier schools or recruiting retail employees all over the country, how you articulate and communicate your EVP has a big impact on being able to meet hiring needs.
Communicate your EVP and attract top talent with Pinpoint