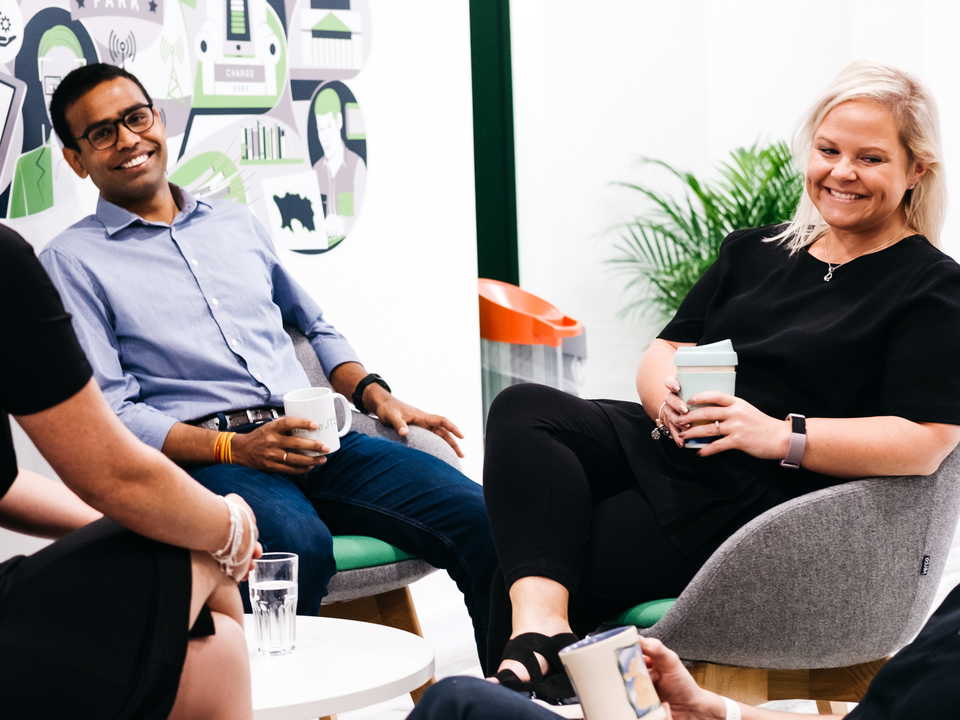 Insight
7 Ways to Reduce Recruitment Costs
April 26th, 2019
1 minute read
It seems like everywhere I turn, talent acquisition teams are under pressure to reduce recruitment costs without reducing the quality or choice of their candidates.
At the same time, they're getting increasingly frustrated by the poor quality candidates put forward by [most] recruitment agencies and have had enough of the huge fees they're having to pay when they hire the best of these "just ok" candidates.
In this article I'll take you through the steps that leading HR leaders and talent managers are taking to attract a greater choice of exceptional candidates whilst reducing recruitment costs by up to 83%.
1.
Get clear on your Employee Value Proposition
Attract more of the talent you actually want to hire.
What type of person would be a good fit for your organization?
What are you doing to persuade them that your organization would be a great place for them to work?
The market for great talent is competitive, and candidates have more choice than ever before about who they work for.
The first step to persuading the best candidates to join your team is to be clear about your Employee Value Proposition – a compelling argument explaining why someone would want to work for your company rather than a competitor.
Your EVP is the intersection between what your ideal team members are looking for in an employer and what you are able to offer.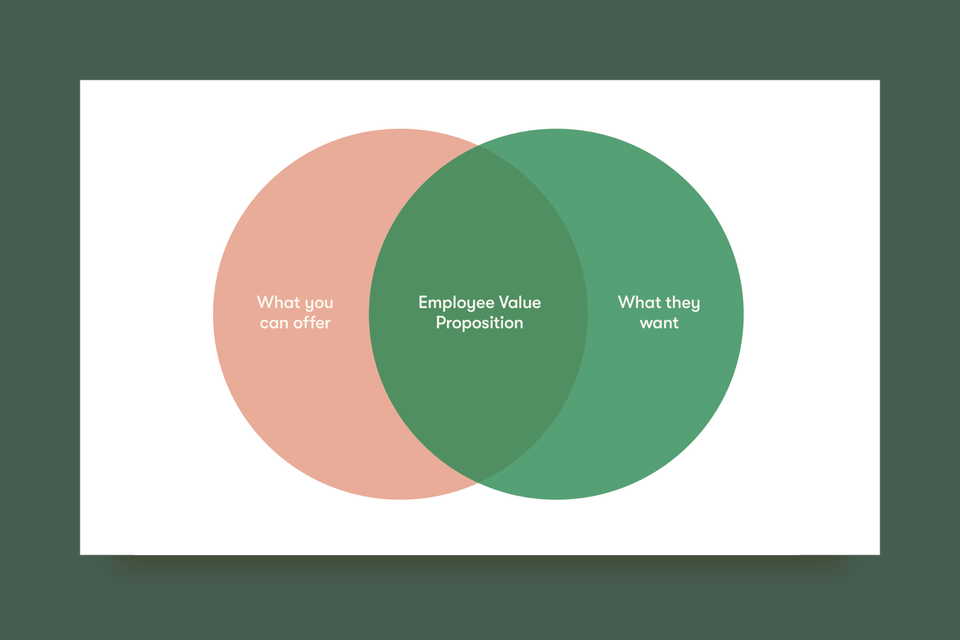 To give you some inspiration, this is UiPath's Employee Value Proposition:
"First, let's cover the table stakes. Yes, you'll get all the usual perks. But if you're the rare creature we need, that's not why you're here. You're here because you want to build the future. You're here to free people from repetitive, boring jobs and have a blast in your job along the way. We're growing faster than we expected and that's humbling. This means you'll grow fast too. And one day, you can say that you were there at the beginning."
If you're looking for some more inspiration, feel free to check out our selection of Employee Value Proposition examples and if you need some help to create your EVP, we've created a comprehensive free EVP template.
2.
Optimize Your Careers Website
Make it easy for people to find.
It may sound obvious but, at a minimum, that means an easy-to-find link in the navigation of your website and on your key social media accounts. If you're advertising positions through other channels (job boards, social media accounts, trade press etc) make sure that each ad includes a link back to your careers website.
Make it mobile friendly
Over 60% of traffic to careers websites is from mobile devices and over 35% of job applications are made from mobile devices and tablets. So it's really important that your careers site user experience is consistent regardless of device.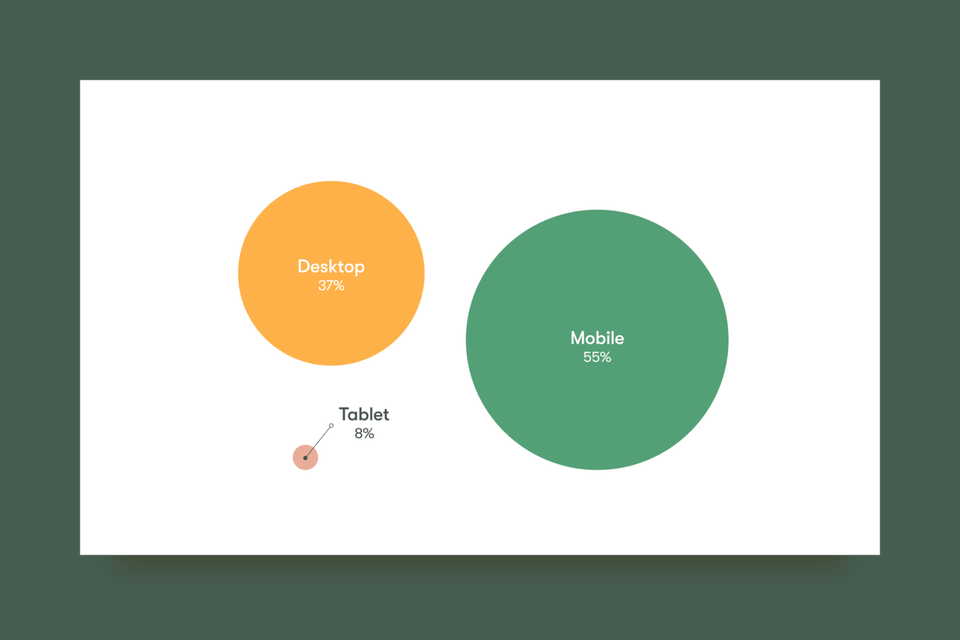 Use real photos, of real people that actually work for you
That means no stock images, and no images "borrowed" from Google image search. It means photos of your team doing whatever it is they normally do. Prospective applicants want to see what it's like to work at your company. They want to see whether what you said in your employee value proposition is true. They want to see what your office looks like. They want to get an idea of whether it's the sort of place they might want to work before they make a significant investment in applying to work for you.
Using video is even better
Adding a short video (or videos) to your careers website is a great way to showcase the character of the people that work in your team and help potential candidates get a feel for whether they're the sort of people they'd enjoy working with. Showcasing your team's passions and skills outside of work is a great way to help potential candidates get a feel for who their potential future team mates really are.
Real stories, from real people
If you're doing things right, you'll have a whole bunch of great team members already working for you who will be happy to share their experience. Glassdoor is a great place for employees to leave reviews and you can include these reviews on your own recruitment website.
Pull in social media feeds
Larger organizations often have one or more social media accounts dedicated to their recruitment marketing. Instagram is becoming an increasingly popular channel in this space and displaying your latest Instagram posts on your careers website is a brilliant way to show potential applicants what working for you entails. Here are some of our favourite company Instagram accounts:
Be clear abut benefits
Why would someone want to work for you? What are the benefits beyond the package? This all comes back to being clear about your EVP.
Handle objections
What are the questions that job seekers have about working for you?
Are they worried about confidentiality during the hiring process?
Do they need to know how your shift patterns work?
Do they need to know information about what it's like to move to your area?
Going through the process of defining your candidate personas will help you to identify what these questions might be.
3.
Run targeted ad campaigns
The best careers website in the world is pointless unless the right people see it.
Recruitment agencies tell you about candidates that are registered with them (candidates that they're also showing to your competition) and they might check out your careers site.
Some job seekers that have heard of your company before might find their way there too.
But the majority of relevant potential applicants may never have heard of your organization, may have forgotten about your organization, or who aren't aware that you're looking for someone just like them to fill what would be their dream role.
So how do you get the right people to your careers site?
Recruitment Advertising.
The problem is recruitment advertising has traditionally been expensive and difficult to measure, and time consuming to create. There's also a lag between the HR/recruitment team asking for something and the, already overstretched, marketing team or agency actually executing. By that time, roles have been filled and requirements have moved on.
But that's no longer the case. Tools like our own social recruiting software make it easy for talent acquisition teams to run their own recruitment advertising with the click of a few buttons and get meaningful reporting displayed through an easy-to-understand dashboard like the one below.
By way of example, here are the real results we got from a recent ad to attract applicants for our own senior designer role in London: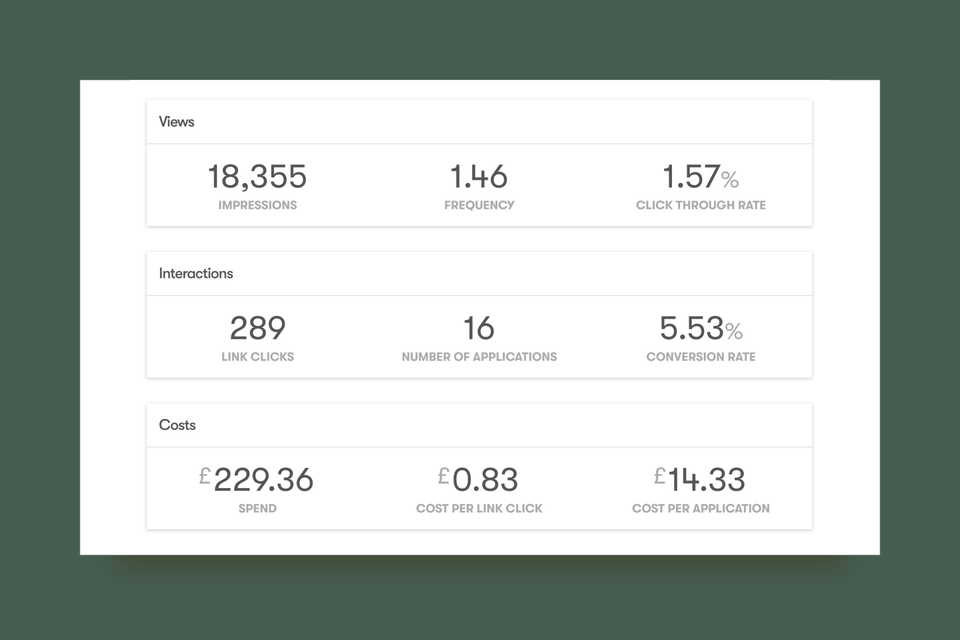 We're not talking about sharing your vacancies on the company Facebook wall. We're talking about highly targeted recruitment adverts in the main news feeds across multiple platforms (including Facebook, Instagram and LinkedIn) to exactly the type of people you're trying to attract to work for you. People that may not even be actively looking for a job right now (so almost certainly not going to be put forward by recruitment agent) but who are attracted to apply because your employee value proposition resonates with them.
We're proving, time and again, that this type of advertising can dramatically reduce recruitment costs and deliver more of the most relevant candidates when compared to using recruitment agencies.
And here's why:
It's targeted
Run a radio ad, you're targeting everyone who's listening. Put up a billboard, you're targeting everyone who drives past. With social media advertising you can target exactly the people you're interested in working for you based on criteria like qualifications, experience, the companies people have worked for in the past or currently work for, job titles, interests, location and more. Our own programmatic recruitment advertising software uses advanced learning algorithms to understand the type of people you like to hire and advertise to other people who are like them. These tools have built in safeguards to prevent discriminatory targeting which had previously been a risk.
You're reaching more of the market
Recruitment agents only show you a tiny portion of the candidate market. With social advertising you're actively getting in front of a huge number of people who could potentially be interested in working for you. Even if they don't apply for the role(s) you're currently advertising, by letting them get to know your brand now, they will be more likely to apply for roles in the future.
There are wider business benefits
Recruitment advertising shows the world that your business is growing. And that's not just to potential to candidates, but also potential prospects, existing clients, and future investors.
You can prove it works
You can use data to prove what's working and what's not. Then you can do more of what IS working. Over time your costs fall.
4.
Offer a world-class candidate experience
It's a candidate's market, and first impressions count – that's why it's so important to:
Let candidates know what to expect
Whether it's through your careers website or email communications, making sure candidates know where they are in the process and what to expect from the rest of the process will give them confidence to remain engaged.
Make applying simple
Globally, 60% of job seekers abandon the application process once they've already started filling out the application because the form is too long.
Many of the Talent Acquisition teams we work with were previously using a standard application form across their whole organization, regardless of role. This can lead to long application forms that put potential candidates off applying. In one example, we know that a business lost out on an amazing candidate for a senior digital role because they were being asked on the application form whether they were happy driving a 7.5t truck.
By tailoring application forms to request the minimum information needed to decide whether to interview a candidate for each role, you'll receive more applications from better quality candidates.
Over communicate
What would make you feel comfortable if you were in the candidate's position? What would you want to know and how would you like to be communicated with?
Would you want guidance on what to wear to the interview? To be told who will be on the interview panel and get a copy of their Manager Readme in advance?
Tailor your recruitment process to the audience
Are they worried that their current employer will find out they're looking for a new job? Offer to meet them out of hours, in any location of their choice.
Are they worried that they won't like the new team? Offer them the opportunity to have lunch with the potential future colleagues or an informal initial coffee with their potential future manager.
Put the candidate in control
There are parts of the recruitment process that are frustrating for everyone involved. For example, co-ordinating calendars of multiple hiring team members and candidates to find interview times that suit everyone. Consider using technology like automated interview scheduling software to remove the friction and make sure your candidate experience stands head and shoulders above your competition.
5.
Increase employee referrals
Do you have a team of great people who know other great people that you might like to hire? Rather than paying expensive recruitment agencies to find you candidates who might not be a good cultural fit (even if they look good on paper) why not ask your existing team to put people in their network forward?
Offering bonuses to employees who refer a great candidate that you decide to hire is a great incentive to encourage your existing team to take action in this area.
6.
Build a talent pipeline
Everything you're doing in recruitment should be about building a talent pipeline for the future, not just filling today's vacancies
Talent Acquisition teams often try too hard to police the intake volume of candidates because they correlate volume with high cost or they're concerned about lack of quality.
But what happens when a candidate is potentially a great fit for your organization but you miss out on them because you were too restrictive in your job description requirements or recruitment ad targeting?
What if a candidate who isn't a great fit for the role you're advertising today (but who is a great cultural fit for your organization) registers their interest and, in six months you hire them immediately when a new vacancy that suits their skillset comes up? You have a great new hire, you spent nothing on filling the new vacancy, and your time to hire was your new hire's notice period at their old employer.
Talent pipeline software is designed to help you grow a candidate pool over time so that no application is ever wasted, even if you don't hire the candidate straight away.
I know this has been a long post and there's a lot to digest here. If you've got questions, I'd love to have a quick chat with you and help where I can. You're welcome to reach out at any time, and I'd recommend checking out these resources too: