Companies that are consistently attracting the best talent are getting their employer branding right - and it's about more than a pretty careers page.
In this article, we look at the key components of an employer brand and provide you with the resources to create and implement your own employer branding strategy.
What is an employer brand?
An employer brand describes an employer's reputation as a place to work and their employee value proposition, rather than the general corporate brand and reputation that tends to be more about selling to customers.
A strong employer brand helps organizations to:
Attract more of the best applicants
Build a talent pipeline
Improve their offer acceptance rate
Reduce recruitment costs
Fill vacancies faster
Improve employee retention
An employer brand clearly promotes the organization's core employee value proposition and sets the foundation for all recruitment marketing.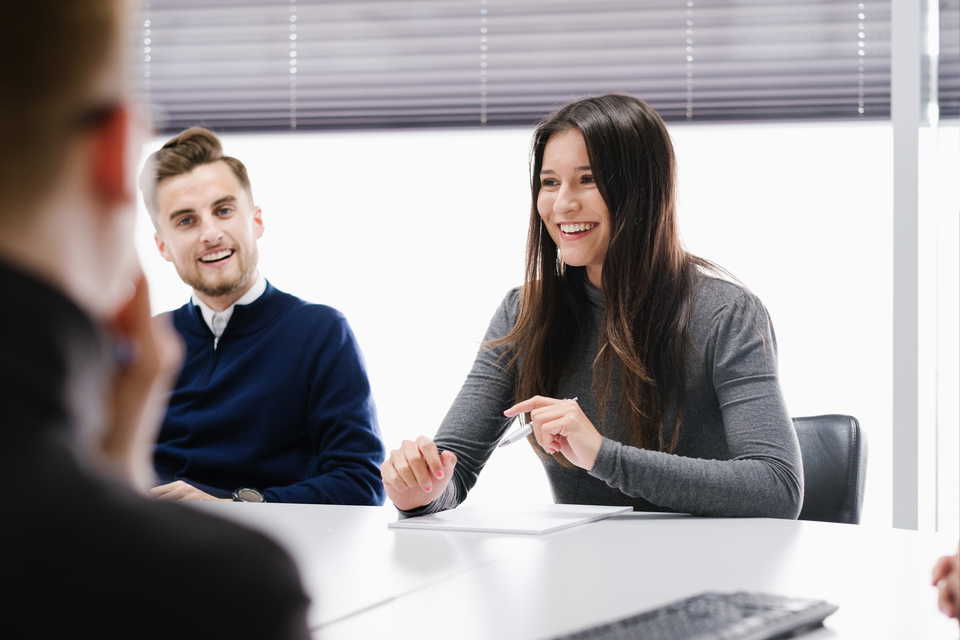 Why is an employer brand so important?
The recruitment landscape has completely changed over the past decade.
Record-low unemployment levels around the world and a supply/demand issues for many 'knowledge economy' skills mean that almost every desirable candidate now has a job (or multiple competitive offers in the case of early-in-career hires).
This has caused the power to shift from the employer:
We're AcmeCorp, we have jobs. You want them? Come get them.
I'm a great candidate. I'm extremely desirable. Come get me.
Now more than ever, recruitment teams are selling candidates on the opportunity, not the other way around, and this is true throughout the entire recruiting lifecycle. Fundamentally, if you're recruiting, you're not buying, you're selling.
This is an extremely important distinction and should inform your entire talent attraction strategy, but most organizations haven't adapted to this shift and are now suffering as a result, seeing candidate volumes slow and often missing out on top-tier talent altogether.
Transitioning to the right side of this change is the main theme of Inbound Recruiting, but the first step is to properly position yourself as a leading employer in the candidate marketplace.
All the recruitment marketing and candidate engagement strategies are irrelevant if nobody wants to join your team becuase you got your employer brand wrong.
With the ever-increasing demand for the best talent, leading employers are investing heavily in employer branding and there are whole marketing agencies dedicated to the art of employer branding.
We'll look at how to create your own employer brand strategy in a moment, but first, let's look at some of the best examples of employer branding we've seen on social media.
Social media is a fast (and relatively inexpensive) way to promote your employer brand to a targeted audience of people that could be your future employees.
But pay attention to which social media channels you use.
Most people's initial reaction to "starting doing social media" is to set up Facebook, Instagram, Twitter and LinkedIn accounts. But think about where your ideal candidates spend their time. Why do you want a Twitter channel if your future hires don't spend their time there? What if you're missing out on a more niche channel that could get you much better results? For example:
Developers spend their time on Stack Overflow
Designers hang out on Dribbble
HR maangers and recruiters spend a fair chunk on the day on LinkedIn
That's why it's so important to know who you're targeting so that you can make sure you choose the right social media channels to engage with them.
Here are some great examples of employers who are using social media really well to promote their employer brand.
EY's Instagram Account
We love EY's Instagram Account for UK careers. It's totally on brand, showcases real people doing real things, and highlights EY's focus on helping you create the right career for you.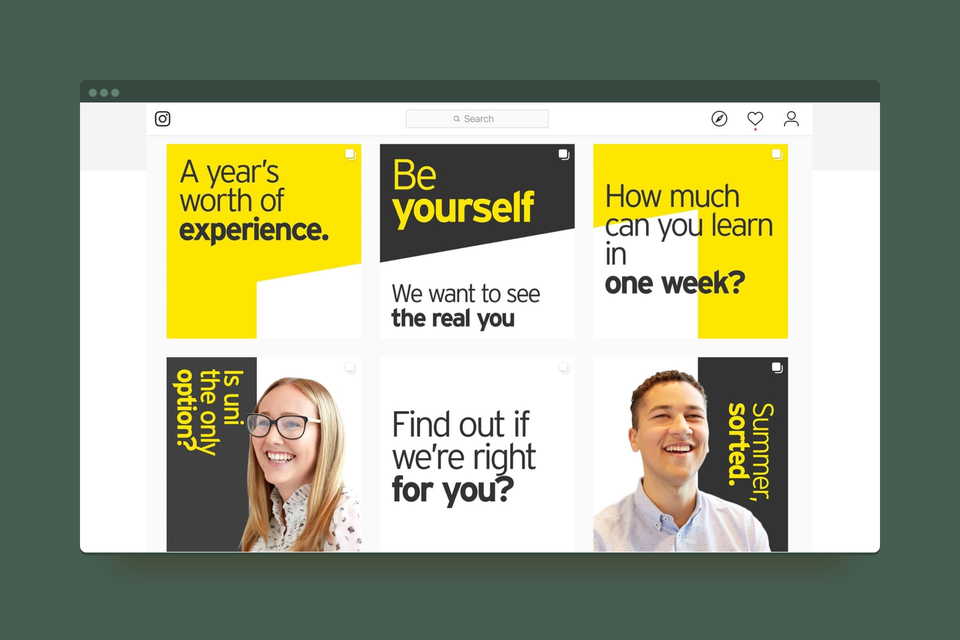 Fairway Group's Facebook and Instagram Recruitment Ads
Fairway Group is one of our clients and they've had great success attracting more candidates than ever before through some really engaging recruitment ads on Facebook and Instagram.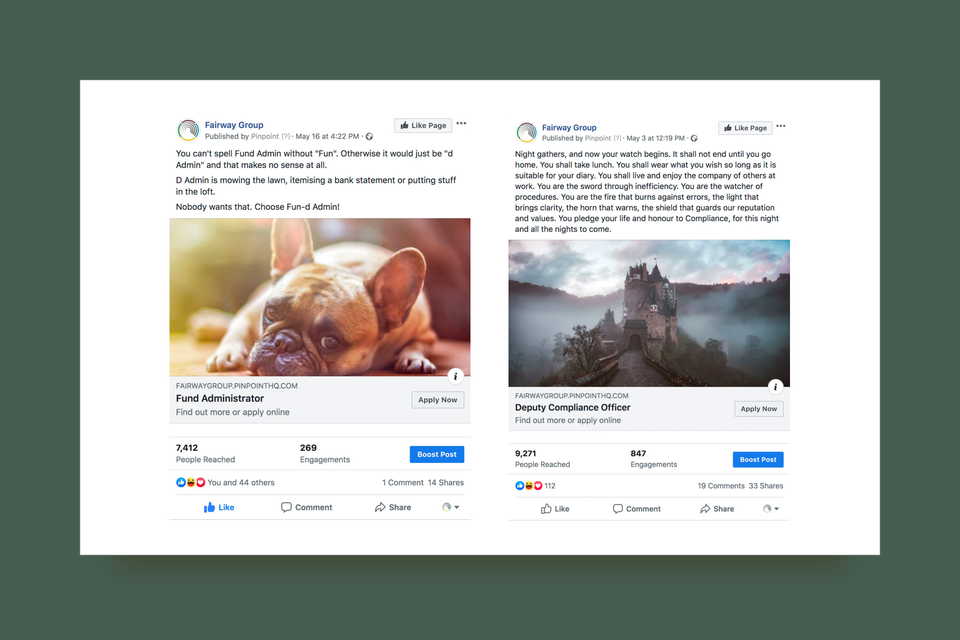 Nationwide Careers Facebook Page
Nationwide careers are promoting super-authentic employer brand videos through their Facebook page. They tell the story of team members in really low-fi videos that look like they've been filmed on a phone camera on the spur of the moment. It's a really authentic way to show what working at Nationwide is like.
Employer branding through video
Video is a powerful channel for employer branding. We've looked at some great recruitment videos and pulled out a number of key takeaways that will help you to create employer branding videos that really work.
Pinterest – Highlighting real employees from all levels of the organization
Pinterest's employer brand video gives candidates the chance to hear from people at different levels of the company. They get to understand a little of the company culture, how people work together, and how Pinterest's core value of "knitting" works itself out in reality.
Potential candidates get a clear idea of the growth opportunities they could have as the business grows as well as how Pinterest is making sure they don't dilute the quality of their team as they expand fast.
Airbnb – Seeing in Believing
Show don't tell. Instead of listing off your values, get your team to explain what working at your company has been like for them. Chances are, if your values are properly embedded, they will come through in the interviews anyway. Airbnb do this really well in their employer brand video.
Innocent – Let people see your workspace
Innocent is one of the original "cool kids" in the UK when it comes to a stereotypically playful startup office environment. Potential candidates know they'll be spending a lot of their time at work (unless they're remote) so it's important that they can see whether it's the type of place that they'll enjoy working in.
And it's not just about the office. Innocent's employer branding video clearly communicates why someone might want to work there. Think startup culture with the benefits of a more established organization, opportunities for career growth, a relaxing and supportive environment, and plenty of autonomy to do your best work.
EY – Who are you really trying to attract?
Is there a place for everyone or will a certain type of person fit into your team better than others? By setting expectations early on, you'll attract more of the people you want to attract and repel more of the people you don't. And let's be honest, everyone wants more of the applicants that'll be a good fit.
As a large organization that can easily come across as a "just another traditional professional services firm", EY's employer branding videos are really brilliant. In this example, they show that they want people from a huge range of backgrounds and that they're willing to be flexible to accommodate individual needs to achieve that.
Employer branding through reviews
Social proof is a powerful tool when it comes to employer branding. Just as with videos, it's usually better to show who you are and who you're looking for through real stories. It comes across as much more real and gives potential candidates confidence that you're not just doing some fancy marketing to attract them – you really do what you promise.
Including testimonials on your careers website is a helpful starting point and we'd recommend using real photos of the people that gave the testimonial to support the quote.
You might also consider embedding reviews from third party sites like Glassdoor into your careers site. Because these reviews are not in your direct control, they help to build trust with your audience of potential candidates.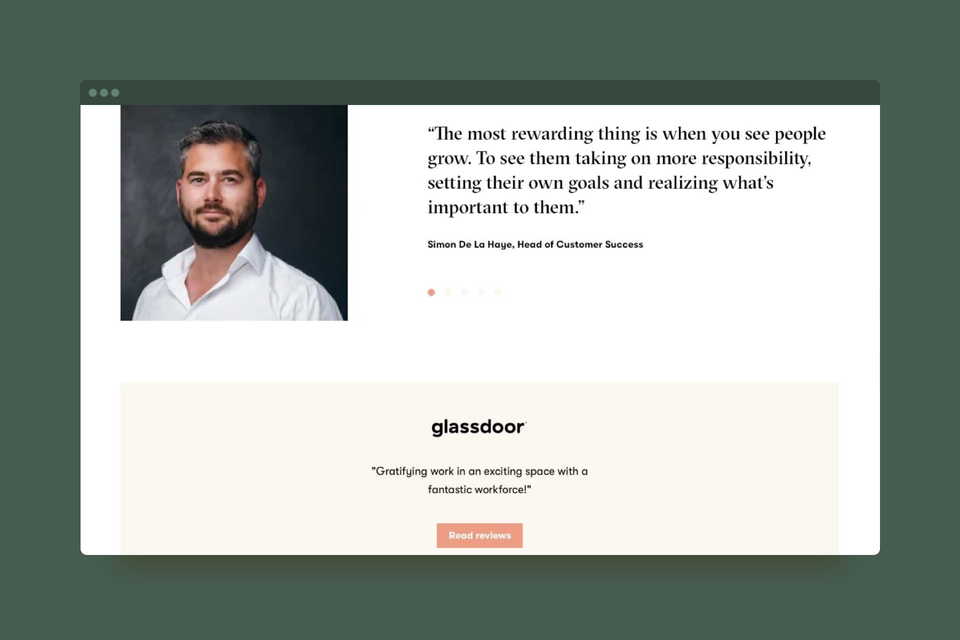 But it's not just on your recruitment website that you can include these reviews. Companies like Salesforce and EY are using them throughout their recruitment marketing.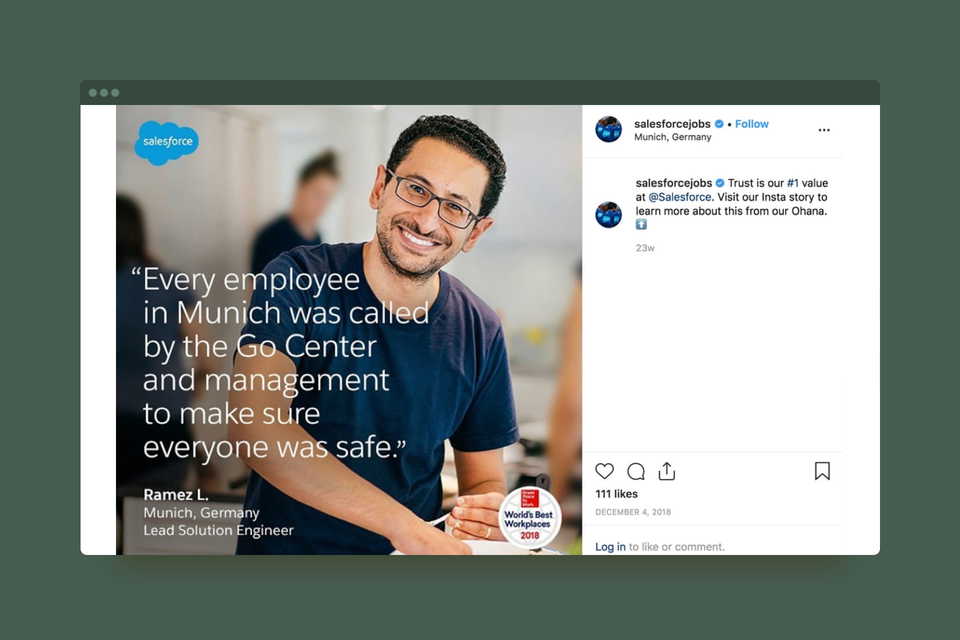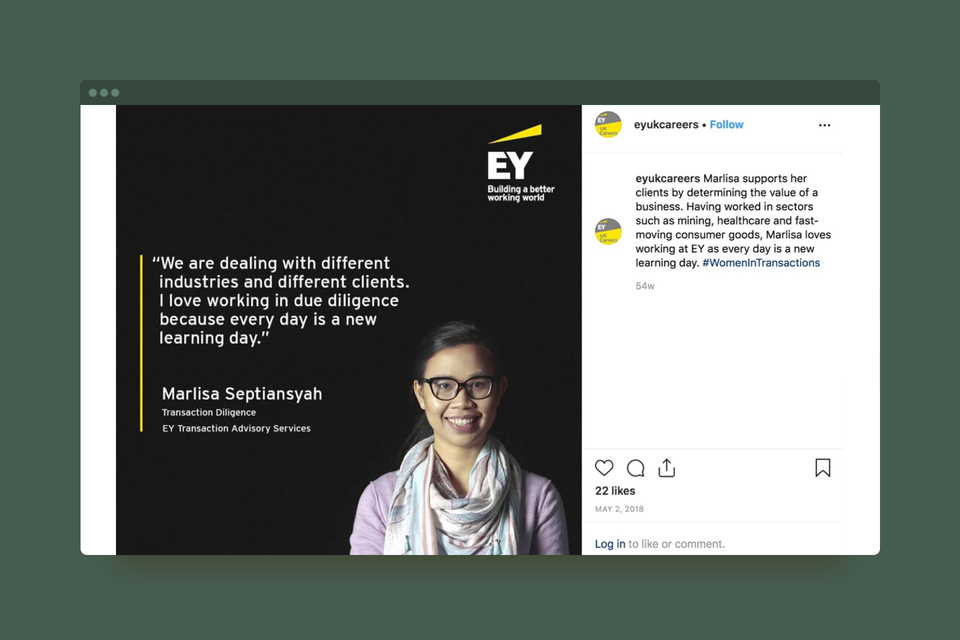 Employer branding through employee advocacy
Your employees are your strongest and most powerful recruiters.
88% of employers find that hires made through employee referral programs perform better on the job than candidates hired via other sources.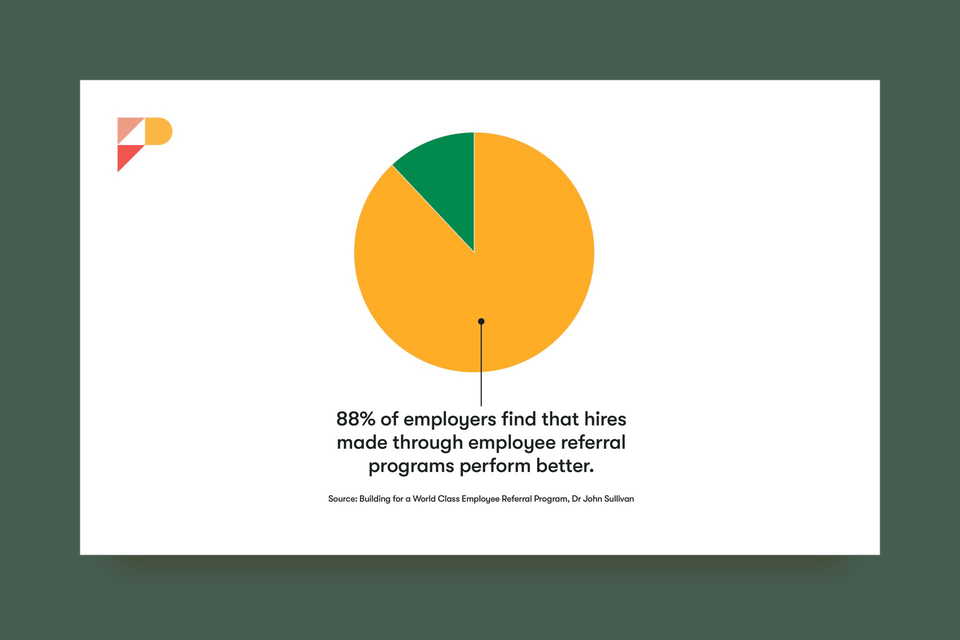 As a result, employee referral programs benefit from strong ROI and reduced staff turnover.
Referrals from current employees and your alumni network are one of the best ways to attract candidates that will be the right fit so ensuring that your existing team is happy and confident about referring their network to your organization is a critical part of employer branding.
But it's not all about referrals. The way your current team speaks about your organization with their personal network can have a massive impact on your employer brand and your ability to attract and hire the best talent. Hard fought for reputations in the candidate marketplace can be quickly lost. That's why we recommend conducting regular employee satisfaction surveys to ensure your employee value proposition is still relevant to your team, and that you're delivering on your promises.
How Salesforce uses employee referrals as part of their recruitment strategy
Salesforce is one of the leaders when it comes to their employee referral strategy (referrals are their number one source of new hires). You can see the full details in this blog post. In summary they:
Recognize that current employees are likely to know the sort of people who are also likely to thrive in the same environment.
Provide a referral bonus scheme.
Give candidates real VIP service. This means that when employees refer connections for a job they know they will be in good hands.
Give employees access to a self service referrals app that allows them to track their referrals through the recruitment process and get to see the date they'll get their referral bonus paid out.
Employer branding through careers websites
The majority of your recruitment marketing is designed to attract potential candidates to your careers site and for them to apply for a role at your organization. It may be their first visit or their twentieth visit but the goal is the same – to help them decide whether your organization is the sort of place that they would like to work. If it is, then your careers site should be designed to attract them. If it's not, your careers site should be designed to put them off. After all, you're not just looking for a high applicant volume – you want to attract more of the right applicants.
We've put together a whole article about how to design a careers site that works. It's well worth a read whether you are starting to design a new careers site from scratch or you just think there could be room for improvement of your existing site.
Creating your employer branding strategy
Now that you know what an employer brand is, it's time to create your employer branding strategy. We've put together a comprehensive guide to Employer Branding Strategy to help you get started.
Get your free employer brand strategy template