In a fiercely competitive market for the best candidates, the need for a powerful strategy to attract and retain top talent has never been more important.
In this guide, we take you step-by-step through the process of creating an Employee Value Proposition – a compelling argument explaining why someone would want to work for your company rather than a competitor.
Then we'll show you how to use your Employee Value Proposition to give you a competitive advantage when it comes to attracting and retaining the best talent.
Before you start, we recommend you download your Free Employee Value Proposition Template. It's designed to work alongside this article and will simplify the process of discovering your EVP.
What is an Employee Value Proposition?
An Employee Value Proposition (sometimes known as an EVP or Employer Value Proposition) is a compelling answer to the question: Why should I work for your company instead of somewhere else? What's in it for me? 
It's a written statement that you can use in promotional materials, recruitment advertising, and careers pages. And it's a guide for how you behave as an organisation, how you decide who to hire, and how you assess and manage performance.
It's a window into the company's culture – designed to entice the right type of people to apply for, and accept, roles. It's about helping people understand what makes you a great employer.
Your Employee Value Proposition (or lack of) will make or break your recruitment and retention.
In a market where 91% of job seekers think company culture is more important than salary and 80% of candidates consider employer brand when choosing where to apply, companies that have a strong EVP:
Attract more applications from the best candidates

Persuade those candidates to join their team rather than take an offer from a competitor

Retain their best hires for longer / reduce staff turnover

Reduce their recruitment costs
We thought it'd be helpful to give you some examples from leading companies before you start to work on creating your own. You can find the whole list of EVP examples here, but we love this one from Google:
There's no one kind of Googler, so we're always looking for people who can bring new perspectives and life experiences to our teams. If you're looking for a place that values your curiosity, passion, and desire to learn, if you're seeking colleagues who are big thinkers eager to take on fresh challenges as a team, then you're a future Googler. 
By the end of this phase you will:
Have everyone on-board with the process and clear about why you're creating an EVP and how you expect it to help your organisation.

Establish baseline metrics so you can measure the effect of your new EVP on future recruitment and retention.

Collate any information that you already have available that will help you understand what your best team members want.

Be clear about what your competitors are offering and how they are differentiating themselves.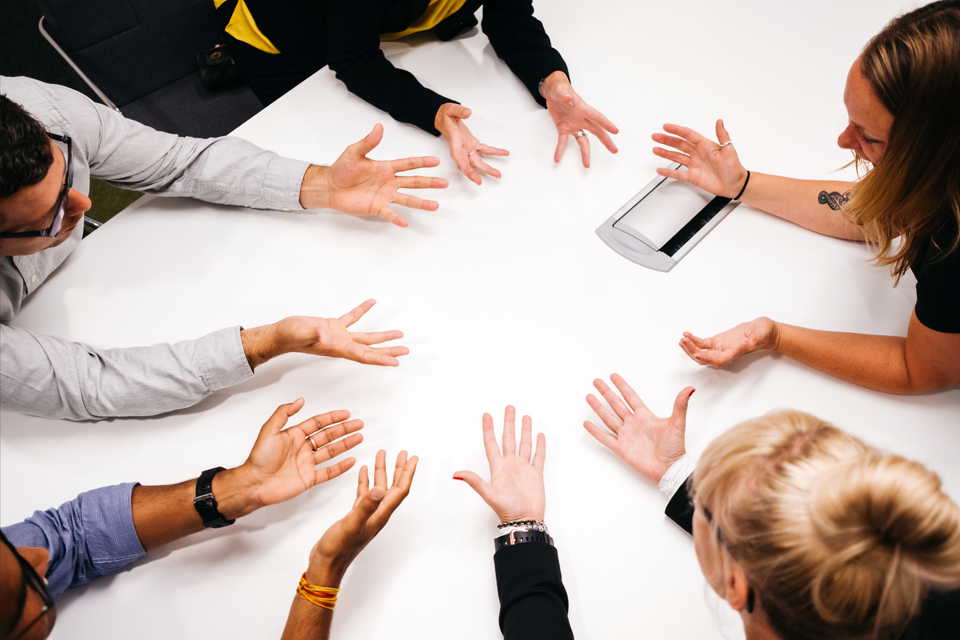 Why do you want an EVP?
Being clear about why you need an EVP will help with your internal communications and getting the rest of your team on-board. It will also help make sure you craft an EVP that will actually help you meet your objectives.
Different organisations have different reasons for defining their EVP. Typically these might include:
Reducing recruitment costs

It's easier to attract more of the type of applicants you want when you can present a compelling reason for them to want to apply.

Hiring more of the best talent

When you can clearly articulate why someone would want to work for you, you'll attract people who are a better cultural fit and you'll find that the people who are best for your organisation will be less likely to take an offer from a competitor.

Reducing staff turnover / improving productivity
Your EVP defines how you run your organization and how you expect your team to behave. There's no point in saying you're a flexible employer unless you offer flexibility. When you run your organization in line with your value proposition, people that value the type of workplace you have will be happier, more productive, and stay longer. It's easier to attract more of the type of applicants you want when you can present a compelling reason for them to want to apply.
Get your team on board
Defining your EVP is not something that you can do in isolation. Whether you're an organization of 5 of 50,000, you'll need the feedback and support of your whole team to get the best results from this process.
At the start of the EVP process you need to communicate what you're doing, and why. You might do this as an e-mail, or during a team meeting. The key things to get across are:
An explanation of why you're going through this process (you've already worked that out in the previous step). Make sure to explain why this will be beneficial to your existing team, not just to your bottom line.

Set expectations for what help you're going to need whilst defining your EVP. This usually includes asking your team to complete an employee satisfaction survey and take part in focus groups.

Set expectations for what support you think you'll need to follow through and deliver on your EVP. Explain that you might need to make tweaks to things like recruitment advertising and employee benefits.

Give an indication of timeline for the process.
Establish some baseline metrics
Creating and implementing an EVP makes a huge difference to the teams that we work with, but it also requires an investment of time (and money) to get right, so you'll want to be able to show the difference that it's made to your organization.
That's why we always recommend documenting some baseline metrics that you can measure yourself against in future years. You can include any metrics you want to measure and improve but, as a starting point, we typically recommend including:
Existing Staff Engagement
Staff Turnover: the number of employees who leave your organization divided by your total number of employees.

Absenteeism Rate: (Average number of employees x missed workdays) / (Average number of employees x total workdays)
Recruitment Performance
Average Cost Per Hire: your total recruitment costs divided by the number of people you hired in the period.

Average Applicant Volume: average number of applicants per vacancy.

Average Time to Hire: the amount of time it takes to fill an open position.

Average Rejection Rate: the number of offers you make that are rejected by the candidate divided by the total number of offers you make.
Collate existing information
You may already have some information available that will help you develop your EVP and cut down on some of the work in phase two. Gather together any data that might provide insights into why people do or don't want to work for you. Examples include:
Results from any previous employee surveys

Notes from exit interviews

Notes from interviews relating to why candidates applied to work for your organization
Make a note of these in section one of your EVP Template.
Research competitors
The objective of this EVP process is to define your organization's unique value proposition, so the last thing you want to do is copy your competitors.
However, looking at what your competitors are offering can give you valuable insights into what your employees might be looking for that you've overlooked in the past.
We've put together a selection of powerful Employee Value Proposition examples from some of the world's leading brands in this post to give you an idea of what you're looking for.
We recommend researching three to five competitors in your industry and location as a starting point. You can keep track of your research in section one of your EVP Template
Get your free EVP template
By now you should have a clear objective for what you want to achieve, your team will be on board, and you'll have pulled together as much historic information as you can.
The objective of this analysis phase is to:
Understand why people want to work for you

Understand why people are most likely to leave
Depending on what data you have managed to get hold of in the previous Discover phase, you will likely:
Conduct a staff survey

Run focus groups with your team

Get feedback from external recruiters

Speak to customers

Analyse the data
Using a combination of electronic surveys, focus groups and data analysis will ensure you truly understand why people want to work for you, why they want to leave and identify cohorts that sway in one particular direction.
Employee satisfaction / staff survey
The purpose of the employee satisfaction survey is to:
Establish how engaged and satisfied your team is

Understand what makes your organization a great place to work

Understand anything that is causing dissatisfaction amongst your team

We recommend sending out the survey electronically using a product like

Typeform

or

SurveyMonkey

. This makes it easy for your team to complete, and will make reviewing the results easier for you.

We've put together a

list of employee survey questions

that you can use.
Employee focus groups
Much like the employee satisfaction survey, the purpose of the focus groups is to give your team the opportunity to voice their opinions and really get people talking. By asking the right questions you can really get the conversation flowing.
As with the employee survey, you're looking to understand more about what people do (and don't) enjoy about working for your organization
Speaking to external recruiters
If, like most businesses we speak to, you're currently using external recruiters to fill some or all of your roles they will be a valuable source of information about why candidates accept or reject interviews and offers at your organization.

It's likely that you have a personal relationship with your key external recruiters so it's usually a case of picking up the phone and asking the right questions.
Analyse the data
By this point you should have plenty of information to answer the six key questions that will help you form your EVP:
What is important to the people that you want to attract to work for you? 

Why do those people like to work at your organization?

What is most likely to make people want to leave your organization?

Are there differences in opinions between leadership and the rest of the organization in terms of what's important to them?

Are there differences in answers across different groups of people? E.g. between genders, contract types, age, length of service, seniority, department, etc?
Section two of your EVP template will help you clearly document your analysis ready for the next phase.
Congratulations on getting to this phase. By now, you've completed your research and have answers to the six key questions that will help you to create your Employee Value Proposition and that is what this phase is all about.
By the end of this phase you will have:
Established a draft EVP

Developed your draft into an Employee Value Proposition that is ready to share with the world
We'll show you how to:
Create your candidate persona(s)

Define each component of your EVP

Write your draft Employee Value Proposition Statement

Refine your EVP
Creating your candidate personas
A candidate persona is a semi-fictional representation of your ideal candidate based on market research and real data about your existing team.
Your candidate persona(s) will help you as you continue through this phase and write your EVP Statement. They will also help you to target job descriptions and recruitment advertising to attract more of the right type of candidates in the future.
When creating your candidate persona(s), consider including information about:
their personality

their past experience

their skills

where they learn information / what they spend time reading

what would persuade them to work for your organization
what would put them off working for your organization

Your candidate persona(s) may vary by seniority, department, or location. Where there is a significant difference in the type of person you'd be looking to hire, it's worth creating a separate candidate persona.
You can easily create your candidate persona using the template in section three of your free EVP template or you can download a stand-alone candidate persona template.
Defining your EVP
An important part of your EVP is to define what your organization offers that is unique in the market.
Strong employee value propositions are crafted to appeal to the candidate persona the organization is trying to attract. For some, that might be the size of the ping pong table, for others it might be things like flexible working, health insurance, or career development opportunities.
Many of the companies we work with worry that it's not going to be possible to design an EVP that stands out because they are in a traditional, crowded market and everyone offers the same benefits.
But not every element of your value proposition needs to be unique. It's the combination of benefits that needs to be unique. If you're looking for some inspiration for your own EVP, why not check out this curated list of employee value proposition examples from leading brands.
Here are 30 ways leading organizations are differentiating their employee value proposition across:
compensation

benefits

career opportunities

work environment

company culture
Salary:
Look at industry benchmarks, how do you compare? Can you win on salary?
Increases and bonuses:
Is your system for assessing salary increases and bonuses fair and transparent? Are people rewarded for the right things?
Raises and promotions:
Are people promoted for the right reasons or just because of time served? How do you assess whether someone is suitable for promotion?
Fairness:
Are people of the same level paid similarly?
Evaluation system:
Is your performance management system effective? Is it achievable for people?
Time off:
How much time off do you give for life events like having a child, caring for a family member, bereavement or even just a sofa day?
Holidays:
How much time do you give for annual leave? How about an unlimited amount? Because that's exactly what HubSpot offer their employees. They simply ask that their employees use 'good judgement'. And this perk is offered from day one!
Insurance:
Predominantly this will focus on health insurance (ideally for the whole family), however Intuit offers pet insurance and SAP offers travel insurance.
Retirement:
Many companies will offer to match pension contributions, but there's a lot of variance in how much they'll match.
Education:
Will you contribute budget towards an employee's education? Consider this, Adobe offers employees $10,000 every year for tuition and books, as well as access to college admissions and financial aid officers to help with their children's college education. So whilst not all employees will want to undertake further education, most can still feel the benefit.
Flexibility:
Most progressive businesses now allow employees to work flexible hours – they focus on work output and meeting goals rather than how many hours someone is sat at their desk. Whilst this isn't possible in every industry, many companies are allowing employees some level of flexibility around set core hours. For example, rather than 9:00am to 5:00pm, some team members could be allowed to work from 7:00am to 3:00pm so they can pick up their kids from school.
Family:
What benefits extend to an employee's family? Adobe allow employees to set aside $5,000 a year as pre-tax savings for child day care expenses and if their children are under 13, they'll even contribute $1,200 a year towards it. Given that over 53% of millennials already have children, you will increase your chances of attracting and retaining top talent by offering some concessions with their family.
Wellbeing:
What do you offer to help improve the wellbeing of your employees? You might want to consider annual health checks, in-house yoga sessions or a wellbeing subsidy that could include a gym membership, exercise equipment or nutrition plans.
Progression opportunities:
Most organizations offer some level of opportunity for progression, however this usually relates to leading people. Yet, not everyone is looking to lead people. So how do you help these people progress? Offering opportunities for career progression in the form of technical specialism is one way to achieve this. This provides a career path for individual contributors to become experts in their field and to be recognised for their important contribution to the organization.
You don't need to hold people back just because there isn't a vacancy available to promote them into. People should be able to progress because they deserve to, not because you need them to.
Stability:
Are you an established organization? If so, this will appeal to many. Feeling a level of security in an employer will give these people peace of mind. However as a startup, it's unlikely you'll be able to push 'stability' as a selling point.
Training and education at work:
What on-the-job training do you provide? Do you have a solid induction program? Consider upskilling your team leaders and middle management so that they are suitably prepared to provide ongoing support and mentorship to their team members.
Microsoft offer technical, management and professional development classes, as well as a visiting speaker series and they even have their own library.
Consultation:
Do you have careers advisors that your workforce have access to? It might sound like an unusual proposition but Intel offers careers advisors, mentors, networking events, workshops and internal development opportunities for everyone.
Evaluation and feedback:
Do you have suitable feedback and evaluation systems? Are they up to speed with the latest methods or have they remained unchanged for several years? As the majority of the workforce will shortly consist of the Millennial generation, consider their expectations – they are looking for much more regular feedback and evaluation sessions than the typical six month performance review.
Recognition:
Do you have a system in place where employees can recognise one another for going above and beyond? If not, implementing a product to allow your teams to do so is often a great 'quick-win' for employee engagement and morale.
Autonomy:
Give your team space to solve problems in their own way. Set their objectives with them, then leave them to get on with it whilst providing as much support as they need. Does that sound like your organization? If you do go the extra mile with autonomy, then this is something worth shouting about as part of your EVP.
Personal achievements:
68% of Millennials say they crave adventure. How do you support your employees in pursuing their personal achievements? From the ability to buy and sell extra holidays to offering sabbaticals based on length of service, you'll probably find your employee returns far more enthused and motivated than before.
Work-life balance:
Work-life balance has become one of the most popular considerations for employees when choosing a new employer. Perks include working from home, flexible hours, time off to look after kids – at Google you can even bring your pet to work whenever you want.
Understanding of role and responsibilities:
Do you have clear job specifications that are shared with employees? It's important that the roles and responsibilities are clear, fair and reasonable. Make sure all new employees are happy with them, and periodically sit down and review them together to ensure they still make sense.
Understanding of goals and plans:
What are your internal comms like? Does your CEO communicate the strategic goals of the company?
Regular comms from the top will help people feel that they are on a journey together, rather than feeling like it's 'them and us'.
Colleagues:
What are people like in your organization? Are they friendly, helpful and hardworking or disgruntled, angry and toxic?
Getting new talent through the door is challenging enough, so you don't want someone to resign within a few months of joining because of an environment mismatch.
Establishing an EVP is a great start on the road to a better culture. Consider whether unhappy employees would be happier working somewhere else and work with them to figure this out and support the next step in their career regardless of the outcome. There's no point having an unhappy employee whose employer is unhappy with them – there are no winners in this scenario.
Leaders and managers:
What kind of leaders and managers do you have at your organization? Are they inspiring, well-rounded mentors? Do they have a high degree of emotional intelligence?
Support:
Are co-workers supportive of each other, working towards one vision? Or are people working in silos, hoarding information and deferring responsibility? Retaining top talent is dependent on a cohesive, rewarding and supportive culture. Your core values should form part of performance management reviews – hold people to account for their behaviour, not just their output. Ensure that this positive culture is evident at the top. If your role models display your core values, it's more likely that your staff will too.
Collaboration and team spirit:
Nobody needs convincing that teamwork is important in the workplace. However, creating a culture where people thrive more as a team than they do as an individual isn't easy. Your performance management process should be such that teamwork is rewarded. Potential bonuses and other rewards and recognition should be tied to positive team outcomes. OKR's (Objectives and Key Results) create alignment and ensure everyone is moving in the same direction. The system is used by the likes of Google, Spotify, Twitter, Walmart, Target and The Guardian. It was adopted by Google 20 years ago and is still used today, having supported their growth from 40 employees to more than 85,000.
Embedding OKR's in your organization can help align individuals to the same goals, creating a more collaborative, supportive team-based culture.
Social responsibility:
Millennials are more likely to work for an organization that gives back to society. Examples include reducing carbon footprint, supporting fair trade and engaging in volunteer efforts in the community. Find something that works well for your industry, size and budget.
Trust:
What kind of reputation does your brand have? If it's a highly positive one, consider using this as part of your EVP.
Section three of your Employee Value Proposition Template provides the best format for documenting your new EVP.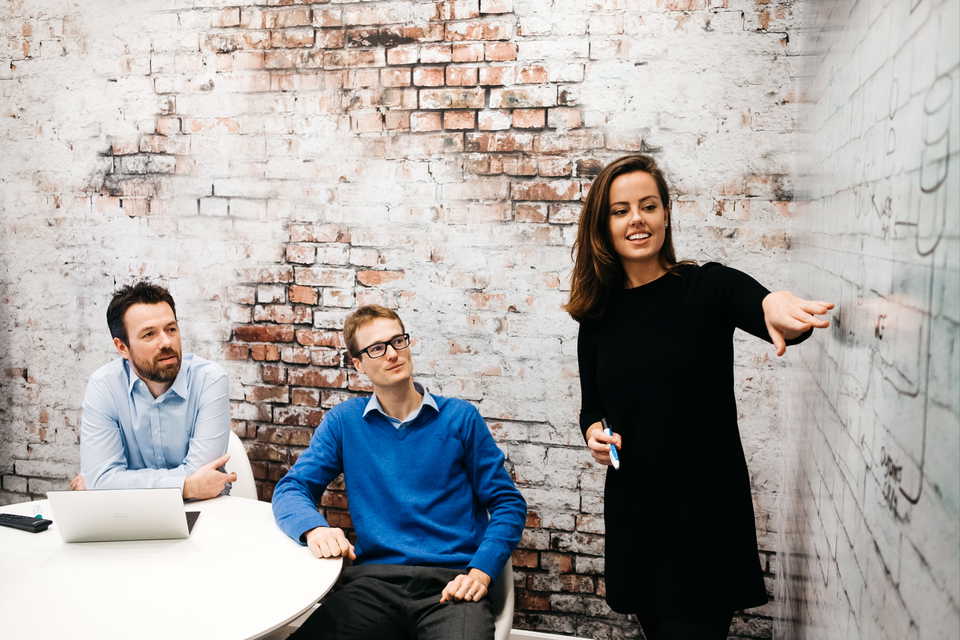 Write your draft EVP statement
Now it's time to bring together your candidate personas and EVP components from the previous two steps and create your draft EVP statement.
Your EVP statement should:
Align to your organization's vision, mission, and values.

Be achievable and honest – your EVP statement should reflect what your organization is actually like, not just what it aspires to be like.

Be targeted to attract the candidate persona(s) you created as part of this process.

Be unique in your marketplace.

Be written in your brand's tone of voice.

Be concise and easy to read (e.g. one sentence for each key point).
Use section three of your EVP Template to help you write your draft EVP statement and, if you need some more inspiration, you'll find some great EVP examples here.
Feedback and refinement
Now that you have your draft EVP, you'll need to get feedback from the people who provided input and gave feedback through the previous phases.
For small organizations, this might be through an all-hands team meeting, or for larger organizations, you might want to involve the heads of each department. Carefully consider the feedback you receive and refine the EVP if necessary.
Sometimes, you'll get pushback from certain people – particularly managers who will need to make some changes to how they work if the organization is going to deliver on its EVP. You'll need to assess this feedback carefully and determine whether they have legitimate concerns that need to be addressed – either through additional education and support or through a refinement to the EVP.
Get your free EVP template
Once your EVP has been finalised, it's time to launch. The first step is to communicate your new EVP to your own team.
This is all about getting people fired up and, because you involved them in the process from the start, they'll feel a sense of ownership and satisfaction when seeing the end result.
Depending on the size of your organization, you might decide to present this in a team meeting, a number of meetings with different groups, your annual conference, or via a personalised e-mail from your CEO to the business.
Whatever style you choose, the key things to communicate are:
A reminder of why you started the process.

A thank you for your team's input.

A walk-through of each part of your EVP, why it's important to your organization, and an example of it in practice.

An appeal for ongoing support to make sure your organization delivers on the EVP.
At the same time, you will need to update your external communications and internal documents to reflect your new employee value proposition.
Some of the key things most companies need to take care of include their:
Employee handbook

Recruitment website and careers pages

Job descriptions

Recruitment advertising

Marketing website and social media accounts
Whilst communicating your EVP is an important step, for it to have any real impact it needs to be reinforced at every opportunity – you need to live up to what you promised.
As well as the obvious things (if you promise flexible working then you really do have to offer it!), you should consider how the overall tone of your EVP is reflected in your:
Candidate Experience

New Hire Onboarding

Performance / Appraisal Process

Employee Offboarding
Measurement allows you to validate that your EVP is making a difference and delivering on the objectives you set at the beginning.
Depending on the size of your organization, you'll want to review the key metrics that you designed in phase one every six to twelve months. We've included a template to help you do this in section five of your EVP Template.
You should expect to see incremental improvements in each metric but if you are finding that your new EVP isn't helping to achieve your goals, feel free to get in touch with one of our Customer Success team here at Pinpoint.
Even if you're not a customer, we'd be more than happy to offer some advice and point you in the right direction. Two minds are almost always better than one. You can schedule a time to speak here.
You should also be reviewing responses to new hire surveys, exit interviews, and employee engagement surveys on a regular basis. This will give you the opportunity to review the feedback against your EVP and make changes to the value proposition or the way you're delivering on it.
Review your EVP regularly
Outside of the ongoing checks as part of your measurement, you'll want to review your EVP as part of any major changes to your organization – for example:
A change in budget that affects what you're able to deliver

A relocation, restructure, merger, or acquisition

A change to the purpose or values of your organization

A rebrand
If you have any questions about creating or using your EVP we'd love to hear from you. Our in-house team of recruitment experts are passionate about helping companies like yours make better hires. If you have any questions at all, feel free to request a free consultation with a recruitment expert here and we'll do our best to help.
Get your free EVP template