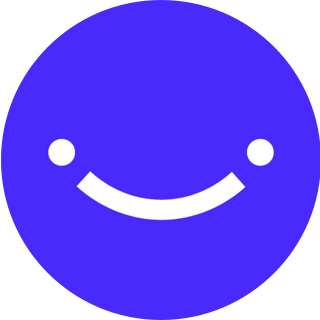 Link your intelliHR account directly with Pinpoint so you can seamlessly recruit, onboard, and manage your candidates all in one place.
The perfect integration of a purpose-built recruiting tool and HRIS to support your business
ATS and HR software should match the needs of you and your business- not the other way around. Your software needs to deliver unique solutions for your unique problems. This means choosing tools that are best-of-breed and purpose built, not generalist systems that deliver a 'jack-of-all-trades, master of none' result.
With a people-focused, leading HR analytics platform, intelliHR delivers an enjoyable user experience that is tailored to your business needs and keeps your employees happy.
But what about before they're employees? That's where Pinpoint comes in. By integrating Pinpoint's applicant tracking system with intelliHR, you can continue to hire the best people without sacrificing their candidate experience.
With Pinpoint and intelliHR you can seamlessly:
Manage your entire employee lifecycle from recruitment to retention
Deliver a standout applicant experience, giving candidates the best recruitment process available
Push your new employee's data directly into intelliHR, where you can manage the next phase of their employment journey
Access best in class recruiting tools and features to make better hires, faster with things like a custom careers sites and mobile-friendly application processes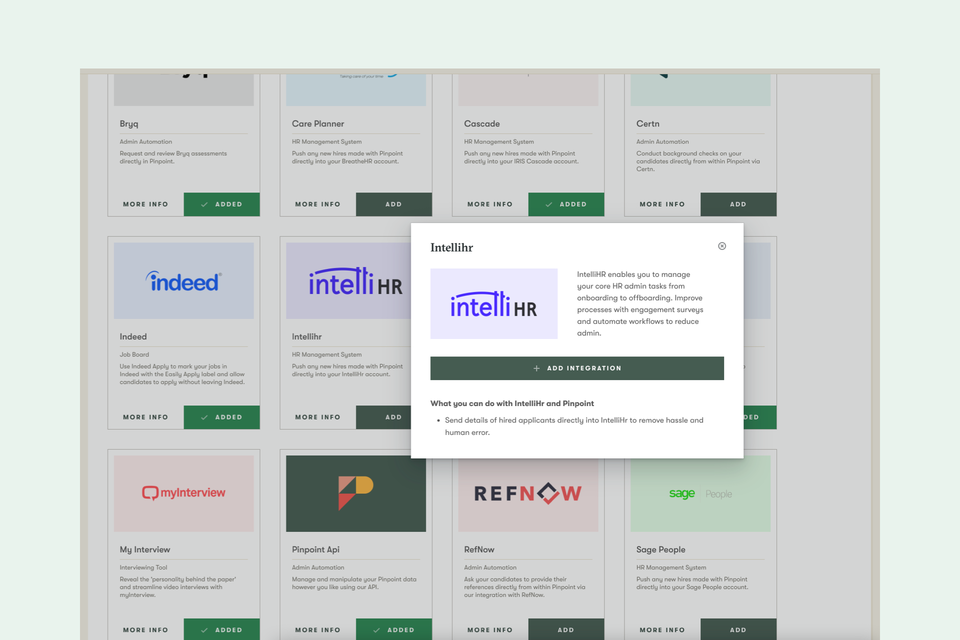 Looking to drive more of the right candidates to your door?
Feel as though you're missing out on the best candidates for your roles? It could be because you don't have access to the right recruitment marketing tools and a compelling careers website.
When you integrate Pinpoint and intelliHR, you are opening the door to our product suite dedicated to helping you attract, hire and onboard the best people for your team. Pinpoint can help you find the best prospects, move them through your recruitment pipeline, and keep their data tightly integrated with your HRIS.
Ready to hire? Push those candidates to intelliHR via Pinpoint and begin managing their employee experience seamlessly.
Wanting to improve your recruiting strategy without changing HRIS' or using multiple platforms?
Let Pinpoint do the work for you while you focus on doing what you do best. As your recruiting needs mature and change, Pinpoint can help ensure you never miss a beat and remove the task of manual data entry to get your new hire setup and ready to go from day 1. And with just 1 click!
Simply send your candidates data to intelliHR from Pinpoint once hired, and spend less time on admin and more time recruiting more great hires.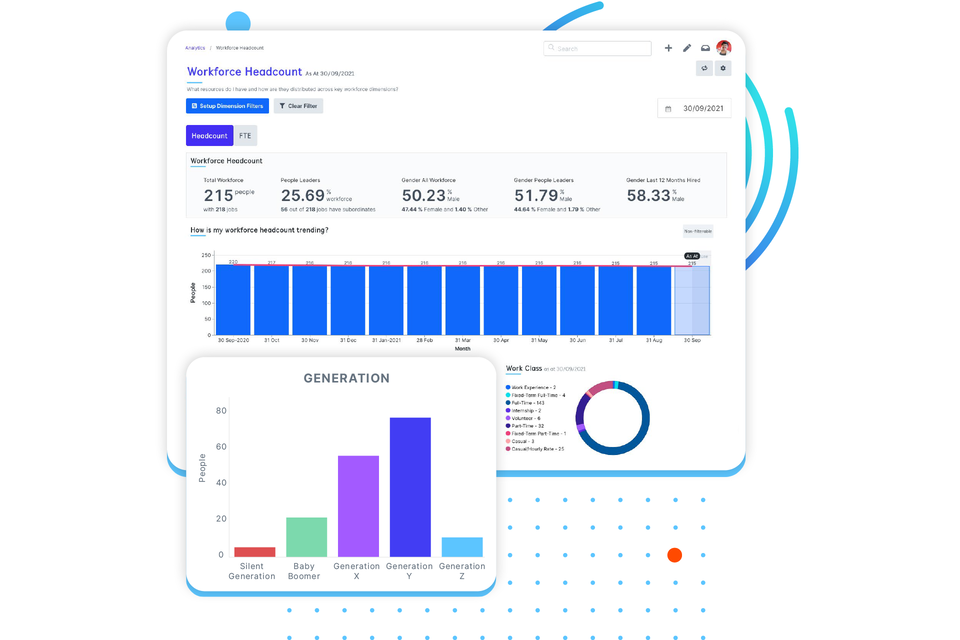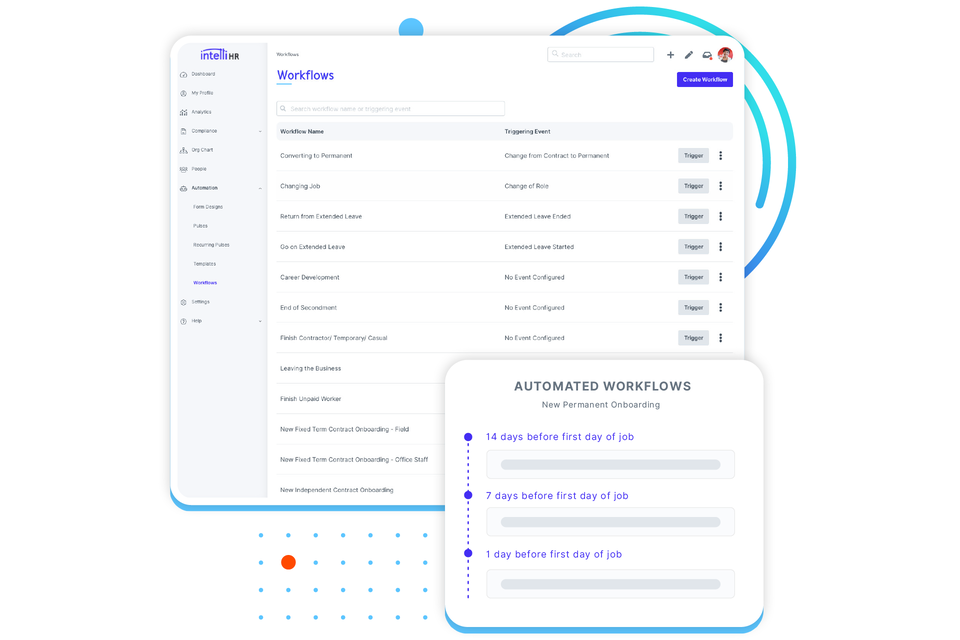 How 'simply' are we talking?
Quickly and easily push your hired candidate data from Pinpoint into intelliHR by:
Enabling the intelliHR integration in Pinpoint
Selecting the candidate in Pinpoint once an offer has been accepted
Verifying all the candidate information in Pinpoint
Clicking 'Send to intelliHR' to get their employee profile created and up to date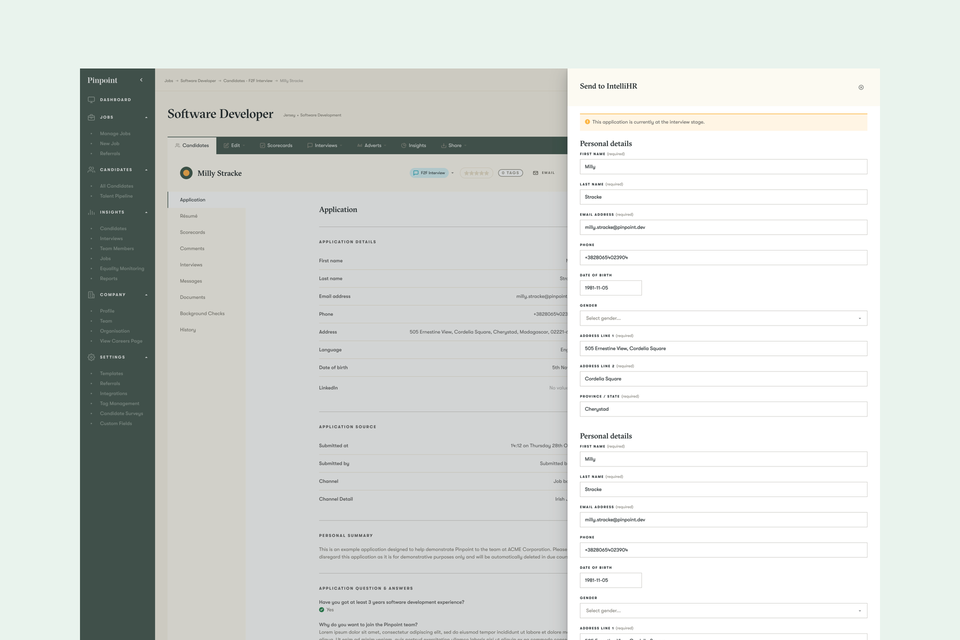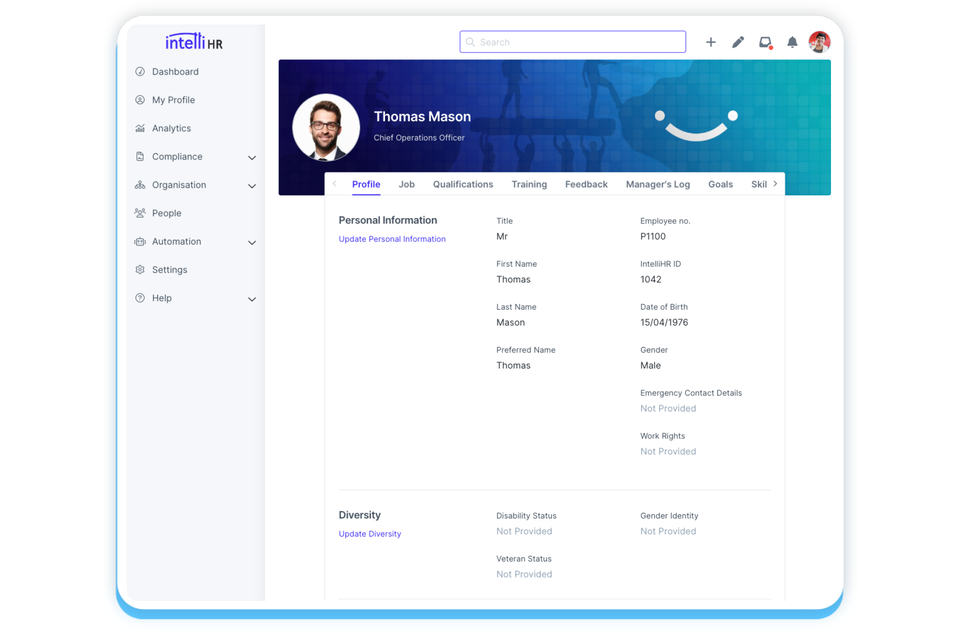 Got 30 minutes?
See how Pinpoint + intelliHR can transform the way you attract, hire, and onboard talent.
2 months free + free onboarding workshop
£2000 value
Offer details
Become an intelliHR customer and get two months free on the intelliHR platform and receive a free onboarding workshop tailored to your business, valued at £2000!
In the hands-on workshop, intelliHR will help you explore how to apply people-centric principles to engineer your HR processes for success within the context of your own organisation.
Offer valid for new customers only, on minimum 24-month contract.
Show offer details