Insight
What is Inbound Recruiting?
September 1st, 2020
1 minute read
You are who you hire. Simple, right?
Unfortunately not—hiring is hard.
We hear it all the time:
You're struggling to attract quality applicants.
Candidates are accepting offers from your competitors.
You're not retaining your best talent.
You rely on expensive recruitment agencies – you might try posting on a job board or in a local or industry publication too, but are still struggling to find the right people.
You want to reliably attract, hire, and retain more of the best talent directly, but you're worried about extra headaches (and additional costs).
This means that:
You're spending lots of money, but aren't getting consistent results.
You're only getting your employer brand and vacancies in front of a fraction of the total candidate market (often missing the crucial passive candidate market entirely).
You're not building your own talent pipeline or learning from previous hiring cycles.
Critically, you're not able to hire enough of the right people to support your business growth and, out of desperation, you're spending too much money on recruitment agencies.
The solution? Shifting your focus to inbound recruiting.
What is inbound recruiting?
Inbound recruiting (also called inbound hiring) is a recruitment methodology that enables organizations to attract and hire the right talent, at the right time, consistently.
The inbound recreating methodology:
Enables you to consistently attract and hire the right candidates.
Improves your candidate experience.
Empowers the people you hire to succeed in their roles.
Inbound recruiting vs. outbound recruiting
The world of recruitment has changed.
There's an increasingly competitive market for the best people and candidates are becoming more like consumers—doing their own research before they speak to your recruitment team.
To attract and hire the best people you need to help them access the information they need to make an informed decision about whether you organization is the right fit for them.
Getting your opportunities noticed by the right candidates is no longer just about cold email, organic social posts, and cold LinkedIn messages—it's about a careful blend of inbound and outbound tactics.
Inbound hiring is all about tailoring your approach to target today's new breed of highly informed candidates. Only then will you attract, hire, and retain the best talent.
Inbound recruiting is about attracting candidates to you.
Social media
Job board advertising
Programmatic digital advertising
Reviews and social proof
Opt-in email
Referrals
Events
Careers site content
Outbound recruiting is about searching for candidates then reaching out to them.
LinkedIn messages
Cold email
Cold calling
Headhunting
Cold job board messages
Rented candidate databases
None of this is to say that outbound is dead. It has its place. But when you get inbound right, outbound becomes easier because you have the foundations of a strong employer brand, and awareness in the market that makes outbound work more efficiently, while enabling you to focus your outbound efforts on the most challenging roles.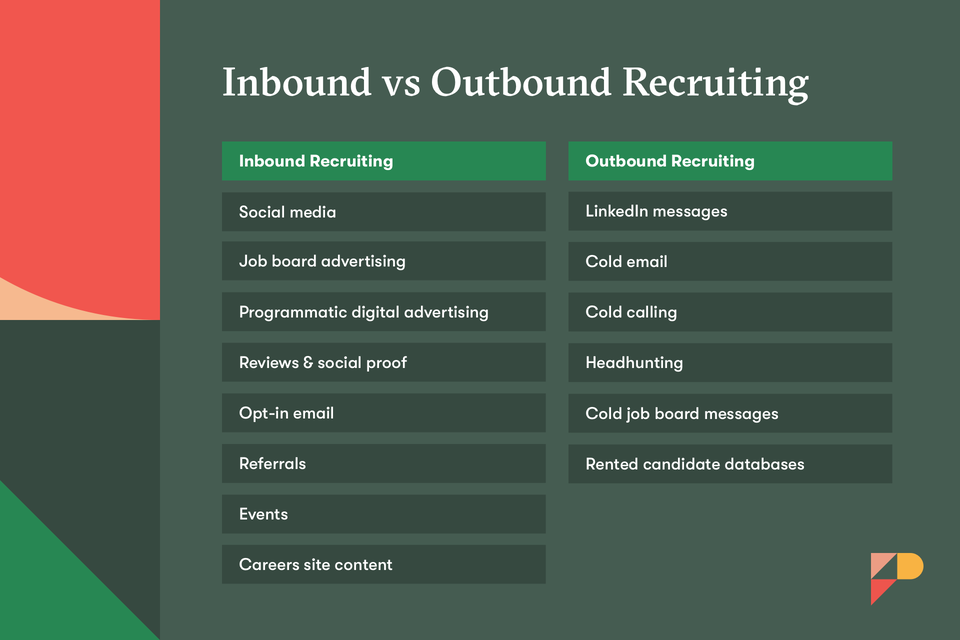 Key principles of inbound recruiting
An inbound recruiting strategy is more than just recruitment advertising—it's about taking a fresh approach to people.
Your problem is sourcing, not selection
Unless you have a full talent pipeline with plenty of qualified candidates for every role you're advertising, your problem is sourcing, not selection.
When you get sourcing right, the whole recruitment process improves.
You can't win the game of better
Most companies approach talent acquisition wrong—
Advertising on the same job boards, using the same external recruiters, and driving candidates to a careers site full of job descriptions written by legal.
Then trying to win by offering the most snacks, the highest salary, or the best ping pong table.
But the best candidates aren't choosing jobs based on snacks. And only one company can win the game of "better".
Attracting the right people and building the strongest teams means being different, not better.
Policing applicant volume is stupid
We hear it all the time: talent acquisition teams overwhelmed with candidate volume trying to make it difficult for candidates to apply to reduce candidate volume.
This doesn't make sense. The best candidates have choice and if you want to attract the best candidates you need to make it easy for them to apply. The solution is two part:
Getting clear about your employee value proposition and communicating that through your recruitment marketing. This enables you to attract more of the right candidates, and put off the wrong ones.
Using modern applicant tracking software and pre-screening / killer questions on the application form to screen out bad-fit candidates quickly.
Direct hiring always wins
Reducing reliance on recruitment agencies and other third parties improves candidate quality, enables you to build an employer brand, means you own your own talent pipeline, and is a great way to reduce recruitment costs.
A strong employer brand is the foundation of success
Building an employer brand is the foundation of successful recruitment from attracting the right applicants, right through to retaining the best talent.
Building a direct talent pipeline is critical
A well-managed, direct talent pipeline enables recruitment teams to reduce time to hire, reduce time to fill, reduce recruitment costs, and understand which areas of their business need most proactive recruitment support.
Highly targeted, modern marketing is the way to win
Targeted recruitment advertising gives you access to candidates who wouldn't previously have known about your organization or your roles. A well defined employe value proposition and stand-out honest educational content helps you attract more of the right candidates and less of the wrong ones.
Whether you're hiring locally or expanding your reach into new territories, getting the right content in front of the right potential candidates through modern recruitment marketing is the easiest way to expand your network of potential candidates.
Your own people are your best marketing tool
Your current employees are your best promoters. Make them heroes in the marketplace, and proud to represent your brand.
"Candidates are becoming more like consumers—doing their own research before they speak to your recruitment team."
What is an inbound recruiting strategy?
An inbound recruiting strategy is best represented as a four-stage 'flywheel':
Find & Attract: Finding and attracting potential applicants.
Engage & Nurture: Engaging with these applicants and nurturing them until they become candidates.
Qualify & Incentivize: Qualifying the candidates and hiring the best of them.
Onboard & Reward: Making sure you have a strong system for onboarding and rewarding your new hires, turning them into ambassadors for your organization.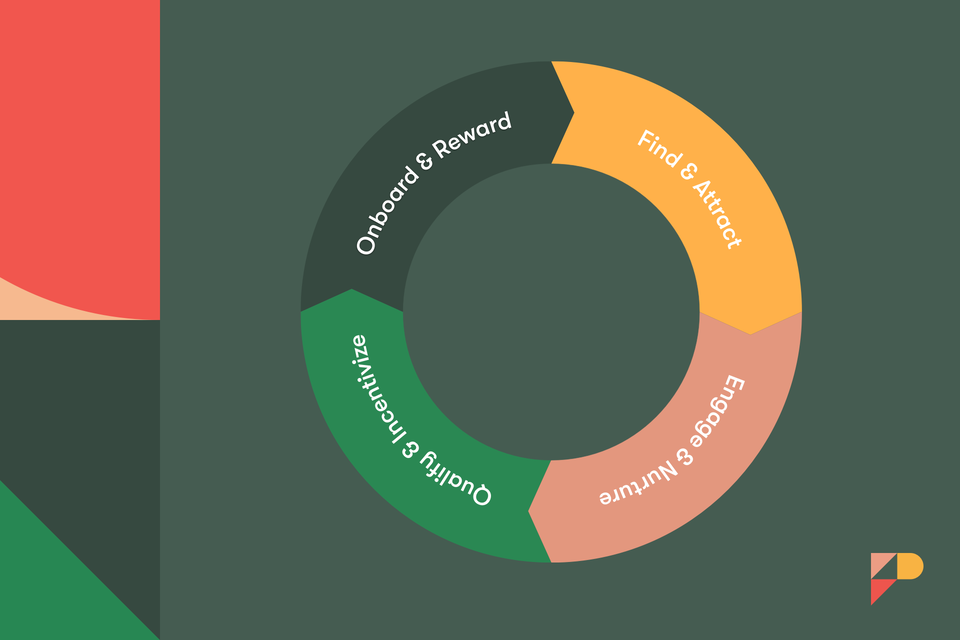 JT adopted inbound recruiting. Now they're making 80% of their hires direct