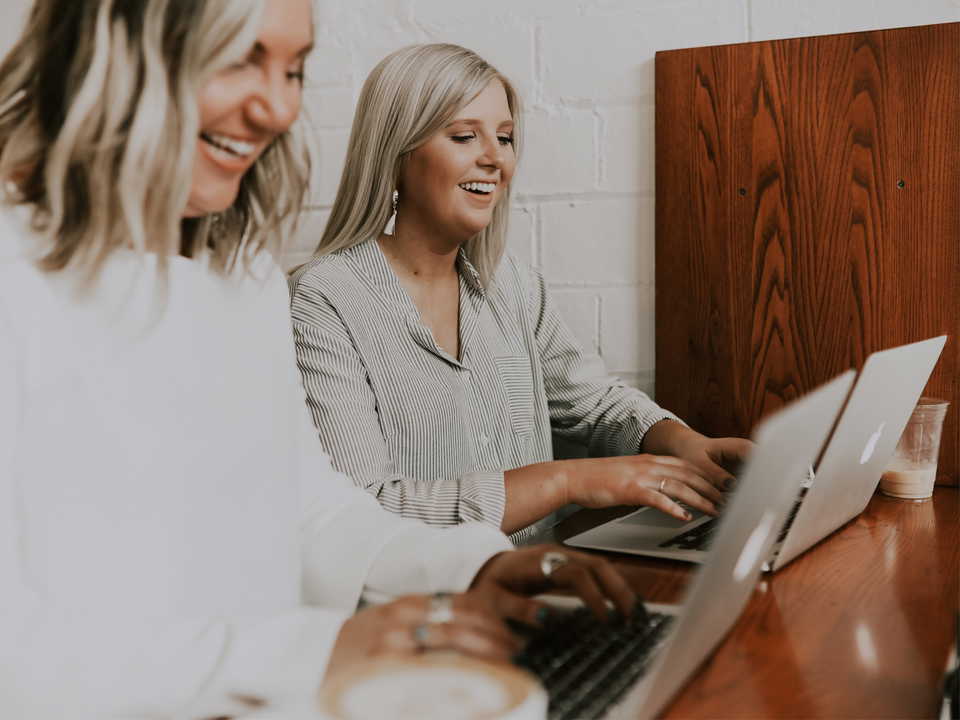 Insight
Programmatic Recruitment Advertising: A Recruiter's Guide
August 1st, 2020
15 minute read
Capturing the attention of candidates in today's market is no easy task.
They're constantly bombarded by LinkedIn messages from recruiters, they're added to email drip campaigns (that they never wanted to be part of), and they're doing more and more research about organizations before they apply.
But there are millions of websites, apps, and other digital properties being viewed by these candidates all day, every day. And we can use those channels to attract their attention.
You can expect better-qualified applicants, more engaged candidates, and less reliance on external recruiters – it's time to fall back in love with programmatic advertising.
What is programmatic recruitment advertising?
Programmatic recruitment advertising is the programmatic buying of online recruitment advertising.
Traditionally, recruitment advertising took a "spray and pray" approach.
Today, programmatic recruitment advertising enables talent acquisition teams to target their advertising so that it's seen by exactly the right potential candidates – the ones they'd actually want to hire.
It's cost-effective and delivers consistent results.
What is programmatic recruitment advertising software?
Programmatic recruitment advertising software gives HR and talent acquisition teams the ability to create branded recruitment advertising campaigns that are automatically targeted to reach exactly the types of candidates they want to hire.
Programmatic recruiting used to be difficult, time-consuming, and the job of dedicated recruitment marketing teams who delivered unpredictable results.
But modern software makes it simple. Any in-house recruitment team (with or without marketing experience) can start running high-performing recruitment campaigns with just a few clicks.
Plus, if your programmatic recruitment platform is properly integrated with your applicant tracking system, it does what humans can't. Over time it learns more about the types of people that you like to hire and that are most successful at your organization, helping you advertise to others like them in the future, automatically.
What are the benefits of programmatic recruitment advertising?
Programmatic recruitment advertising puts the power back in the hands of in-house recruitment teams that want to consistently attract quality, engaged candidates.
By attracting candidates through targeted advertising (an inbound recruiting approach), rather than cold messaging them on LinkedIn or by email (an outbound recruiting approach) you'll:
Attract more engaged applicants

Strengthen your employer brand amongst those that don't apply this time, making it easier to attract candidates in the future

Broaden the reach of your recruitment marketing to attract passive as well as active candidates

Spend less time on unpredictable manual outreach

Build your own talent pool of "silver medalists"

Reduce recruitment costs by spending advertising budgets more effectively, and reducing reliance on third-party recruiters
The four steps of an effective programmatic recruitment strategy
An effective programmatic recruitment strategy is about more than just boosting a Facebook post.
There are a number of steps, and in each step, you'll usually find the cost per applicant falls, and the quality of those applicants increases.
Because we have a programmatic recruitment advertising tool built into Pinpoint, we'll be explaining how you'd run a campaign with Pinpoint – but each of the steps and principles apply equally to any other system, even if you're doing it manually.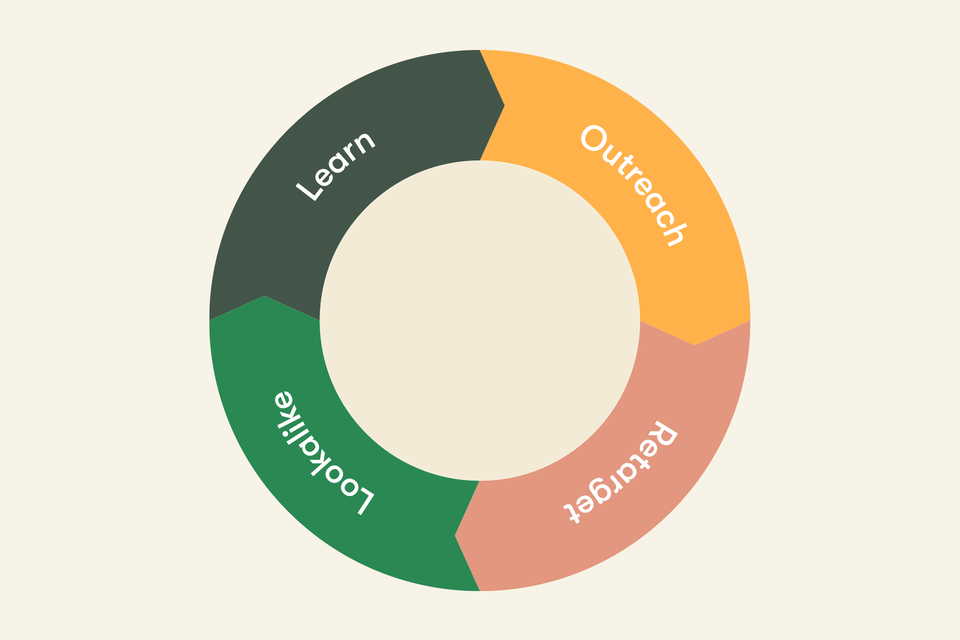 1. Outreach
Create branded recruitment adverts and automatically show them to exactly the type of people you want to hire. If you're using Pinpoint, you'll create these ads through an easy-to-use interface right within your ATS.
Next up is setting some targeting. If you're using Pinpoint, you'd just provide your budget, target location, and campaign length. Pinpoint "reads" the job description and produces an ideal candidate profile describing what the ideal candidate for the role might look like.
Pinpoint then creates and distributes branded recruitment ads on the most appropriate digital advertising channels, automatically targeting the people that are the closest match the ideal candidate profile.
If you're not using Pinpoint, you may need to define the audience you want to target. That could include anything from which channels you'll advertise on, to the interests and qualifications of your target audience.
If you're using an advertising tool that requires you to set your own targeting, we'd recommend starting by clarifying who you'll be targeting using our Ideal Candidate Profile Template.
Clicking on these ads takes the potential candidates directly to your careers site, providing them with information about the vacancies you have available for that audience.
This starts the next step in the process.
2. Retarget
The second step in the process is retargeting. This is how you'll 'nurture' prospective candidates towards making an application.
Some recruitment teams are already used to doing this through LinkedIn messages and drip email campaigns/nurture sequences. Programmatic recruiting can be used to support this outbound approach, but we often find recruiters shifting their focus from outbound towards inbound/programmatic recruiting as they start to see the benefits over time.
But when getting started with programmatic, most recruitment teams make a huge mistake – assuming potential candidates will apply the first time they see the ad or the first time they view the job description.
Our data shows (just like any other type of marketing) that it's far more common for people to need multiple touchpoints before they apply (4 – 5 seems to be a bit of a golden number).
Retargeting takes care of this by advertising to people that have already shown an active interest in your recruitment campaign by engaging with the initial "outreach" ads or visiting pages on your careers website related to similar roles.
For example, a candidate might see an ad for a role they're interested in, click that ad, spend a couple of minutes on the page looking at the job description, and learning about you as an employer, but they're unlikely to apply the first time.
Those people are automatically added to the 'retargeting audience,' which results in them seeing the sequence of nurture ads.
For example, later that same day, they might see a more generic employer branding ad for your organization, a day later, they might see a testimonial from a current team member in a relevant department, and so on.
Fundamentally, the entire objective of this stage is to close the gap between initial outreach and completed application so that you can move to the next stage. It's just like a sales funnel, but for hiring.
3. Lookalike
The lookalike phase is about automatically building audiences of people similar to those already applying and attracting more applicants at a lower cost.
By looking at the similarities between the profiles of the people that are applying for your roles, it's possible to tweak the targeting of your advertising so that ads are shown to those that are most likely to apply.
You're essentially casting a wider net, and giving your organization a better chance of attracting the right kind of people. This helps to maximize the number of relevant applicants you get from your advertising budget by only showing adverts to those people that are most likely to apply.
And a note on diversity recruiting: Pinpoint's programmatic advertising software will never discriminate based on race, age, gender, sex, sexual orientation, or religion. And digital ad platforms (including Facebook) are increasingly restricting the ability to target these criteria, even if you wanted to.
4. Learn
The quality of candidates is just as (if not more) important than quantity. It's this learning phase that enables the cost of programmatic recruitment advertising to fall over time, while ensuring the quality of candidates improves.
With information about the candidates you liked the best (i.e., the ones that you went on to shortlist, interview, or hire), the targeting system becomes more intelligent over time – ensuring your ads are seen by the prospective candidates you're most likely to want to hire.
This learning is applied to any similar roles that you advertise in the future. In this way, you're always "starting where you left off" in terms of making incremental improvements to your recruitment advertising.
Programmatic recruitment advertising metrics
There is a huge range of metrics that recruitment marketers use to create, improve, and measure the effectiveness of campaigns.
When you use a tool like Pinpoint to help run your programmatic recruitment ads, you won't need to get into quite so much detail, but there are a few metrics you'll want to be aware of:
Cost Per 1,000 Impressions
The amount that it costs, on average, to get the advert seen 1,000 times.
Cost Per Click
The amount that it costs, on average, to get someone to click on your advert and visit your careers website.
Cost Per Applicant
The amount that it costs, on average, to get someone to apply for a vacancy.
Cost Per Hire
The amount that it costs, on average, to make a hire.
How much does programmatic recruitment advertising cost?
With the support of an established programmatic recruiting tool (or by outsourcing to a specialist recruitment marketing agency), you can expect to start by allocating approximately 2%-3% of salary as an advertising budget for each vacancy.
So if you're expecting to pay £30,000 for a role, you could reasonably expect to allocate £600-£900 to advertising the position.
There are some exceptions to this guideline.
We'd usually recommend spending a little more than 2% of salary if:
You've not done any meaningful recruitment advertising recently

You don't have an employer brand that's well known in the candidate market

You've got issues with your reputation as an organization that makes it more difficult to attract talent

You're offering a lower salary and benefits than your competitors in the same location would for the same or similar roles

You don't have a compelling

employee value proposition

that resonates with the types of candidates you're looking to attract

You're trying to hire in an exceptionally competitive talent market
There are also situations where we'd expect you to spend a lot less than 2% of salary.
Let's say that you're hiring multiple people for the same role (e.g., you're recruiting five warehouse operatives in the same geographic location), then you may find you get sufficient applicants to fill all five roles for significantly less than 2% of the total of the five salaries.
There will also be times when you need to spend nothing to fill a role, because you've already got a fantastic candidate in your talent pipeline ready to be hired.
For example, let's assume you get fifteen applicants for the role of Sales Rep, the salary is £45,000, and there are three candidates that you'd consider hiring with only one open vacancy.
You can invite the two other candidates to join your talent pipeline, and next time the same role comes up, you can invite them to apply first before you spend another penny on advertising. Our clients are often successful in filling roles in this way.
Programmatic recruitment advertising budget benchmarks
Whilst digital recruitment advertising costs will vary depending on your organization's situation, what we can do is look at average costs by industry and seniority to get a good indication of the likely costs.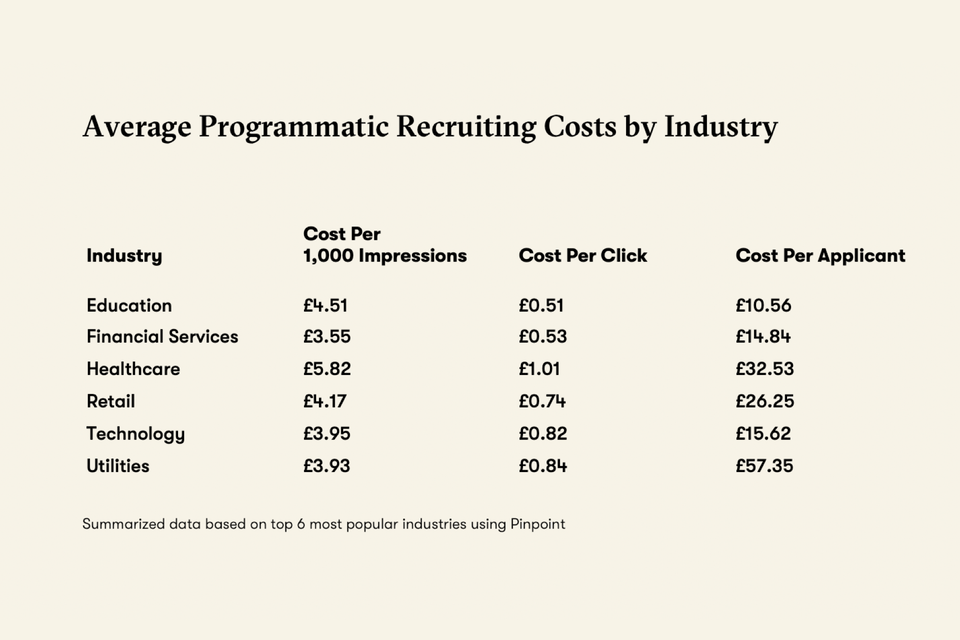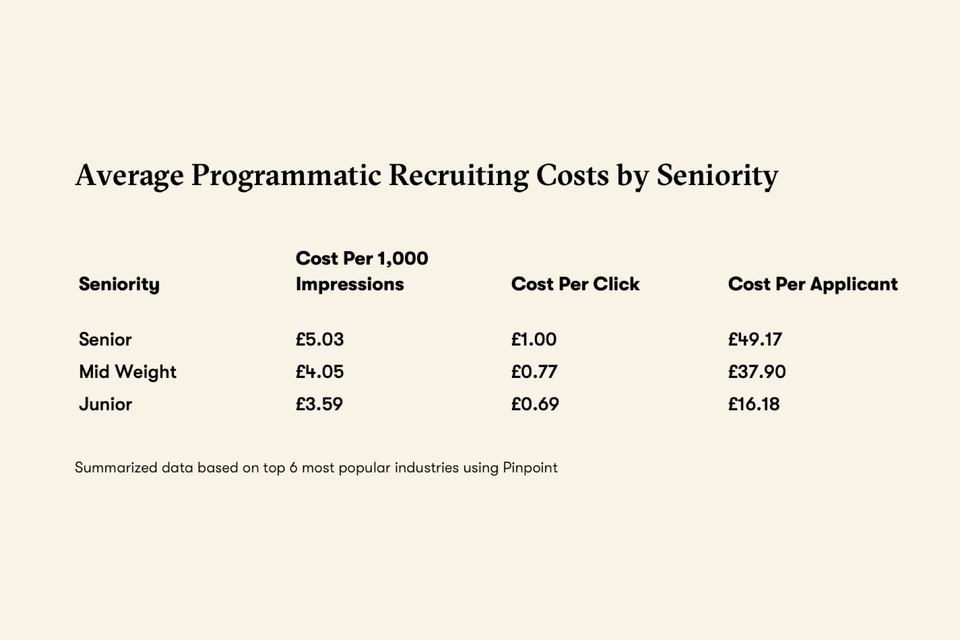 How to reduce programmatic recruitment costs over time
Over time, your programmatic recruitment software (or recruitment marketing agency) will learn more about the commonalities between the candidates that you decide to interview, and the candidates you choose to hire. This data will help to improve the targeting of your advertising over time. It usually results in the following changes:
Phase 1
During the initial learning phase, the number of applicants you receive for your budget increases (i.e., your cost per applicant goes down).
Phase 2
As the system learns more about the applicants you like, it automatically optimized your ad targeting to attract more applicants like them.
So, while your cost per applicant may increase a little at this point, we'd expect the quality of applicants to grow too. This would mean you need to attract fewer applicants to fill a role, so the overall cost per hire could still be expected to decrease.
Phase 3
As you advertise, awareness of your employer brand will improve. When you're hiring for similar roles in the same location in the future, experience tells us that your cost per applicant will fall over time.
What type of vacancies is programmatic recruitment advertising suitable for?
A first glance, programmatic recruitment appears to work better for roles with lower salaries (because the cost per applicant is lower), but remember that the average cost per hire will almost always be higher for roles with higher salaries – whether you're using automated recruitment advertising or not.
For example, if you're using recruitment agencies, they will typically take a percentage of first-year salary (usually between ten and twenty percent).
So if you were hiring a role with a £20,000 salary, you would be spending between £2,000 and £4,000 on recruitment agency fees. If you were hiring a role with a £100,000 salary, you would be spending between £10,000 and £20,000 on recruitment agency fees.
It's the same for programmatic. There are a number of reasons for this, but in summary:
It's supply and demand.
Some roles command a higher salary because there's a smaller candidate pool. Therefore it's always going to be more difficult to attract candidates from a smaller pool (and therefore it's likely to cost a little more in recruitment advertising).
It's more expensive to advertise to people who earn more.
This makes sense because we're competing with consumer brands for the same advertising space. Brands that are selling more expensive products will be able to afford to spend more on advertising to sell their products, and they will be selling those more expensive products to people with higher incomes.
More senior roles normally require more specialist skills.
This means that there's usually a smaller pool of potential candidates meaning the advertising has to be more targeted. The more targeted the audience, the more expensive the advertising is likely to be.
Are there any roles that programmatic recruitment advertising doesn't work well for?
Programmatic recruitment advertising isn't always the right choice for very senior or very specialist technical roles.
Examples that we've discussed with clients in the past include positions like c-suite roles and commodities traders.
That said, it usually works well to run some small employer brand advertising campaigns alongside more traditional methods like working with specialist head-hunters.
If you're ever unsure about whether programmatic recruitment advertising would be suitable for a role you're planning to advertise, reach out, and we'll be happy to offer some guidance – whether you're a customer or not.
What about the applicant quality?
As with all sources of applicants, there will be a mix of great, ok, and not great applicants.
But because the system is continually learning more about what types of candidates are a good fit for your organization, companies that use automated recruitment advertising find that the quality of applicants improves over time. This isn't the case with more traditional sources of applicants like job boards and print advertising.
By way of example, we recently advertised for a Sales Development Representative for Pinpoint.
From that advertising campaign, we've received 14 applicants for that role, two for an Account Executive role, and two speculative applications. All this for a cost of £450 (£25 per applicant).
From this we have:
Invited one candidate to join our marketing department talent pipeline

Invited one candidate to join our customer success department talent pipeline

Taken six candidates forward to interview for the Sales Development Representative role
And, we're confident that we will make at least one (if not two) hires from this pool for the Sales Development Representative role.
What factors affect the performance of programmatic job advertising?
If we define performance as a cost per quality candidate, there are a number of factors that affect the performance of automated recruitment advertising.
A number of these can be improved over time and include:
Your

employer brand

The quality of your

careers site

The content of your job descriptions

The number of questions and presentation of your application form

The complexity of your application process
And, these are the things that are more to do with your organizations hiring requirements:
The locations you're targeting

How many times you've hired for a similar role in the past

The number of roles you've hired for in the past using programmatic recruitment
Where do programmatic recruitment ads get displayed?
Usually on social channels like Facebook, Instagram, LinkedIn, and around the internet on the websites where your ideal candidates spend their time. Job boards will likely also feature in the overall mix of channels.
Are there any indirect benefits of programmatic recruitment advertising?
A strong employer brand and well-executed recruitment marketing campaign have an indirect benefit of positioning the business as a growing, forward-thinking organization in your market.
Users of Pinpoint that have adopted programmatic recruiting often comment that their recruitment campaigns have had a powerful impact on their wider brand perception.
Should we continue using our current recruitment channels alongside programmatic job advertising?
Programmatic is just another (albeit powerful) tool in the toolbox.
That's why we usually recommend that our clients continue using (most of) their existing recruitment channels in the short term.
This allows them to become more confident in the ability of digital recruitment advertising to deliver enough good quality applicants for each role and to understand whether there are any roles that they hire for that need a different approach.
What we find is that over a period of a few months, most organizations will transition some of their focus away from their existing channels because they get better quality applicants at lower cost through programmatic recruitment ads.
Where we do suggest changing the current approach immediately after starting to use programmatic as a channel, is when organizations are using external recruiters.
The aim of the game is to attract the candidates directly, rather than through expensive recruitment agencies.
In markets where there's a small candidate pool, the agencies are likely to be putting forward some of the same candidates that the organization could be attracting direct (at significantly lower cost).
If the agency puts the candidate forward before the candidate applies direct, you could end up paying an agency fee unnecessarily. Therefore, we recommend delaying the use of agencies for as long as possible for each role.