To improve the diversity in your workplace, you'll need to begin with how you recruit.
Implementing these ten diversity recruiting best practices will help to transform your business – and will form the basis of a diverse talent strategy for your organization.
Diversity in the workplace is a huge priority for in-house recruiters all over the world. But what should your diversity recruitment strategy look like? And, how do you attract diverse talent in 2020?
First up, here are the answers to some questions that we regularly get asked.
What is employee diversity?
Employee diversity is when a company has a diverse workforce, made up of people of all genders, races, sexual orientation, age, religion, language, education, ethnicities, cultural backgrounds, and abilities.
What are the benefits of diversity recruitment in the workplace?
A more diverse workforce means a broader range of backgrounds, skills, views, ideas, and solutions. Encouraging diversity in the workplace is a win-win for everyone. After all, companies with diverse workforces typically have happier employees, and are 35% more likely to outperform their competitors.
"A diverse mix of voices leads to better discussions, decisions, and outcomes for everyone."
If you need more reasons to focus on diversity and inclusion, studies have shown that more diverse workplaces have:
What qualifies as a diversity candidate?
A diversity candidate is an individual who brings unique perspectives to an organization. Yes, they can include members of minority groups, but diversity candidates also include individuals who bring a diversity of thought to an organization.
This means that members of the dominant group with different socioeconomic or educational background than the majority of an organization's members could also be considered diversity candidates.
What is diversity hiring?
Diversity hiring is when you hire based on merit, but with care to ensure that processes are free from bias related to age, gender, religion, sexual orientation, or other personal characteristics that are unrelated to how well an individual can do their job.
What does inclusive recruitment mean?
Inclusive recruitment means that your company emphasizes valuing different backgrounds throughout your hiring process.
What is the difference between recruiting for culture fit and recruiting for culture add?
Hiring for culture fit means that the person you're recruiting will fit comfortably in with the team that you've already got.
When you recruit for culture add, you concentrate on what the new candidate could potentially bring to your organization.
The problem with hiring primarily for culture fit is that your workforce will become pretty homogenous if you don't focus on expanding on that culture.
How can recruitment practices improve diversity?
If you don't focus on diversity in recruitment, you'll never improve the variety of your workforce. Recruiting a diverse range of individuals is the first place that you can impact the overall diversity of your workplace.
How can I attract diverse talent, and implement a diverse recruitment strategy?
Use the following ten best practices as a tick-list, and through implementing each one, you will be able to attract more diverse talent.
1.
Attract diverse talent by advertising roles in the right places.
If the majority of the people you attract are white males, it's likely that you're probably advertising your roles in a place where a lot of white males hang out. 
People can only apply for your positions if they see them advertised. So, it is worth looking at your existing workforce and considering if you're getting your vacancies in front of a diverse audience.
Although job boards for specific minority groups are out there, why not go even more diverse, and advertise where everyone hangs out… social media.
Increasingly, applicant tracking systems are including recruitment marketing automation tools that make this easy. In a couple of clicks, you can create and post a branded job advert across a range of social media. The automated targeting engine gets your campaign in front of people with the right skills, that'll want to work with you – and that you'll want to hire.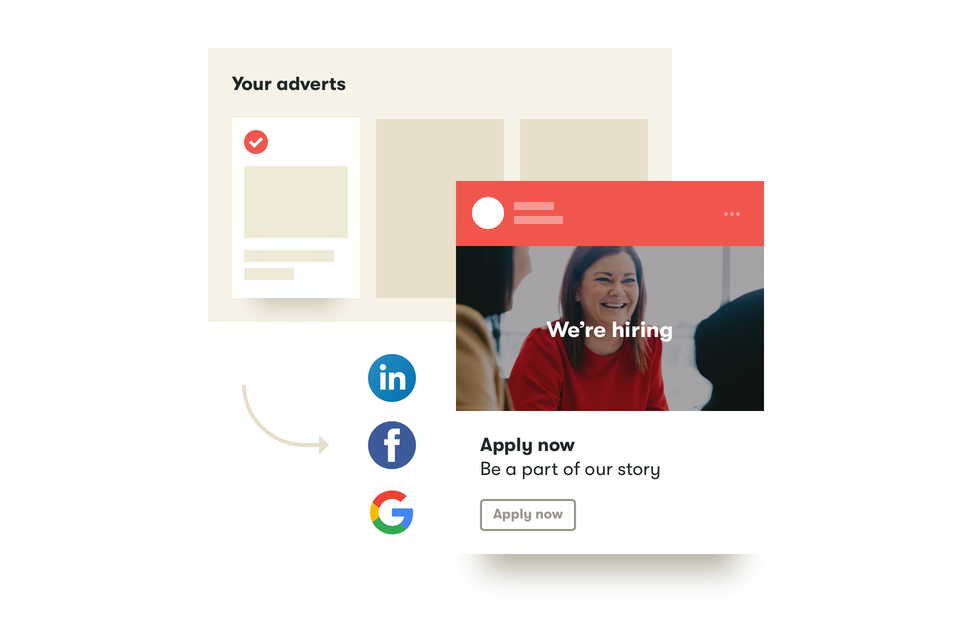 2.
Make sure the content on your careers website represents your organization's diversity.
Stock images are bad. It's always apparent when a company uses them, and they don't provide any insight into what the company truly looks and feels like for potential candidates. 
Assuming you have diversity within your existing team, use photos of your own team and make sure that those photos represent that diversity.
Invest a little time and money, get some professional photos done for your careers site, job adverts, and social media pages. It really does make a difference to how you're perceived by the public (and all of those potential new employees). 
If you don't currently have much diversity in a certain area of your business, maybe it's worth nodding to the fact that you're working on improving that.
Help Scout did a nice job of this here by highlighting the work they're doing to improve diversity—specifically in the variety of race of their workforce—using an infographic showing their current stats.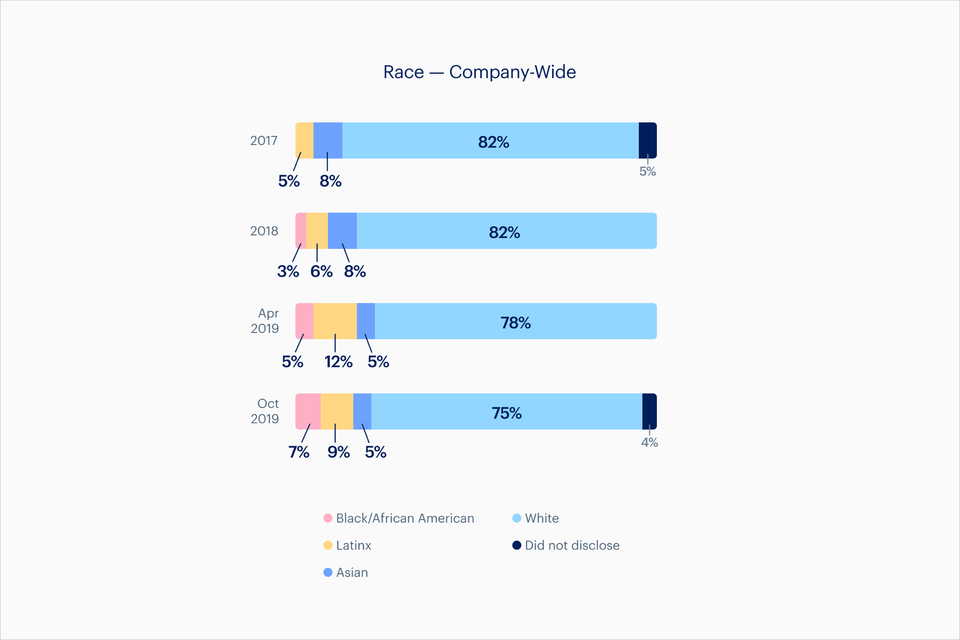 3.
Use gender-inclusive language in job descriptions and adverts.
Pop one of your job adverts in here to see what gender-coded language is. The likelihood is, you weren't even aware you were using it.
Research proves that using gender imbalanced language throughout a job description sustains inequality.
Buffer's HR specialists found that their company was getting less than 2% of applications from female candidates. The reason? They were describing the role of a developer as a 'hacker'.  Using gender-coded words like 'ninja', 'rockstar' or 'hacker' can have a serious impact on the gender imbalance of a workplace. 
A great tool to make sure that you're getting gender-inclusive language right is Textio, which helps the writer understand more about masculine-coded and feminine-coded words. It doesn't mean you can't use gender-coded words in your job descriptions; it just means you need to be mindful to balance the use of them out. 
4.
Use blind recruitment to reduce conscious and unconscious bias.
Start measuring candidates on what matters. Blind Hiring is a brilliant way of reducing bias at the application point of the recruitment process. 
The best applicant tracking systems have a blind recruiting feature that removes the applicant's name, contact information, age, gender, race, and photo from their CV and application. It helps hiring teams to assess applicants exclusively on their experience.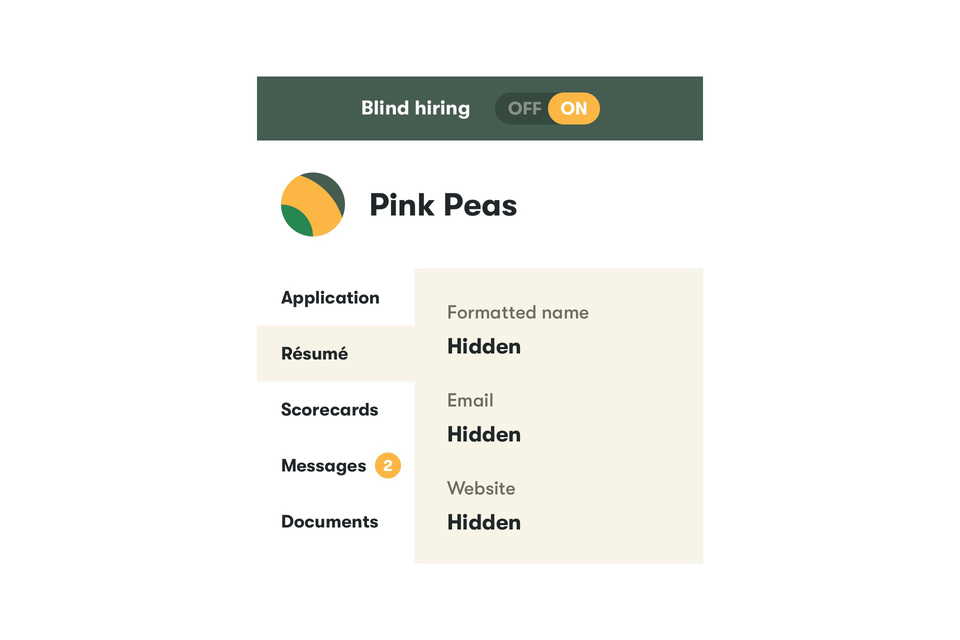 5.
Consider blind pre-hire testing - giving the applicant a project ahead of the interview to prove fit.
After using Blind Recruiting tools, an applicant's personal data is revealed to the hiring managers so they can get in touch for an interview. 
But ahead of this, during the shortlisting process, using blind hiring pre-testing is a useful way to prove potential fit ahead of an interview. It is just another way to reduce bias in your recruitment process.
In some industries, it can be worthwhile setting a project or a test for the applicant, and it may show quickly whether this candidate will fit within your business. 
Setting a project is generally easier and more effective in creative roles. For example, it'd be relatively easy to set design, video, editing, or copywriting projects to get a gauge for an individual's talent – however, if the role you're recruiting for requires high-levels of organization and project management, this is harder to measure in the same way.
In other areas, it might be worth setting a test over a project. For example, a typing speed test might be useful, an aptitude test, a numeracy test, or a proof-reading test could also show the baseline of the applicant's skills ahead of asking them to interview. 
Pre-testing and blind-testing has its limitations as, of course, not every industry will benefit from this type of screening.
6.
Implement candidate scorecards to measure applicants fairly against consistent criteria relevant for the role.
Make choosing who to hire fairer, faster, and more objective using candidate scorecards.
Ahead of the interview, create candidate scorecards to highlight what you are looking for during the hiring process.
This will reduce the risk of bias as each member of the hiring team will be scoring candidates against a set of consistent criteria.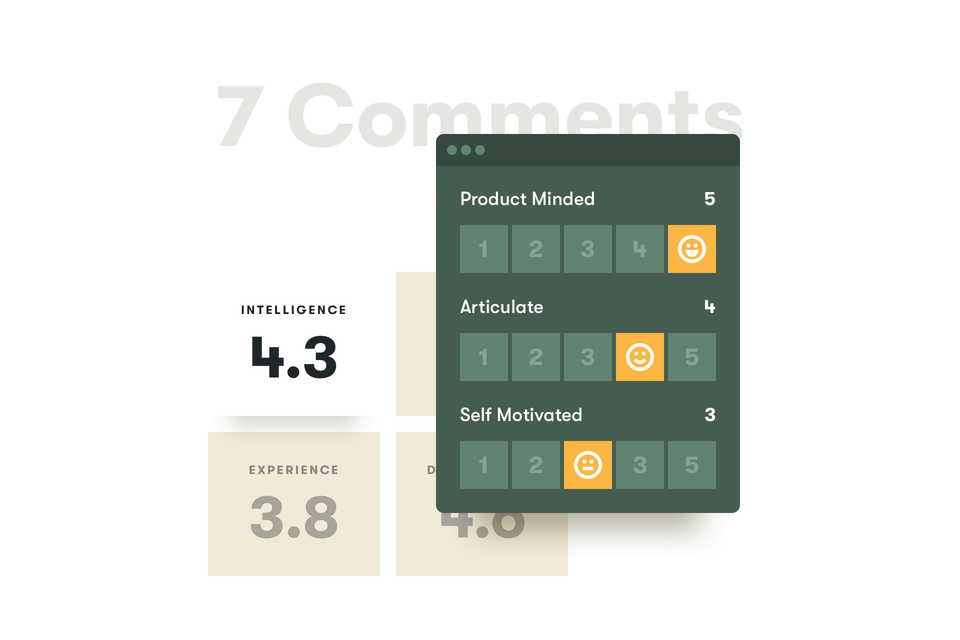 7.
Use an equality monitoring tool to report on your progress.
Having comprehensive equality monitoring reporting is imperative. It'll help you to understand what is (and what isn't) working in regards to your diversity recruiting strategy.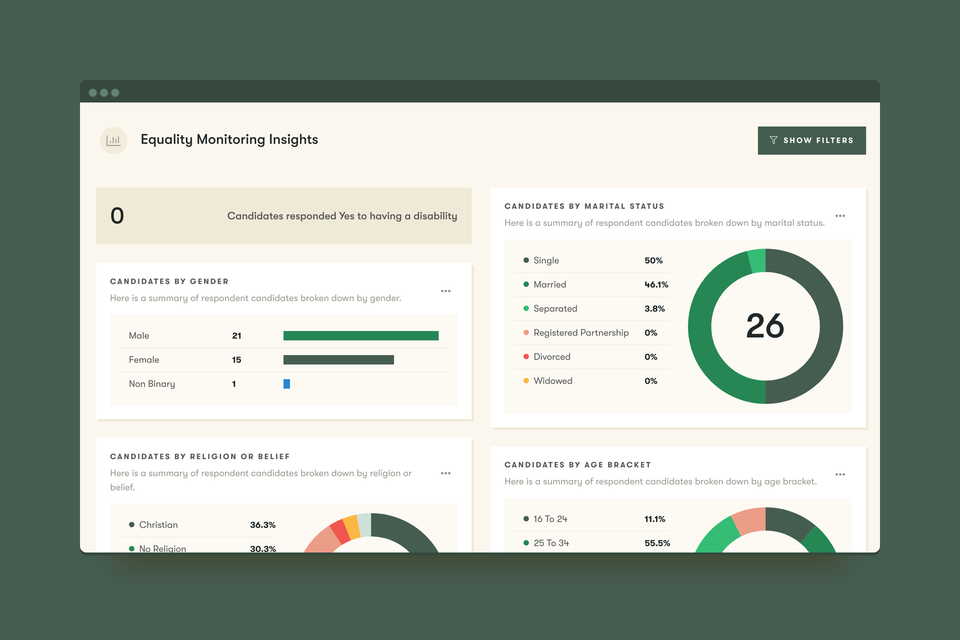 8.
Encourage referrals from your employees.
If there's already good diversity in your business, make sure nothing is preventing one particular group of people from making referrals.
Employee referrals are a great way of getting more talent into your organization, as it's likely that those who work for you share their core values with those they socialize with outside of work.
9.
Use an applicant tracking system to help you automate processes, and make it simple for hiring managers to follow your diverse talent strategies.
Using an applicant tracking system is useful in many ways. Not only will it help to reduce administration for in-house recruiters, but many features have been built with diversity recruiting in mind. 
Automated recruitment advertising, blind recruiting, equality monitoring, communication templates, and candidate scorecards are all diversity recruiting tools that we offer at Pinpoint (as features of our applicant tracking system), which help to support your diversity recruiting strategy. But, also, you get access to a team of experts who can help with job description writing, careers site appearance, and talk through other ways of supporting your diversity recruiting goals.
10.
Encourage a sense of belonging by advocating for everyone's voice to be heard in the workplace, and invest in growth and development.
A diversity and inclusion program isn't enough on its own; people need to feel as though they belong within the community at work. 
Pat Wadors, previously of Linkedin and now Chief Talent Officer of ServiceNow, has coined DIBs as the new D&I. If you need to hear a little more about the concept of DIBs, this video is a great watch. 
Writing for Harvard Business Review, Pat recommends six simple ways to instill a culture of belonging in the workplace:

Introducing someone as a whole person, beyond their roles and responsibilities

Asking people how they feel—and genuinely listening

Soliciting input from all in meetings—and not speaking over them

Delegating tasks in a way that demonstrates trust

Paying attention during meetings and avoiding distractions

Sharing stories and encouraging others to share their own
So, in summary:
A stable diversity and inclusion recruitment process is worth investing time and money in. Not only will it make your staff happier, more engaged, and productive – but it'll also make your business more profitable. 
If you need a bit more help, reach out, and let's discuss how we can improve your business diversity recruiting strategy in 2020.