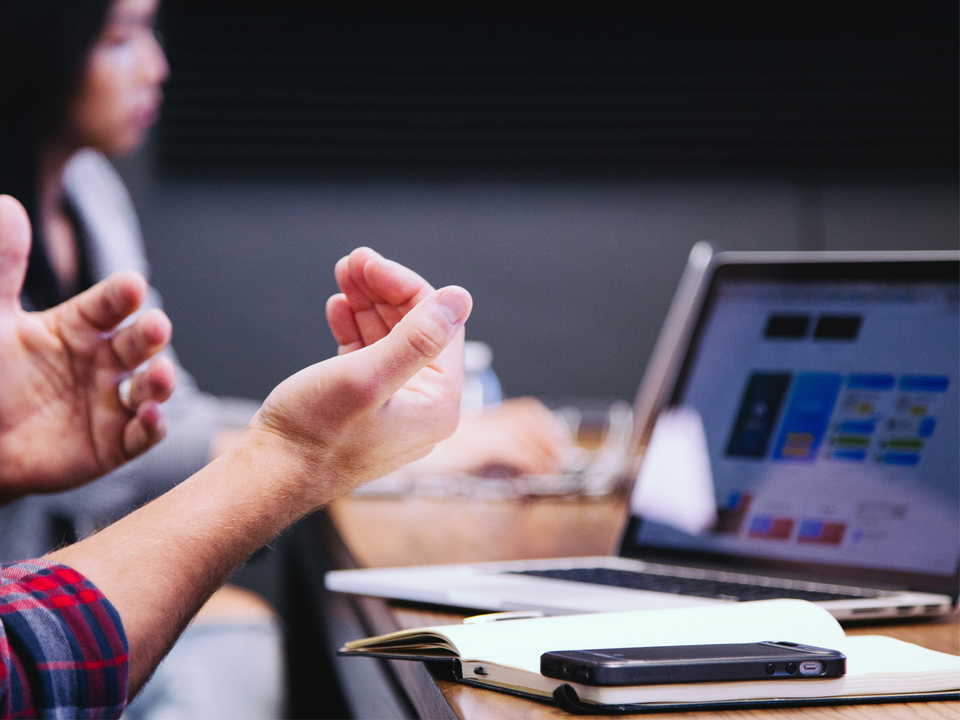 Insight
How to Build a Recruitment Plan – Nine Fool-Proof Steps to Make Better Hires, Faster
August 1st, 2020
1 minute read
We hear time and time again from our clients that they want to take control of their own recruitment, move away from relying on recruitment agencies, and make better hires for their business.
But, the shift to direct hiring can seem overwhelming. And, without a strategic hiring plan, you aren't going to get anywhere fast.
We know taking time out to create a recruitment plan sounds painful – especially when you're already so busy with the day-to-day. But, the rewards will far outweigh the time spent in planning if you do it right.
Get your free recruitment planning template
We've helped companies all over the world improve their recruitment plans and achieve their goals of spending less on agency recruiters, and make better, faster hires.
In this article, we'll share the same nine steps with you, and help your business to develop a robust recruitment plan.
You don't need to stumble through. Follow this guide, and we'll help you to get it right the first time.
If you're just planning on reading through this article, we reckon it'll take you about 25 minutes. But, if you're planning on using this guide to create an actionable, strategic recruitment plan using our template you'll need to set aside a couple of hours.
It'll be SO worth it, we promise. Get a coffee and let's dig in.
What is a recruitment plan?
A recruitment plan is a properly defined strategy for attracting, hiring, and onboarding the right talent.
A strategic recruitment plan will typically cover:
Your recruitment goals

Headcount planning

Ideal candidate profiles

Your employee value proposition

Your recruitment marketing strategy

Your selection process

Your onboarding process

Tools and technology 

Your recruitment budget
What are the benefits of a recruitment plan?
As the old adage goes, failing to prepare is preparing to fail. 
With proper planning, you'll become more proactive in your approach to recruitment resulting in better hires, reduced costs, and less last-minute panics to fill vacancies.
A well thought through recruitment plan will:
Save you time

Ensure you make the best use of your recruitment budget

Help you make better hiring decisions

Make sure your recruitment objectives are aligned to broader company objectives

Ensure your recruiters and hiring teams are working to the same common goals

Focus your efforts on building the right talent pipeline

Help you secure the budget you need to hit your goals
9 steps to creating a strategic recruitment plan
Action: Before we dig in, we'd recommend downloading a couple of super-useful templates that the team here at Pinpoint has produced based on our experience helping organizations all over the world develop strategic recruitment plans.
It's not necessary, but it means that as you go through these steps, you will have editable documents to make notes specific to your organization. It'll make your life easier and you'll end up with the bones of your recruitment plan by the time you finish reading this article.
The template pack includes:
A recruitment plan template

An ideal candidate profile template

An employee value proposition template
Get your free recruitment planning template
The first step to creating your recruitment plan is to get clear on your recruitment goals. It's all about high level goals at this point (we'll get into tactics later).
Whilst every organization is different, some of the common goals we see amongst our clients include:
Growing headcount 

Improving diversity 

Reducing the cost of making a new hire

Reducing the time taken to make a new hire

Streamlining recruitment processes and reducing repetitive admin

Empowering hiring managers to be more involved in the hiring process

Improving employee retention

Becoming less reliant on external recruiters

Building a stronger talent pipeline
Action: Open up your recruitment plan template, and complete the "Objectives" sheet.
2. Forecast future hiring needs
Now that you have some high-level goals in place, it's important to get a feel for the number of roles you're going to need to hire over the next 12 months.
Whilst this will never be 100% accurate, the aim is to make a sensible prediction so that (1) you can start attracting and nurturing the right talent proactively and (2) you can plan your approach and budget effectively.
Get your org chart up to date
You'll need an up to date copy of your org chart to get started. And if you don't already have one, get started on a draft right now. You don't have to use a fancy tool for this, but at Pinpoint, we use Pingboard to make creating and updating our own org chart easy.
Identify likely promotions
Within your current structure, who's likely to move around? Are there upcoming promotions you should be aware of? What gaps will this create?
Re-draft your org chart (this is where tools like Pingboard come in super-handy) to pre-empt these, and add these gaps to the headcount planning sheet in your hiring plan template.
Identify likely attrition and turnover
Think about retirement, resignation, redundancy, health issues, and performance. Are there people who are likely to be moving on in the next year?
For larger organizations where you don't have this information on an individual basis, use historic trends as a baseline for planning. Just remember that depending on your industry this may vary considerably year on year.
Again, re-draft your org chart to highlight these gaps and add these to the headcount planning sheet in your hiring plan template.
Growth
Now that you've got an outline of the vacancies that'll be created by movement within your existing workforce, we need to consider growth.
Are there teams where additional resources are needed? A big project coming up?
Talk to your managers and understand what roles they're likely to be creating over the next 12 months. Again, these roles to your org chart, and include them in your recruitment plan.
Skill gaps
How are your teams looking? Are there additional skills that need to be added to a team to help them flourish?
Larger organizations sometimes complete a formal skills gap analysis at this point. For smaller organizations, it may be a case of having a less formal chat with your team leaders. 
Keep a note of these gaps in your recruitment plan. When you're approving requisitions, designing job descriptions, and advertising roles, consider how you'll attract the right people to start filling some of these gaps.
3. Get clear about the type of candidates you want to attract
What values do your most successful team members share? What kind of person tends to work well in your company historically? What kind of person doesn't?
If you had to identify common themes between your 'star recruits', what would they be? Are there differences in these answers in different departments and locations?
Now that we've got you thinking about this, open up your Ideal Candidate Profile Template and create a profile for each type of candidate you're trying to attract. If you need some more guidance, this article will be really helpful.
4. Revisit your employee value proposition
In a competitive market for the best candidates, the organizations that will win are the ones that are clear about why someone would choose to work for them over a competitor. This is known as an employee value proposition.
When you're on the inside of a company, it's easy to see all the good (and bad) things about working there. You know what the team's like, what the expectations are, and what kind of person works well within your organization. You can also see when a new hire is going to fit right in – or, equally, be gone in their first month.
But, when you're an applicant things like the look and feel of an office, team diversity, and the culture are not obvious. That is, unless the employer makes a real effort to communicate this upfront.
And the employers that do, make the most successful hires.
No one wants to accept a job, only to find that it is entirely different to how they thought it'd be. It's disappointing. A letdown. And it leads to high staff turnover. It really is a waste of time for everyone.
It's your responsibility as a recruiter to make sure you're attracting the right people to your business by being very clear about what it's really like at your organization.
When candidates understand what your business is really like you'll attract the right applicants, and your new hires won't have a huge shock on their first day. It also means that they'll be way less likely to leave.
So it's time to revisit (or create) your EVP. Does it really reflect who you are and what you offer? Is it going to help you attract, hire, and retain the right candidates?
You can check out some great EVP examples here.
5. Develop your sourcing strategy
Once you've put some work into your employee value proposition, it's time to develop a plan for attracting the right candidates and review how well you're communicating your employer brand in the market.
Don't be the fool that assumed they're already doing a great job. Everyone can always do better.
Choosing the right recruitment marketing channels
With a huge range of recruitment marketing channels available, how do you decide which are going to work best for you? As with many things in marketing, "it depends".
If you're looking to attract a large volume of applicants fast and in an uncompetitive market, then job boards could be a good starting point.
If your focus is on quality, then employer brand campaigns on social media followed up with highly targeted digital ads promoting specific vacancies might be the order of the day.
Over the next few paragraphs, we'll delve into each of the channels that are most popular with our clients including:
Job board advertising

Recruitment agencies

Print advertising

Employee referrals

Job fairs/campus recruiting

Engaging with existing talent pools
Programmatic recruitment advertising
Programmatic recruitment advertising is the automated buying of online advertising to help organizations attract the best applicants.
Traditionally, recruitment advertising took a "spray and pray" approach. Today, programmatic recruitment advertising enables talent acquisition teams to target their advertising to be seen by exactly the right potential candidates – the ones they'd actually want to hire.
It's cost-effective and delivers consistent results.
Digital recruitment ads can be delivered across social media platforms and millions of websites where your ideal candidates are spending their time online.
Cost-wise, you can typically expect to pay around 2%-3% of salary to make a hire from programmatic recruitment advertising.
Job boards
Job boards remain popular because of their relatively low cost.
On the other hand, when not using relevant niche job boards, recruiters often complain that they attract a huge volume of completely irrelevant applicants that they then have to sift through and manage.
Job boards definitely have their place. They're a much more cost-effective way to reach the active candidate market than using recruitment agencies.
The key is in choosing job boards where your ideal candidates are looking for roles – and that often means going niche.
By spending some time researching the most relevant job boards for your vacancies, you'll spend less time reviewing irrelevant applications and attract more of the best candidates.
For example:
There are a huge number of free and paid job boards. If you need some ideas, feel free to reach out – we're always happy to help.
Recruitment agencies
There are few in-house recruiters that we speak to who love their agencies. They're expensive, their goals aren't always aligned with yours, and the quality of candidates varies dramatically.
On the other hand, over-stretched in-house recruitment teams are often worried that they won't be able to attract enough quality candidates direct and assume that reducing reliance on recruitment agencies will result in more admin.
With the support of modern recruitment software like Pinpoint, that's no longer a concern and organizations that figure out how to hire direct, are the ones that are winning the best talent at the lowest cost.
That said, we still believe there's a place for external recruiters when hiring for roles that require very specialist skills, or for senior positions where niche headhunters have access to the right network of potential candidates.
The average cost of hiring through an external recruiter is 15%-30% of the candidate's annual salary.
Print adverts
If print's still working for you then who are we to bash it. Of course, it's more difficult to measure than digital but there are inevitably industries where it can work.
But, just as with any other channel, ensure you're placing your ads where your ideal candidates are actually hanging out. We've seen clients just doing what they've always done and put ads in some very strange places.
The cost of print ads obviously varies dramatically and it can be more difficult to prove a return on investment on print than on digital advertising.
Employee referrals
Employee referrals are one of the biggest untapped resources for attracting good-fit candidates. That's why we believe everyone in your business should be encouraged to engage with your recruitment process.
If this is something you're looking to start or improve on, we've put together a whole guide on employee referral programs and offer employee referral tools as part of our own applicant tracking software. 
Cost-wise, employee referral schemes cost very little to run and, even considering the incentive you'll likely offer, they typically result in savings of up to $3,000 per hire.
Job fairs and campus recruiting
Although not a necessary part of a recruitment strategy, attending job fairs can be a great way of getting your employer brand in front of the newest brains entering the workforce. 
We'd suggest before you invest in heading to job fairs, that you get clear on who you're looking to recruit and select the job fairs or careers days that suit that goal – or decide if this form of recruiting is actually not relevant for your organization.
For example, if you're looking to recruit for entry-level positions predominantly, then you might concentrate on getting more of an educational careers day. If you're seeking tech graduates, then an industry-specific jobs fair would be a better fit, so that your brand is in the race for the best new talent.
Although job fairs are a great way to get your employer brand in front of many talented people, it's important that you select the relevant events – and that you ensure you've got the collateral to support your efforts. As you'll see at job fairs, often the businesses who are remembered are those with the most merch! Don't pin all of your hopes on getting lots of applicants immediately from these events, but it's a nice way of getting your brand out there.
Engaging with your existing pipeline
Whether you're going to be building a talent pipeline for the first time or you already have a strong talent pool, you need to think about how you'll keep these candidates engaged.
Typically this will include:
Keeping in touch through regular social media content, emails, and programmatic advertising

Manually maintaining relationships with your top talent pipeline candidates whether that's by email, social media, or in person

Inviting talent pipeline candidates to apply for relevant vacancies as they come up (usually by email)
Optimizing your marketing assets
Just like in product sales and marketing where buyers are doing their research before speaking to sales teams, candidates are doing their own research before applying or speaking to a recruiter.
Have you optimized all of your recruitment marketing assets to clearly position your employee value proposition and help attract the right kinds of candidates?
Careers site
Your careers site is often your first point of contact with any potential applicant. Over 60% of traffic to careers sites is now from mobile devices so it's absolutely imperative that it's designed mobile-first.
The majority of your applicants will be perusing on the go. As well as that, it should be totally on-brand, with lots of information about your company, what it's like to work for you, and what your team values.
Candidates should be able to apply with a single page application form. No logins. Don't make it difficult for your applicants, or you'll lose the best ones. Check out these examples of excellent careers pages, or this guide on improving your own careers site.
And whilst we're talking about optimizing marketing materials, this is an area where lots of organizations fall down when it comes to unconscious bias in recruitment. Consider how the images and language you choose affect who will apply. If this is an area of interest, we'd recommend watching this on-demand webinar on diversity recruiting.
Job descriptions
If you were trying to attract more customers you wouldn't just give them a list of things they'd have to do to use your product or service.
You'd explain the benefits of your offering, explain the purchase process, the support process, and give examples of how successful customers have used your service in the past.
So when it comes to writing job descriptions, why do we default to producing a bullet-pointed list of responsibilities and required skills with little or no reference to what the role will be like from the point of view of the potential employee?
When hiring teams aren't getting enough of the right applicants, one of the first things we review is their job descriptions.
The majority of job descriptions we review are nothing more than internal compliance documents produced to protect the organization that produced the document. Whilst these documents do have their place, they're not going to help you attract more of the best talent.
Job descriptions should answer the key questions that potential applicants are likely to have about the role. Do yours include things like:
What does a typical day look like?

What will I be working on?

What will I need to do to succeed in the role?

What type of people will I be working with?

What are the key benefits of working in this team/location/organization?
Social profiles
What's the first thing potential candidates do after checking out your careers site? Check you out on social media.
Social media profiles are a really important part of your employer brand.
So, make sure your social profiles tell a really good story of your people. Real images. Staff initiatives. Your mission, values, and culture should be very clear.
Pretend you're a potential applicant and have a creep on yourself. How does your organization come across?
Want to think about your approach to social media in more depth? Check out this article on social recruiting.
Review sites
In the same way that you check out hotel reviews before you book a holiday abroad, candidates use review sites to evaluate potential employers.
Bad reviews on sites like Glassdoor can put even the most engaged applicants off. So, check out your current reviews, read about what your employees (past and present) are saying about you.
If the reviews aren't too flattering there are two things you need to do:
Solve the root cause of the problem by making improvements in areas that have resulted in negative reviews

Encourage your most engaged team members to leave a review. Disgruntled employees are much more likely to have a rant online than your happy ones are to take time out to leave a positive review unless they know it's important
Create a task under the relevant objective in your hiring plan template for each improvement you need to make. 
6. Refine your selection process
Yes, turnover is partly the responsibility of the recruitment team.
Staff turnover is difficult for everyone. One way of making sure that you limit staff turnover is by making sure you have a killer selection process that results in the right people getting hired.
There are a number of things to get right here:
Ensuring your selection process gives every candidate a fair chance.

Ensuring your best candidates stay engaged.

Ensuring your hiring managers engage with the process.

Minimizing unnecessary admin by streamlining the selection process.
We speak to recruiters all over the world every day and there are some tools and approaches we commonly see them using to solve some of these challenges.
Introducing blind hiring
Blind hiring is the process of removing all information from résumés and applications that could result in conscious or unconscious bias during the selection process.
It's a great way to help ensure your selection process gives every candidate a fair chance.
If you're implementing this manually, be aware it's a fair amount of work. But some applicant tracking systems like Pinpoint offer built-in blind recruiting software that hides personal information at the click of a button.
Using candidate scorecards
A candidate scorecard is a tool used by hiring teams to score candidates in a way that's consistent, fair, and focuses their attention on assessing the most important criteria for the role.
They're proven to be a really effective way of gathering feedback from multiple people at each stage of the selection process, and give you the opportunity to be more consistent when comparing candidates.
Of course, you can customize the scorecard criteria per role or department, but adding a 'company culture add' scorecard to the mix across the board is almost always a good idea.
Ready to give this a go? Download our example interview score sheet template.
Automating interview scheduling
The back and forth of emails when trying to schedule interviews is a painful experience for candidates and hiring teams.
Most applicant tracking systems include an interview scheduling tool that enables candidates to schedule their own interviews based on your hiring team's availability. But if you're not using an ATS, stand-alone scheduling tools like Calendly can get you some of the ways there without a major investment.
Improving candidate communications
Communication is key! The worst thing that could happen, is that you've spent all this time cultivating a strong EVP, attracting great applicants …. and then during the recruitment process you lose them because they didn't know what to expect, and nobody kept them up to date.
Make sure you're including information about the process upfront – on your careers site, on the application confirmation page. And keep in touch with candidates at each stage of the process.
Include detailed information about what to expect from the interview on the interview confirmation email. Who will they be meeting? What's the dress code? What do they need to prepare? What should they do when they arrive?
Make a plan. Who's in charge of comms? Is it shared? How will you keep track of candidates as they move through the process? This is where it is really useful having an applicant tracking system like Pinpoint to help manage the process, but if you don't that is also OK. Just make sure that you don't lose that brilliant candidate to a competitor because you didn't keep them engaged.
Taking the admin out of background checks
Background checks are an essential part of most selection processes but they can also be one of the most labor-intensive parts, requiring candidates and recruiters to complete a huge amount of paperwork.
There's an ever-increasing number of software tools that can help automate elements of your background check process. A great place to find the right tool for you is this independent review site.
These are just a few ideas and you'll inevitably have some of your own. Create a task under the relevant objective in your hiring plan template for each improvement you need to make.
7. Design an onboarding process that sets candidates up for success
One of the key metrics that every recruiter should be considering, of course, is retention.
If your onboarding plan isn't up to scratch, it's highly likely that you're going to lose the awesome talent you've put so much effort into attracting.
After all, 30% of new employees leave their new job within the first six months. Let's make sure your new starter isn't one of them.
Small things can make a big difference.
If you're serious about improving your onboarding this ultimate guide to employee onboarding looks at what your new hire's first 90-day plan should look like (based on the 'Learn, Build, Do' model).
In the meantime, here are a few ideas to get you started:
Use an

onboarding tool

to minimize paperwork and keep everything in one place.

Send a welcome pack with stationery and branded items in the post before their first day.

Get their equipment to them, fully configured, ahead of day one.

Send a virtual greeting from the team – it doesn't have to be super professional, just make it an authentic 'we're looking forward to meeting you!' Bonus points if it's a video.

Ensure their line manager checks in with them regularly between offer acceptance and start date.

Get creative! Film a short 'this is your new office' video on a smartphone, or send a snap of their new desk – whatever you can do to make it personal.

Give new hires a login to training systems or an online portal before they arrive on day one. Make sure you set expectations. If this training is optional, make that clear. But give candidates the opportunity to geek-up before they start if they want to.

Give them the chance to introduce themselves – a bio post on the company intranet?

Make sure they've got the handbook and contract all well ahead of starting so that they can prep any questions they might have.

Give them a schedule of what their first week might look like. Make it clear what they're expected to wear, bring, etc. Your schedule doesn't have to be exact, but it'll calm a lot of new-job nerves, and help them to settle faster.
Planning to improve your onboarding process? Add a new task under the relevant objective in your hiring plan template for each improvement you need to make.
8. Identify tools that can help
Processes that were previously tedious and time-consuming can be automated, data can be stored in a central location rather than masses of spreadsheets, and modern careers websites can be kept up to date automatically.
The right tools no longer cost the earth. It's time to let modern HR tech help you out.
Programmatic recruitment marketing platforms
The days of "spray and pray" recruitment strategies are over, and you no longer need a full-time marketing team to run your recruitment marketing campaigns.
Programmatic recruitment marketing platforms enable in-house recruiters to run highly targeted recruitment ads across social media and the websites where their ideal future hires spend their time, all at the click of a button.
There's standalone recruitment marketing software, and other tools that are built into modern applicant tracking systems.
When your ATS and programmatic recruitment marketing platform are deeply integrated, the targeting of your adverts will be automatically adjusted to attract more of the types of candidates you're most likely to interview or hire. Over time, your costs go down whilst the quality of your applicants improves – all without requiring your team to have any experience in digital marketing.
Applicant tracking software
An applicant tracking system is as important for recruitment teams as a CRM system is for sales.
The right ATS should save you an unimaginable amount of time previously spent on repetitive admin whilst also helping you attract better applicants and improve your candidate experience.
Some applicant tracking systems include marketing automation tools and onboarding features. But even the most basic will offer some combination of:
A branded careers website and online application process

Interview scheduling automation

Candidate communication management

The ability to build talent pools

Team collaboration tools

A recruitment analytics dashboard
If you're wondering whether an applicant tracking system could help you improve your recruitment, these resources are a good place to start.
Employee onboarding software
Employee onboarding software empowers your team to deliver personalized onboarding experiences for every candidate, whilst spending less time on admin.
No more onboarding paperwork. No more back and forth requesting signatures. Everything's managed in one central portal.
At Pinpoint, we offer an onboarding add-on for our applicant tracking software but there are a number of great stand-alone onboarding systems in the market. One of our favourites is Enboarder.
Employee engagement software
OK enough with the shameless plugging. This is one area that we can't help with (yet).
Whether it's for performance management, or reward and recognition, employee engagement tools help streamline everyday "people processes".
Employee engagement tools enable HR teams to collect data on employee satisfaction, map out OKRs, plan one to ones, and recognize great work. Employees and managers can provide feedback, set objectives, and provide updates in a structured way.
Lattice is what we use in-house here at Pinpoint and RewardGateway is well worth evaluating.
As with any other software you're adding to your HR tech stack, we'd suggest you make sure whatever employee engagement software you choose can integrate with other systems that you're using.
Don't forget to include any recruitment technology on the "Budget" tab of your recruitment planner.
9. Create a budget to support your recruitment plan
A well-planned recruitment budget will help you demonstrate the return on investment of your direct hiring strategy to senior stakeholders and position your in-house recruitment team in a positive way. And when you can demonstrate that your in-house recruitment team is saving the organization money when compared to relying on external recruiters, it becomes easier to secure additional budget for the resources you need to do an even better job.

A comprehensive recruitment budget will include:
The cost of sourcing (e.g. job boards, programmatic advertising, recruitment agencies)

The cost of selection (e.g. background check and assessment tools)

The cost of onboarding (e.g. onboarding software, background checks)

The cost of general employer branding activity and the overheads associated with your in-house recruitment team (e.g. salaries). Some organizations will also include things like an allowance for IT / office equipment and other costs associated with the employment of your recruitment team
To get you started, we've included a recruitment budget tab as part of our recruitment plan template. The budget tab pulls in data from other parts of your recruitment plan to make it easier to plan your recruitment costs ahead of time.
We hope that you found this article helpful. We wanted to share the steps that we know are really useful in the mission to build a strategic recruitment plan that'll actually make a difference to your business.
We're always up for feedback, so if there's anything you think we've missed – reach out!
In the meantime, good luck in creating a strategy to help your organization make better hires faster, and spend less on outsourcing to agencies.
Get your free recruitment planning template