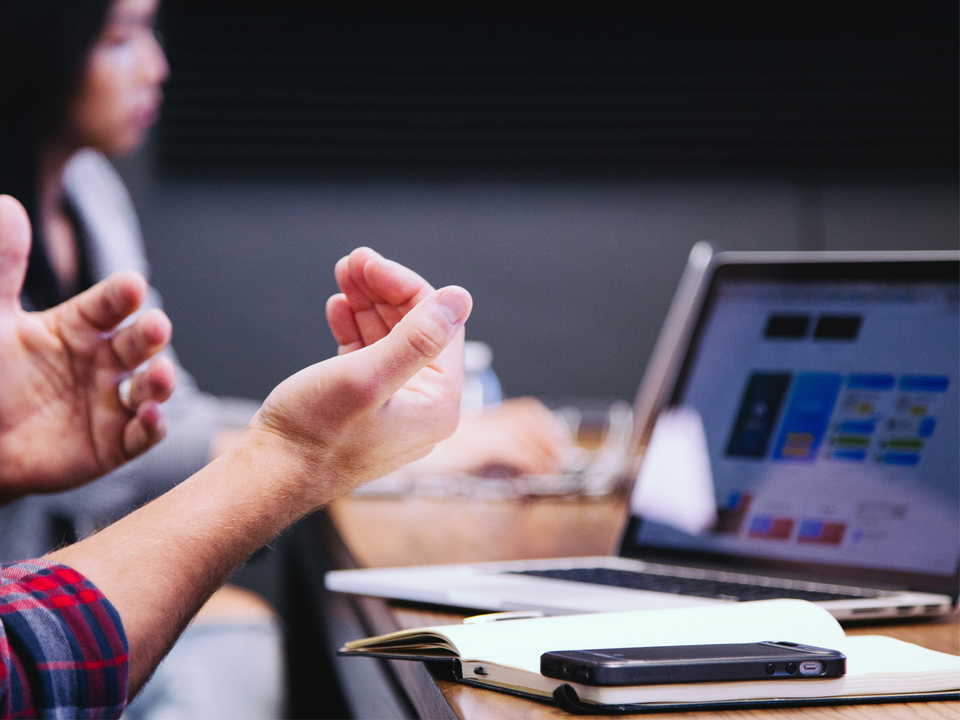 Insight
How to Build a Recruitment Plan, Step-by-Step
May 31st, 2023
18 minute read
Too often, recruiters feel like order takers.
Job reqs are boom or bust, so you're either scrambling to cover everything or worried about proving your team's value. Every hiring manager has different expectations on compensation and time to hire, and when they change their mind, you always feel like the last to know.
To break the cycle, what you need is a robust recruitment planning process. A full recruitment plan should include an agreed-upon workforce plan, hiring approach, and marketing strategy. If you don't have time for the full process, you can also do a quick-and-lite version if needed, though we recommend going through all the steps eventually.
A proactive recruitment plan is the first step to becoming a true strategic partner in the organization. You can get ahead of hiring manager requests, set clear expectations, and demonstrate how critical talent is for achieving the broader goals of the business.
We've asked our own recruitment team, as well as experienced recruiters from a range of industries, how they do recruitment planning. Here's their step-by-step guide, along with the real templates they use every day as part of their recruitment strategy. 
Get your free recruitment planning template
Step 1: Assess the situation
Collect the headcount plan
Ask each team to share the roles they plan to open this year, and how each role supports their team's annual goals. For example, this can help you understand which roles must be hired by a certain date, and which roles are more flexible.
You need to understand what the company is trying to accomplish, how that rolls down to [each] department, and then how they see all these hires contributing to that.
Review internal and external materials
Start by auditing your core metrics. Check internal reports and your ATS's reporting for core hiring metrics, including:
Speed
Time to hire

Time to fill

Average time in each interview stage
Candidate attraction
Hires by source

Candidates by source

Offer acceptance rates
Cost
Cost per hire

Actual vs. budget
Quality
Net Promoter Score

Performance after hire

Retention rates
Equity
Candidates by demographic groups (race, gender, age, disability, veteran status, etc.)

Hires by demographic groups

Conversion rates on specific jobs by demographic groups
Then move on to qualitative materials, such as:
Feedback from candidates (surveys, Glassdoor reviews, coffees with new hires)

Feedback from hiring managers and leaders (surveys, performance reviews)

Internal notes on what has and hasn't worked before
And take a look at your current candidate experience, including:
Careers site

Job descriptions

Communications sent to candidates
Ask for feedback
Have an open-ended conversation with your stakeholders about how they think hiring is going. Consider requesting feedback from:
Candidates

Recent hires

Hiring managers

Department leaders

HR and recruiters 
Where do they see untapped potential? Where do they want to see improvements? What attracted them to the company and what was their candidate experience like?
Identify opportunities
As you review all this information, look for signs of issues and potential opportunities. It's also helpful to write down your baseline in each area so you can track improvements over time. 
Typically, the opportunities you find will fall across three areas: Talent sourcing, employer brand, or new hire onboarding.
Finding talent: Are there untapped opportunities?
Channels that work and don't work, untested networks or tactics

Channels that are delivering volume but aren't delivering quality

Channels that have delivered quality, but aren't getting the attention they deserve
Branding: Are you selling your company?
Onboarding: What happens after a candidate accepts your offer?
Are systems in place to give HR what they need to set up new hires for success?

Is your

onboarding

process streamlined? 

What's the feedback from new hires and hiring managers about the onboarding process?
Step 2: Develop the headcount plan
Now that you have context, data, and feedback on previous hires, you can start planning for the future. The more an organization invests time into these exercises, the easier and more likely it will be to meet recruiting goals on time and within budget. 
Understand team goals and priorities at a high level
Organizational goals are driven by your employees. Meet with senior leadership and department heads to discuss company goals for the year. Is this a year of growth, or efficiency? Are there certain departments or regions we want to develop? Answering these questions will help your team to be aligned with leadership on the hiring mission and messaging. 
Design dream staff plans—then prioritize
Give department heads the opportunity to design their ideal team to reach that year's goals, budget notwithstanding. This will grant you greater visibility into their vision for the department, and what skills they want on the team. 
Then, help department heads refine each job description and prioritize each role, based on actual needs and realistic expectations. Some roles may be less vital this year, or could be solved without a full-time hire. In these conversations, you can help shape the plan for each department, manage expectations around hiring, and avoid frustration later on.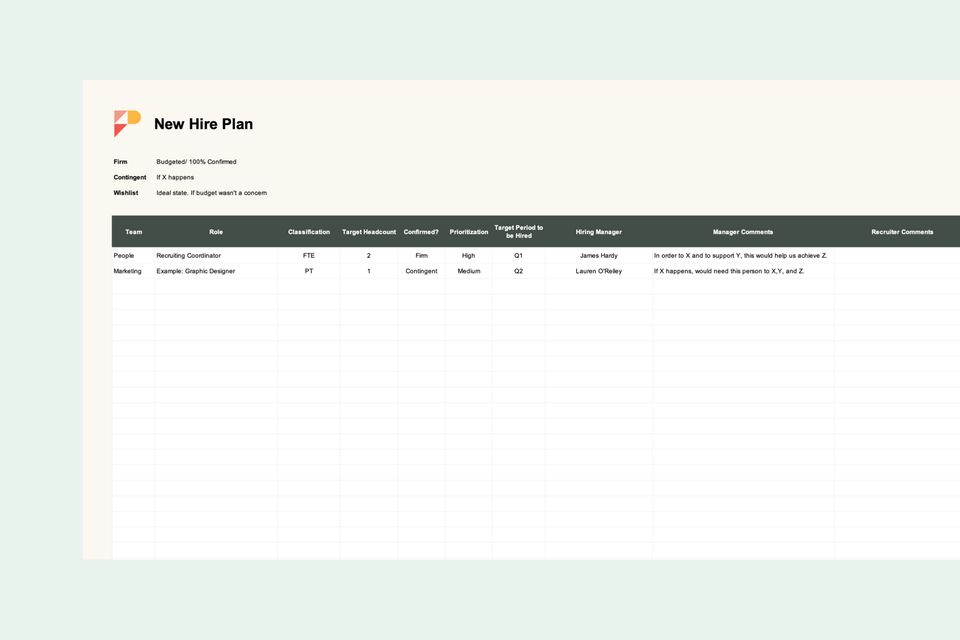 Get on the same page about levels
Internal alignment on levels ensures your hiring plan is both competitive and equitable. In a competitive labor market where remote work opens up more opportunities for employees, it is even more important to offer the right rate to hire the right person at the right level. 
At the same time, you want to avoid overpaying or overpromising. Not only will this impact your budget, but it could contribute to internal equity issues, which disproportionately affect women and people of color. 
Outline what is required at each level and define salary bands to mitigate the risk of some employees being unfairly valued. If it becomes harder to hire people at the right level because of pay, then it may be time to reassess trends in the market and adjust compensation levels accordingly.
Tip: Salary transparency attracts quality candidates. On Pinpoint, companies that include salaries in their job descriptions move 15% more applicants to the interview stage
Depending on the size of your organization, there are two ways to approach leveling: 
Uniform leveling: Everyone across the company follows the same track (associate, manager, director, etc.)

Functional leveling: Each department has a specialized and unique track. For example, the marketing team may have associates, managers, directors, etc., while the engineering team has engineer Is, engineer IIs, staff engineers, senior staff engineers, etc. 
Determine what makes sense for your organization based on your size and complexity. If developing levels from scratch, the process may take upwards of 9 months, but it will give your whole organization greater clarity.
Plan for backfills and promotions
In addition to new hires, you'll also need to plan for people who are leaving their roles to minimize the impact of losing skills or capacity on the team. To anticipate backfills, consider past year attrition and industry benchmarks along with current economic factors (growth in the sector, recession, etc.). 
Then, look at your current team to understand who is at risk of leaving their role due to performance, attrition, or promotion. Meet with managers to understand who is on track to be promoted and when so you can plan for their backfill. Be conservative with your budget and resourcing plans so you aren't surprised when the needs arise.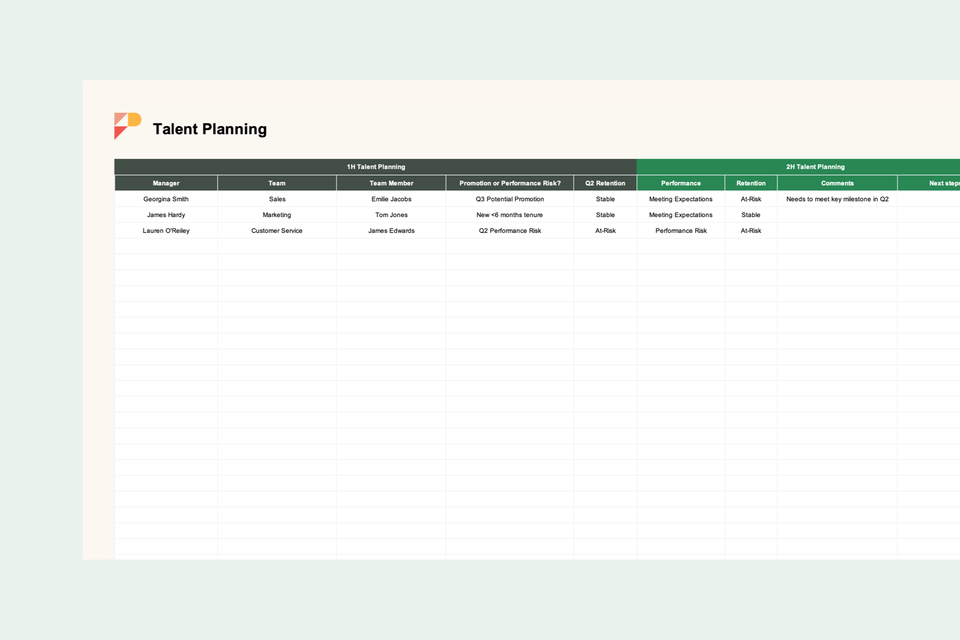 Set realistic and fair budgets
With defined level expectations and a conservative hiring plan, it will be easier to set budgets for new hire compensation. To stay on top of industry trends and remain competitive, we recommend these resources:
Include a budget for the resourcing you will need to reach hiring goals. It can be difficult to anticipate how challenging it will be to hire certain roles, and your talent team may be impacted by attrition as well. It's possible you will need to increase the capacity of your talent team with new hires or external support from contract recruiters, recruitment agencies, or recruitment process outsourcing provider (RPO).
Any budget proposal will inevitably result in pushback. By working through these steps, your plan should already be aligned with company priorities, but you can make your case even stronger by:
Demonstrating past recruitment cost per hire and recruiting budgets as a reference, and reiterating how the organization wants to improve this year

Leveraging leaders who are most invested in making good, fast hires to advocate for the budget

Using research (benchmarks and models) to illustrate estimated return on investment of those hires for the company 
An iterative approach
A workforce plan will set you up for success, but won't be set in stone. Shifting priorities, feedback from hiring managers and candidates, and macroeconomic factors will alter your plan over time. Regularly report on data, solicit feedback from stakeholders, and realign on goals to stay on top of these changes. How often you should check in on this plan will depend on your team size and existing processes, but here is an ideal cadence: 
Weekly:

Meet with hiring managers while you have active roles open

Monthly:

Meet with department heads if you are hiring for their teams

Quarterly:

Meet with all department heads to review goals, along with potential backfills and promotions
Step 3: Set realistic timelines
Manage expectations for your team and increase the likelihood of hiring people on schedule by setting estimated timelines. Outline the process for hiring managers and any other stakeholders to ensure they know what is required of them, like submitting requisitions in a timely fashion and allocating time in their schedules for interviews. When recruiters and hiring managers know what actions they need to take and when, your team will be able to respond quickly when strong applications come in. 
To set timelines, refer to historical hiring data along with industry benchmarks. Keep in mind that other economic factors may impact timelines. For example, post COVID-19 and the Great Resignation, more people have reevaluated their priorities and found that they could find better options that fit their values, meaning employers have had to act fast to land top talent. 
For hiring managers, the wait always feels long. Be upfront and provide a detailed timeline so they can see what is involved in the hiring process and feel assured that work is being done.
Example timeline from the Pinpoint Recruiting Team:
Day 1: Job is posted

Weeks 1-3: Align Job Post and Target Profile

Gather initial results from job posts and adjust accordingly (title, salary, location, etc.)

Fine tune alignment on required skills and background with real world profiles

Ramp up sourcing and screening

Weeks 4-8: Screening and Interviewing

Initial screening conversations with 5-10 candidates per week

Hiring manager interviews with 3-5 qualified candidates per week

Continue to fine tune alignment on job post and target profile

Continue to source as needed to meet benchmarks for qualified candidates

Weeks 9-12: Accepted Offer

At Pinpoint, most roles can be filled in 60 days or less (time to accepted offer). Executive (Director and above), technical, or highly specialized roles could take up to 90 days to get to an accepted offer.
At Pinpoint, we dedicate a section of our internal communication tool to share documentation on the recruitment strategy and approach so the whole team has visibility. We also share reports from our ATS to keep hiring managers and senior leaders up-to-date on the status of open roles.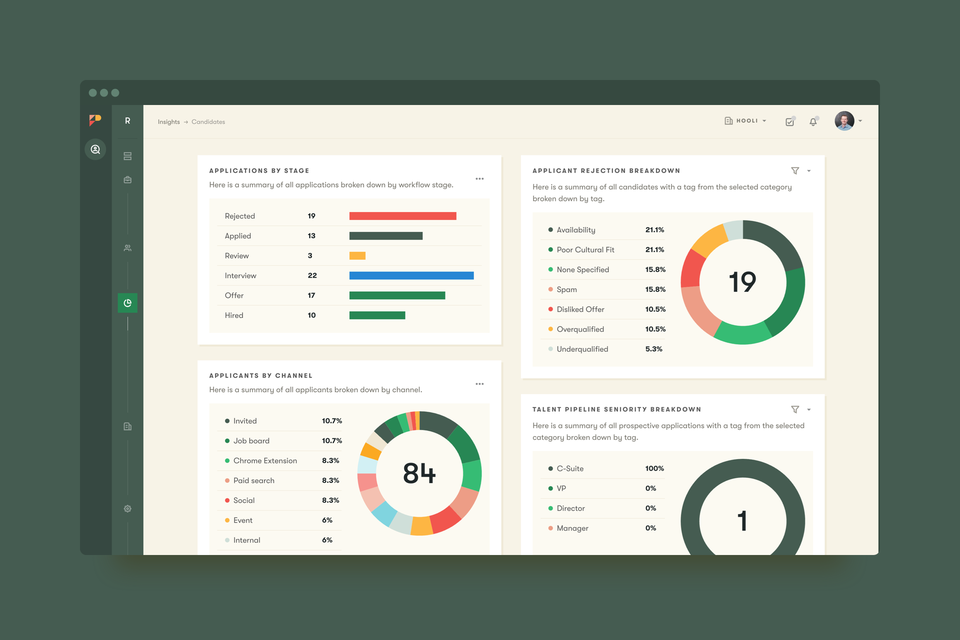 If you still receive pushback, explain the value of having recruiters conduct a thorough, high-quality screen. With more time to vet applications, recruiters can protect hiring managers' time and only forward the best candidates. If hiring managers become the bottlenecks, here are tips for staying on pace without adding more work to their plates:
Ask hiring managers to share a sample of CVs or LinkedIn profiles that reflect the ideal candidate and align on what "great" looks like 

Reserve interview blocks on interviewer calendars in advance 

Bring in additional interviewers for various parts of the recruitment process

Utilize

automatic scheduling

in your ATS to allow for one-click booking

Align on the priority of roles to expedite those that are most immediately needed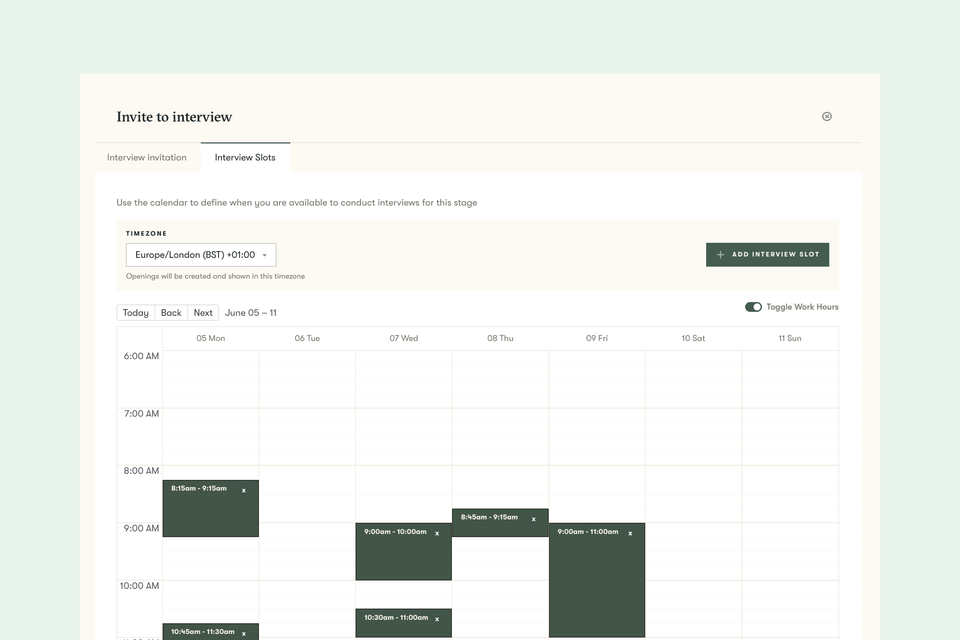 Step 4: Launch the search
Search kickoffs are about identifying what kind of candidate you would like to hire, how you'll get their attention, and how you'll keep the search on track. 
Start by getting detailed information about what the hiring manager actually wants and needs via a Requisition form. It's most helpful if they share this in advance so you can review it before the first conversation with them. You can then verify and expand upon this information when you meet.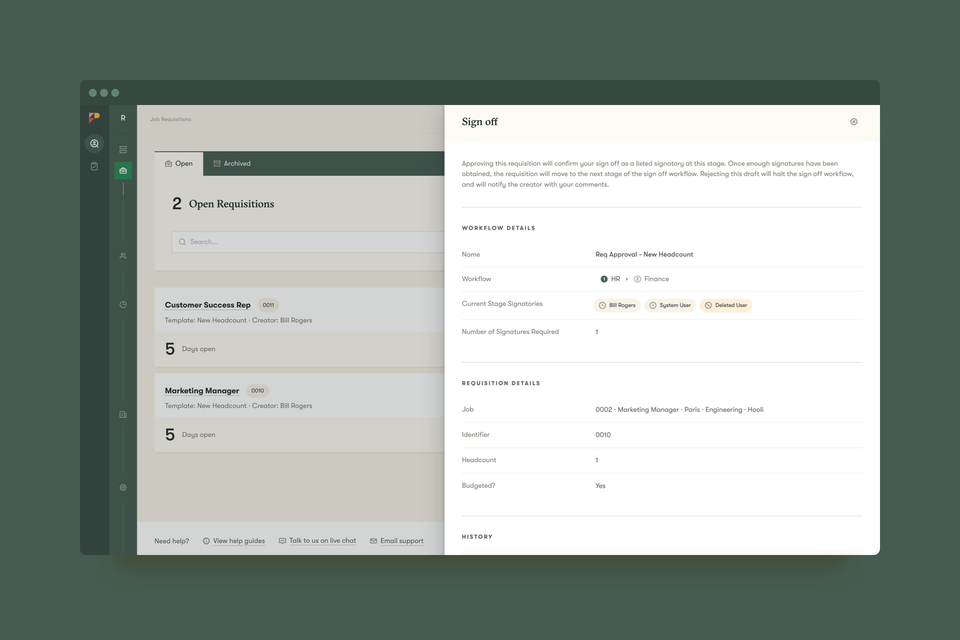 While it can be tempting to publish open roles as quickly as possible, it's worth investing time to customize job postings so they communicate your Employee Value Proposition and attract the right talent. This will allow you to bring in qualified, interested candidates more quickly. 
This also applies to marketing the role—collaborate with the hiring manager to think beyond your typical go-to job boards and identify if there's anything new or different you can try for this particular search.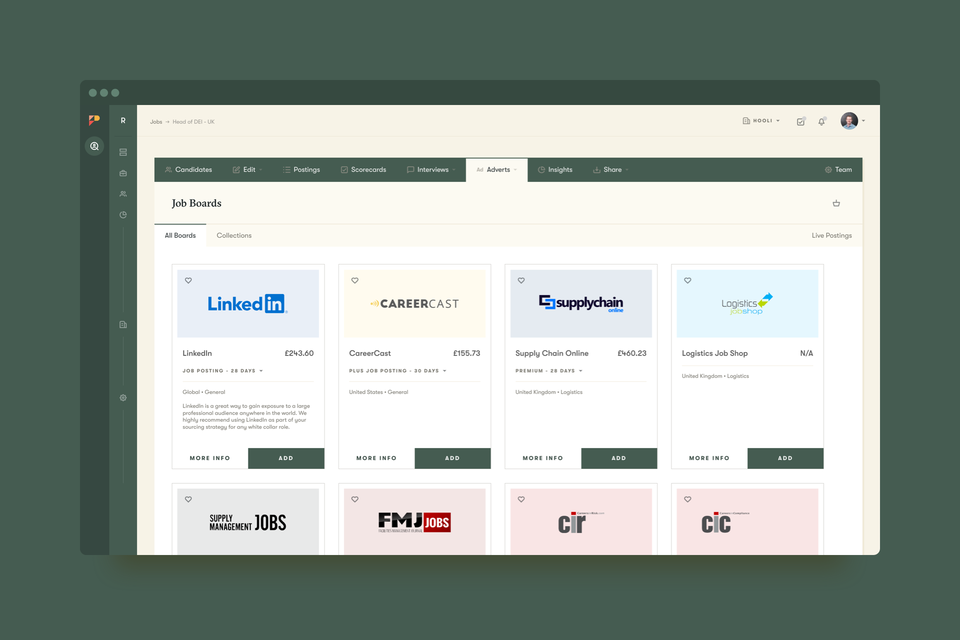 Schedule an initial kickoff meeting with the hiring manager to establish your processes for working together. Identify a day and time to meet each week to check in on the search. Confirm the interview process early on so that everyone knows what to expect and this information can be shared with candidates, ideally in the job posting. 
Step 5: Coordinate the recruitment process
Once the search has started, recruiters will be overseeing a lot, including hiring managers. For them, hiring is essential, but it amounts to just a small percentage of their day. An ATS should make it easier for recruiters to keep the process moving without adding excessive work for hiring managers. Here's advice from some of our customers on how they've been able to increase efficiency up to 70%, in part by collaborating better with hiring managers:
Hiring manager portals
The New York Public Library has about 400 managers who are involved with hiring, in addition to their many other responsibilities. The NYPL team set up a streamlined hiring manager view that made it easy for their team to comment, tag, rate, and share feedback on candidates all within Pinpoint. 
Hiring managers now have greater visibility and a more active role in the process, resulting in greater outcomes for everyone.
It's really allowed us to coach our hiring managers to be better at creating a great experience for candidates.
Interview scheduling
Franklin Electric hires across a complex and international organization. Balancing people's schedules and time zones can be a huge challenge. For them, the best solution was to find an ATS with automated interview scheduling. Hiring managers are thrilled to have the access and functionality to fill roles faster, without having to wait on HR.
It's been a game-changer in terms of the impact and how easy it is.
Scorecards
Icario is always looking for more data behind their hiring decisions, especially to keep track of their diversity and inclusion goals. After implementing Pinpoint, they began using candidate scorecards to standardize the feedback process and make more informed decisions. If your ATS doesn't have built-in scorecard functionality, you can use this manual score sheet template.
It's been really cool to see the type of metrics that we get, or that we can even get metrics in the first place!
Step 6: Report on progress
To track team goals, you'll want to get a quick snapshot every week (or more likely everyday) of whether your search is on or off track. Your ATS should be your go-to source for data, with reports and dashboards that allow you to calculate key metrics.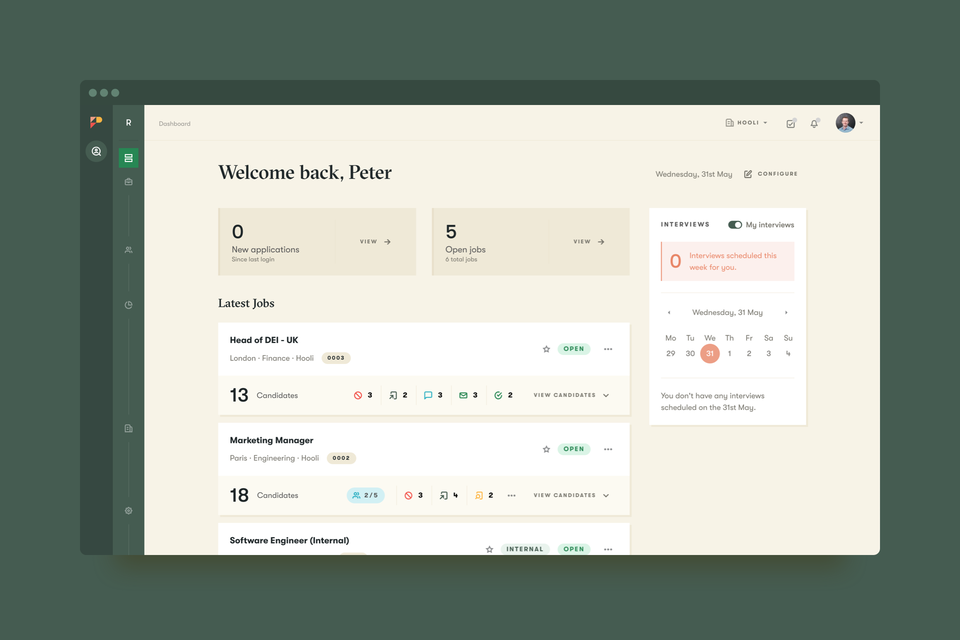 In some systems, you may need to create or download a report to get this information. If all else fails, you can also manually track this data outside your ATS (e.g. Google Sheets). 
Top 5 metrics to track during a search:
# Days Open

Average Number of Daily Applications

# Candidates in Each Stage

# Candidates Who Reached Each Stage (aka Historical Activity)

Conversion Rates (aka Ratios)
These daily or weekly numbers are most useful when compared against benchmarks. You can establish benchmarks based on your own organization's historical data or public information about the performance of organizations similar to yours. These benchmarks will vary based on industry, company brand recognition, company size, location, level of specialization, management level, and recruiter experience. 
Example: Benchmarks for Days Open
By 21 days open, should be hitting goals for weekly candidates sourced, screened, and interviewed

By 45 days open (for non-technical roles), should have 2-4 strong candidates in final stages

By 60 days open (for technical roles), should have 2-4 strong candidates in final stages
Example: Benchmarks for Candidates in Each Stage
25-50 candidates receiving messages from sourcing outreach per week

5-10 candidates interviewing with the recruiter per week

3-5 candidates interviewing with the hiring manager per week
If you find yourself struggling to meet benchmarks as the search goes along, continue to revisit and ask questions about your sourcing and marketing plans. 
Consider:
Do you need to try new channels or new strategies to reach more candidates with the target profile?

Has the target profile evolved?

Are there enough people who fit your target profile to realistically fill the job in a reasonable amount of time? (E.g. if you're looking for someone with niche technical skills within close proximity to a physical office, there may simply not be enough people in that target profile to find someone without providing relocation.)

Should you try different messaging in outreach to candidates or in the job posting?

Are you and the hiring manager both clear and aligned on what good and great candidates look like?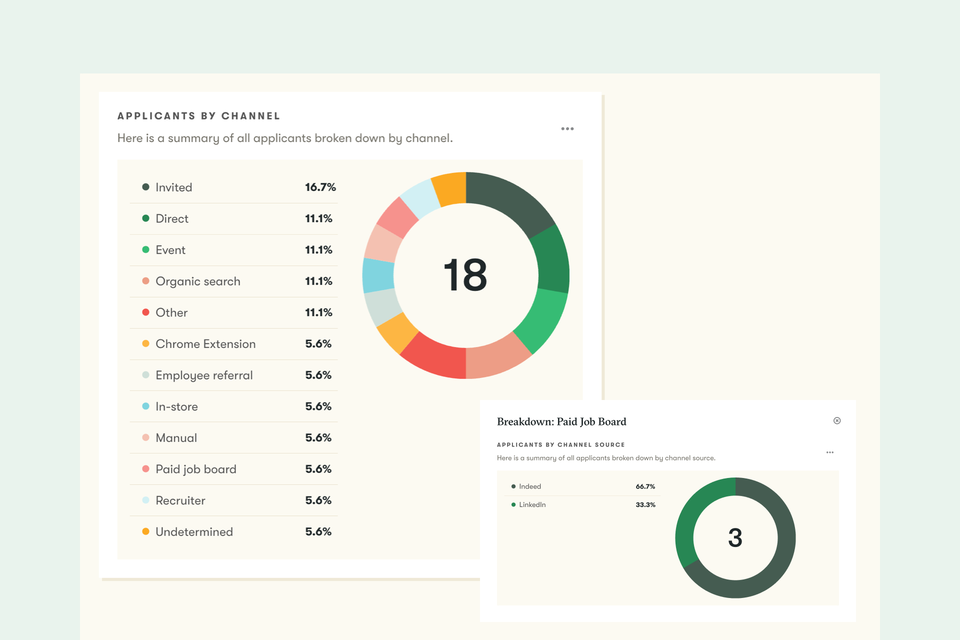 Step 7: Improve year-over-year
The only constant in recruiting is change. Once you've devised your plan, be prepared to return to it repeatedly, iterating and improving on your recruitment strategy as you learn. 
With a hiring tracker and reports showing key metrics, your team will be more aware of what is working and can pivot quickly if needed. When you embed reporting into recruitment, your team will be able to see the forest through the trees and have more control over the process. 
And it's never too late to start. Even if you are beginning this process mid-year, by the time you are planning for the next fiscal year, you will have more documented information to drive decision-making. 
By working directly with senior leadership, department heads, and hiring managers, you will also have greater visibility of the organization and more advocates on your side. With each subsequent year, you will be able to improve efficiency, collaboration, and the candidate experience. 
As you're going through the process, "ask a ton of questions and be selfish with your time," says our own Head of Talent, Mike Bradshaw. When he took over the role—as the company's first dedicated talent leader—he used a recruitment plan similar to the one outlined here to understand and prepare for upcoming hiring needs. 
Every one of us that's involved in recruitment—from leadership all the way down to individualized hiring managers—has improved the way that we think about talent as a result.
To get that kind of trust from the leadership team, don't worry about asking a silly question; just focus on making sure you get all the information you need.
"Some people are sort of timid about asking questions, or asking them again, or asking for more time," says Mike. It's natural to want to look confident and autonomous, especially if you're taking over a new role. 
"But then you end up making a lot of assumptions, and you might start running with something and find it doesn't work out, and then you have to take a step back," warns Mike. "Ask all the tough questions. Really try to understand what's going on, good or bad."
Get your free recruitment planning template