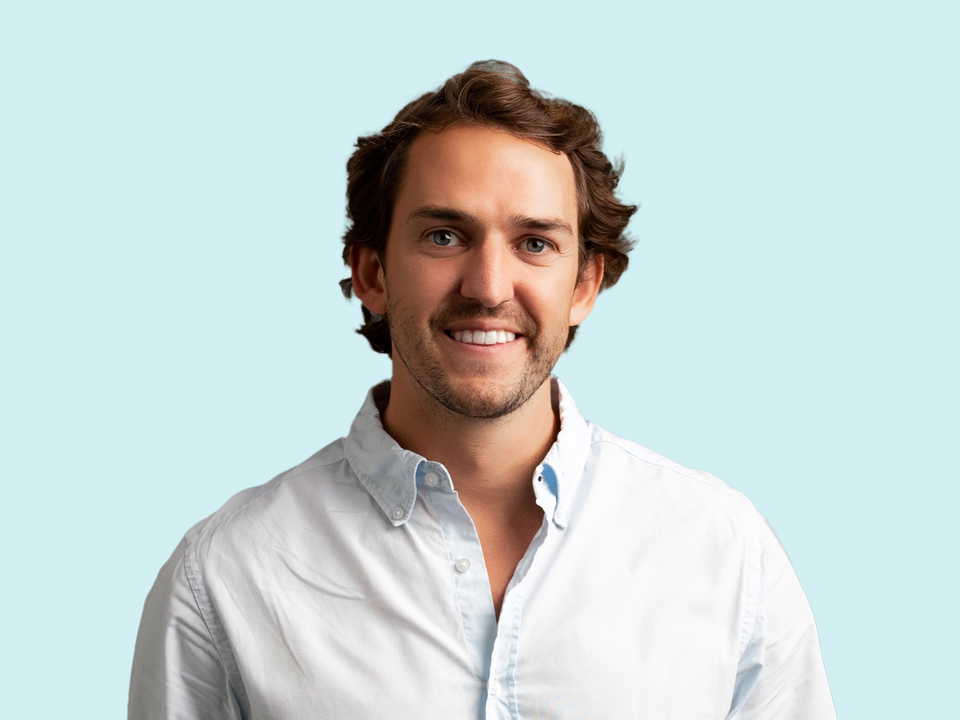 News
Product Spotlight – March 2021
👋 Hi there,
Welcome to the March edition of our monthly Product Spotlight, highlighting the biggest and most exciting updates in Pinpoint.
We're launching our new Employee Onboarding Platform, giving you exclusive access to new features to improve your careers site, and have 33 new job board integrations available.
Oh, and if we've not met yet, I'm Harry—one of the Customer Success Specialists here at Pinpoint. I spend most of my day helping customers get the most out of Pinpoint. Outside of work I can usually be found on the beach—surfing, and enjoying living on an island with good waves.
Let's dive in…
Launching Employee Onboarding Software
Candidates and recruiters love the experience they have with Pinpoint. But once the offer's signed, they get handed off to a clunky HRIS or, even worse, get emailed 25 attachments to print, complete, scan and return. Who even has a printer and scanner these days?
Is that really what you want the first impression of your organization to be?
For the last three years, recruitment teams have been asking us to bring out an employee onboarding platform that gives candidates and recruiters the same great experience they get from our core ATS.
For the last 18 months we've been keeping it all under wraps and building just that.
Today, it launches!
It's already proving wildly popular with our beta users. To make sure we have the capacity to give you the same exceptional Customer Success experience you got when you bought our ATS, we're rolling it out slowly and we've started a waitlist.
Interested?
Click here to join the live waitlist now. When it's your turn, we'll schedule a demo, confirm your price (with a special discount for our existing customers), and you'll have 14 days to decide whether to use your place or give it to the next person in the queue.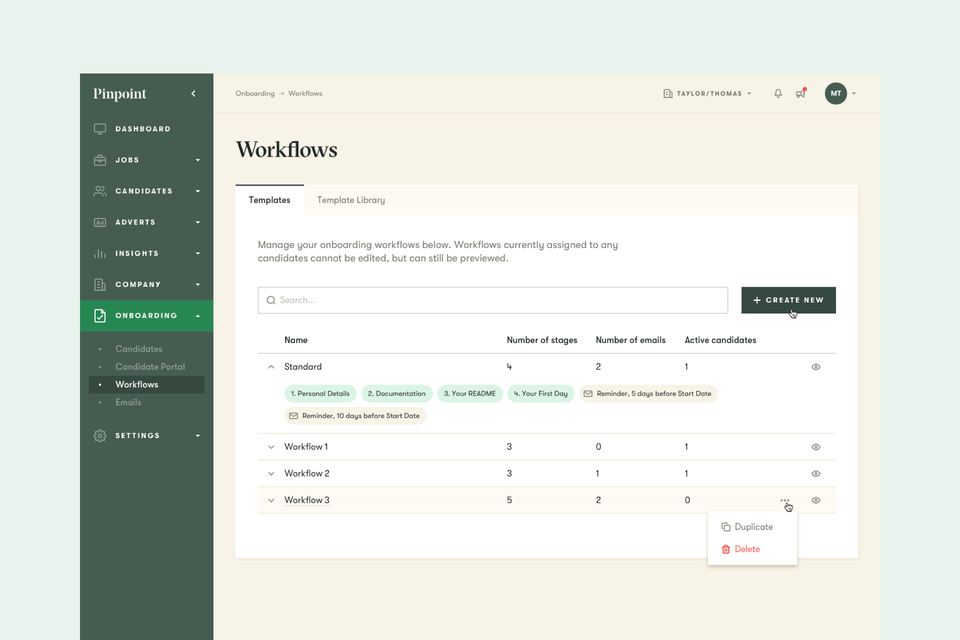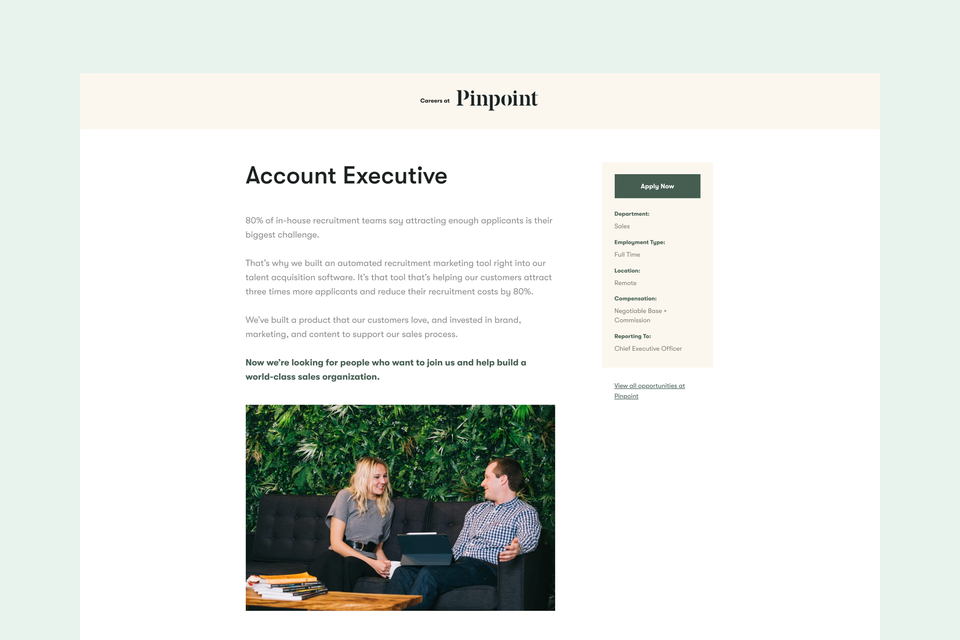 Include Rich Media on Job Descriptions
Sure, there are more candidates in the market, but it's still the job of recruiters to attract and hire the best person for the job.
Today's candidates care about security, transparency, flexibility, and purpose. Job descriptions that attract the best applicants are honest, compelling adverts—not a list of requirements.
That's why, alongside the hiring process and hiring manager profile, you can now include videos and images in your job descriptions through Pinpoint—making it easier than ever to show candidates what it's really like to be part of your team.
Some candidates are a bit too keen and apply for the same job multiple times resulting in lost time for recruiters who have to review every application. (We've all been there!)
When you enable the new "Block Duplicate Applicants" feature, Pinpoint automatically removes duplicate applicants, and emails them to let them know that their duplicate application has been removed.
We invest a lot of time building integrations with other best-in-class products.
In the past, it's been mostly up to us to build those integrations but, this month, we've made significant improvements to our API that make it easier than ever for those third parties to build integrations with Pinpoint. Our hope is for this to accelerate the growth of our ecosystem of integrations—making it easier to manage your whole recruitment process with Pinpoint.
Check out our API documentation here.
33 New Job Board Integrations
Managing lots of job boards outside of Pinpoint is time consuming and difficult. That's why we've added 33 new job board integrations to Pinpoint this month including:
Adzuna Germany
American Institute of Chemical Engineers (AIChE)
CareerCast
Careerjet
CW Jobs
Devex.com
Escape the City
FH Frankfurt
ITjob24.de
Jobblitz.de
Joblift Germany
Jobs.de (Careerbuilder) Germany
Jobstreet Indonesia
Jobstreet Malaysia
Jobstreet Philippines
Jobstreet Singapore
Jobware
Monster Germany
NEXXT USA
Qreer DACH Region
Qreer Europe
Qreer United Kingdom & Ireland
Strellenangebote.de
Stepstone Germany
StudentJob Germany
TechCareers.com
The American Bar Associations
The Guardian Jobs
Work in Startups
Working Mums Ltd
Xing
ZipRecruiter United Kingdom
ZipRecruiter United States
All of the new job board integrations can be accessed from our job board marketplace.
Other Small but Mighty Changes
Every month we make small improvements to Pinpoint that are a big deal to some of you.
🧰 Redesigned Templates Manager
Emails, scorecards, workflows—we built Pinpoint to be super flexible so that you can make it work the way you want. The launch of our new Templates Manager makes it easier than ever to create, manage, and edit your templates. You'll find the new Templates Manager in the Settings menu.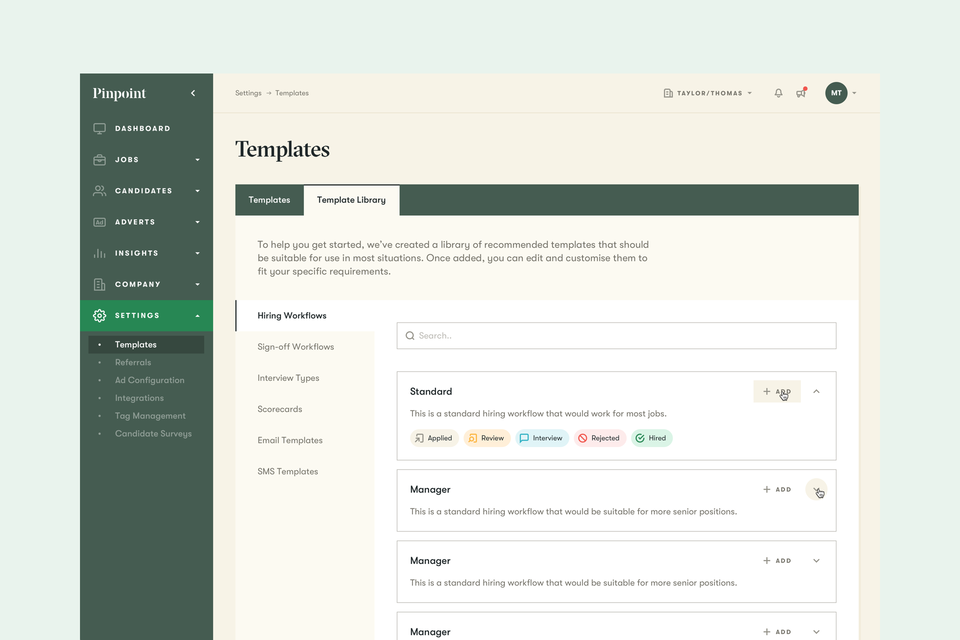 🎨 Careers site builder improvements
If you're not getting your candidate experience right, you'll never attract the best candidates. That's why we decided to make building your careers site a core part of what we offer at Pinpoint.
This month we've launched a bunch of new components—giving you more options to get your message across. These options include:
Secondary navigation
Carousel cards
Customisable footer
Job filter block
And the ability to create a "draft" careers site so you're not editing the live version as you make changes
Wondering if you're getting the most from your careers site? Find out more about what makes a great careers site here.
And that's it for this month.
We'd love you to get in touch if there's anything we can help with, or if you have feedback on this latest product release.
Want to see Pinpoint in action?
We'd love to show you around. Watch our on-demand demo video today.