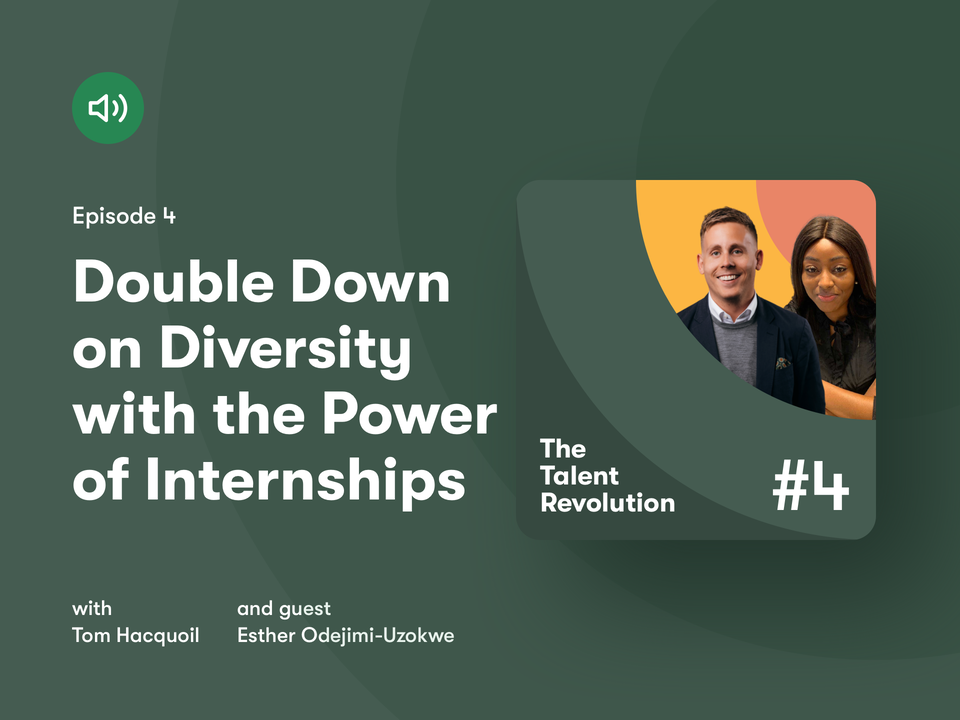 Podcast
If Your Diversity Strategy Doesn't Include Interns, You're Missing an Opportunity
June 1st, 2021
1 minute read
Welcome back for Episode 4 of The Talent Revolution!
When Esther Odejimi-Uzokwe graduated from Oxford and started looking for work, she didn't see anybody who looked like her. As a woman of color seeking a job in finance, she saw a corporate world that was overwhelmingly white and male. 
And because she's not one to let that kind of thing lie, she set out to join a company that's doing something about it. 
Esther is now the Programme Director at 10000 Black Interns (affectionately known as 10KBI). What started as a hashtag and a relatively modest goal—get 100 UK companies to hire 100 black interns—has become a movement. An overwhelming response across industries has grown 10KBI's original vision exponentially.
When I spoke to Esther, she shared her insight on how to course-correct your talent pool with a targeted diversity program, and why attracting and impressing young talent is vitally important for your reputation in any industry.
Under-representation is a self-fulfilling prophecy
When Esther was in school (not all that long ago), she struggled to find people of color represented in the types of professional jobs she hoped to one day have. 
At a massive Oxford careers fair, which hosted representatives from hundreds of firms, she didn't see a single Black person amongst the sea of white-collar workers. After feigning interest at a few booths, she left the fair feeling frustrated and angry. 
10KBI's origin story has similar roots. The company's co-founders wanted to host a dinner for Black investment managers in London. That's when they discovered that, of the thousands of investment managers in the city, only about 15 of them were Black.
In an industry that controls the city's capital, that revelation was deeply troubling.
For Esther, if a company talks about Diversity & Inclusion but doesn't have a single Black person in management, it's a sign of an organization that's all talk and no action. She and many others are actively uninterested in seeking positions at organizations with all-white leadership.
So how can companies who have struggled to increase their ethnic diversity convince candidates that their efforts are genuine?
It all comes down to visibility and mentorship. Make everyone feel welcome and appreciated, and perform routine gut-checks internally to ensure that people are getting promoted at the same rate.
The moment that someone feels welcome, says Esther, is the point at which they can focus on doing their actual job.
Interns aren't free labor—they're an investment
Increasing diversity in leadership at financial institutions starts with entry-level workers. That's why 10KBI set out to convince 100 UK investment firms to hire Black interns. Specifically, they'd place a Black intern in a front office revenue-generating investment management team for six weeks in summer 2021, paying at least the local living wage.
More than 200 firms signed up, and thousands of students applied for consideration.
Since the company's start, over 750 companies from 24 different sectors have gotten involved, pledging more than 2,000 internships in 2022.
(Full disclosure: Pinpoint is a participating company.)
If your company is located outside the UK—or if you haven't landed an official spot with 10KBI yet—don't worry. You can initiate the same kind of program on your own.
The key is to consider the internship an investment in your long-term recruitment strategy, not as free (or even cheap) labor.
Here are some tips Esther shared on the hallmarks of a successful internship program:
Pay market rates:

Pro-rate a junior-level salary for the length of the internship. 10KBI recommends a minimum timeframe of six weeks, but these programs can be extended and adapted to fit your interns' schedules.

Identify your target:

10KBI works exclusively with univeristy students, but not all jobs in knowledge work truly require a degree, so think carefully about the requirements of the role you're training people for. You may be able to broaden your pool beyond the universities.

Size doesn't matter:

You don't have to reach a certain size to hire interns. Some companies who have partnered with 10KBI only have five permanent employees.

Maintain a talent pipeline:

You might even opt to provide additional training to promising interns who aren't yet qualified for a full-time job offer. (This is also a fantastic way to improve your reputation as an employer—more on this below.)
Provide feedback: Offer up feedback at the end of an internship, whether you hire your interns or not. Quality of experience is crucial for your employer brand, even for temporary team members.
"Generation side hustle" could be your best (and cheapest) marketing tool
Internships aren't just a great way to actively promote more diversity in hiring. They're also the cheapest, most effective form of recruitment.
Consider this: You interview a pool of applicants and hire an intern. If all of those people have a good experience with you, they'll tell their friends—and the internet—meaning that each contact you make has exponential value for your reputation as an employer. 
And all of that word-of-mouth doesn't cost you a dime.
Treating your interns and candidates well, whether you hire them on or not, is essentially free marketing. Above and beyond one-on-one conversations, candidates are leaving reviews on platforms like Glassdoor about their experience with you. 
In a world where your reputation is just a Google search away, it pays to make a good impression at every opportunity. From the first application to the exit interview, people will share their experiences.
Esther confirmed that she deliberately avoided applying to firms because of negative feedback she'd heard from other students. That kind of bad press isn't just bad for the individual company; it's bad for the industry.
Making a good impression on Millennial and Gen Z workers is the rising tide that lifts everyone. If they have a good experience with a company, they're more likely to remain working in that industry for many years, even if they move on from the company that first hired them.
And attracting younger workers is crucial; if your entire team is age 45 and up, what will happen in a decade when they start aging out of the workforce? 
Attracting younger workers requires a different strategy than well-established firms are used to. They're interviewing you as much as you're interviewing them. They want to know what they have to gain from working at a company. Will they leave better off than they arrived, in terms of work experience or quality of life?
Esther calls this new wave of workers "generation side hustle," because everyone is doing something outside of their day job. A job that promises a big salary but no quality of life doesn't have the same appeal it once did. 
Young workers want to know what's in it for them—and it better be more than a paycheck.
Subscribe today to get talent acquisition insights from industry leaders delivered straight to your inbox every week.