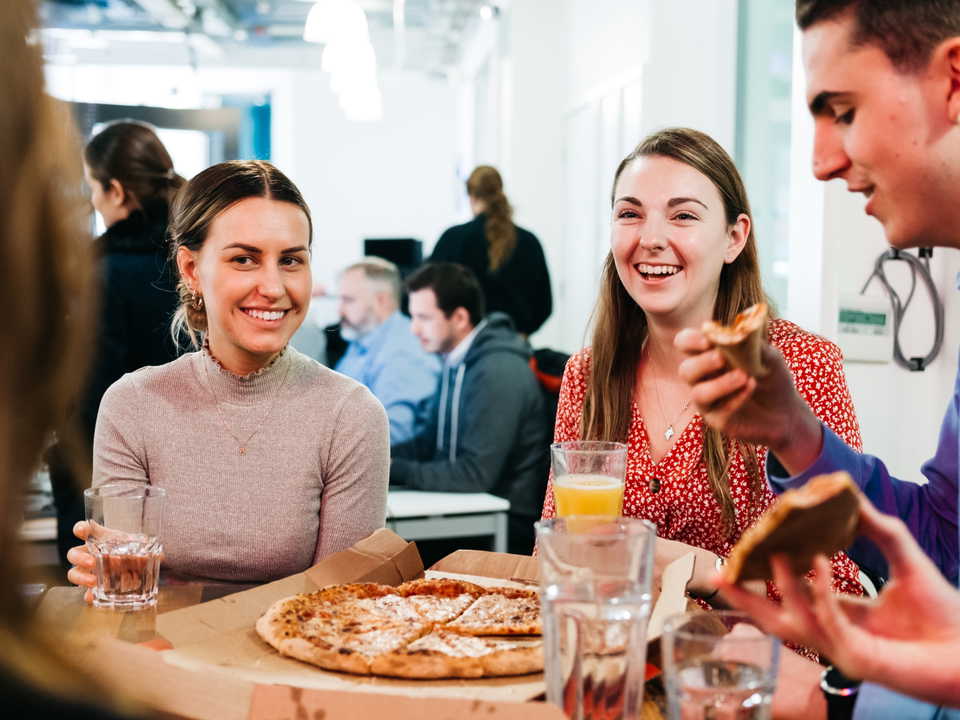 Insight
Turning Your Team Into Employer Brand Ambassadors
September 1st, 2020
1 minute read
Everything that happens post-hire is arguably the most important component of your inbound recruiting strategy.
Your post-hire experience is your product
Back to the 'recruitment is marketing' analogy—your post-hire experience is your product.
Marketing is a fantastic vehicle to get your product in front of the relevant people and make them aware of what you're doing, but the world's greatest marketing campaign isn't going to make up for a terrible product.
If your employee experience doesn't match up to your recruitment marketing, everything you've done to position your employer brand and make a great hire is going go to waste. If you misrepresent the real experience, that message will feed its way back into the marketplace exceptionally quickly. On the other hand, engaged, happy, and successful employees will invariably speak favourably about their experiences to others and – best case scenario – recommend your organization as a great place to work.
The takeaway here is that you need to focus on every stage of this process.
Incremental improvements in your recruitment process here and there are great, but will only deliver incremental (and temporary) results. To achieve a real shift in results, you need to allocate time and resources to improving every stage of the process.
Onboarding new hires well and supporting them to grow in their role will be fed back into the candidate marketplace. In turn, it will improve your employer branding, making the whole process of attracting more great talent much easier in the future – getting the inbound recruiting flywheel to spin even faster.
What are you doing to make the onboarding process the most engaging, rewarding, and educational experience the new hire has ever gone through?
Do you have an end-to-end onboarding plan that's tailored by role, department, and seniority? And can this be tailored further to each candidate?
What have you learned about that person through the hiring process that you can use to improve the onboarding process? If you've not learnt enough about someone to find this relatively easy by the time you're onboarding them, you're likely not asking the right questions – how can you alter this so you hire 'people' not 'resources'?
Does onboarding start on day one of the employee's tenure or are you doing what you can to get ahead of the curve before their official start date?
At Pinpoint, we have a multi-stage process that's designed to help give new hires a great experience before they accept the offer and prepare them for their role so they're ready to hit-the-ground running on day one.
The three stages of onboarding are:
Pre-offer
Pre-board (yes to desk)
Post-board (desk to success)
How do you really get to know a candidate before you extend an offer? How do you help them find out whether the role is going to be the right fit for them?
For instance, you could:
Invite them to lunch with their future team and wider team members.
Ask them to spend a morning or afternoon in the office so they can get a real feel for your working environment.
Give them a paid work project, so they can experience the type of work they'd be working on if they joined the company, and you can experience what it's like to work with them.
Ask them to join your weekly team/planning meeting where they'll hear first-hand about your current workload and how you operate.
Pre-boarding (yes to desk)
So a candidate has accepted your offer. How can you prepare them to hit-the-ground running?
Ideas include:
Provide a clear plan for their first day/week – what's expected of them, where will they need to be and when, and what do they need to know in advance?
Offer help with the bureaucracy. Whether it's using onboarding software to minimize your organization's own paperwork, or supporting with relocation advice, think about how you can make it easier for your new hire to transition.
Ask their new manager/team mates to congratulate them – e.g. by sending them a welcome/well done email that's ready and waiting for them in their inbox .
Share their LinkedIn profile with the rest of the team and ask everybody to connect with the new starter.
Post-boarding (desk to success)
Once pre-boarding is out of the way, it's important you continue the momentum by having a post-boarding process in place. These processes are invaluable for helping establish the foundations for future candidate success.
Time to first impact
How can we make this person feel like they've delivered value as quickly as possible?
Time to first impact is crucially important for new employees. More often than not, they're leaving an environment where they've clearly seen the impact they've delivered and have felt productive all the time. Now they're joining a new team where everything is unknown, but they want to deliver value.
Anything we can do to 'get out of their way' and set something up that ensures they feel like they've contributed something meaningful to their team as quickly as possible is a real win.
For example, a lot of engineering organizations want team members to have committed code on the first day. Think about what the equivalent would be in your industry.
The first day
In support of time to first impact, what does day one look like for your new starters?
Has everything possible been prepared? Have they arrived to an allocated desk with everything pre-bought, pre-built, and pre-configured? Or are they going to spend their whole first week trying to get a computer assigned and on the network?
Have they got an agenda waiting for them?
Are they made to feel disruptive or valuable?
Are they given some alone time to process information on their first day?
We often recommend asking new team members to start their first day a little later than the rest of their team so their colleagues (and anyone involved in the onboarding process) has the capacity to get stuff out of their way before greeting the new joiner.
Room to grow
Not everyone wants to manage other people in order to progress their career.
That's why the most forward-thinking organizations offer two tracks for growth – individual contributors and people managers.
Individual contributors
Are team members that contribute individually and don't manage a team. They often have specialist technical skills that are hugely valuable to the organization.
People managers
Are, as you would expect, team members responsible for managing others.
Organizations are increasingly recognizing the importance of individual contributors and giving them the opportunity to earn the same compensations as other senior executives that are providing equivalent value to the team.
Whatever you decide to do, make sure your team is aware of the options and ensure they can continue to progress (both financially and otherwise) in your organization, regardless of the direction they want to pursue.
This not only helps you attract and retain world-class individual contributors, but helps avoid the dreaded Peter Principle – that employees continue to be promoted until they get to a role they're unsuited/incompetent and stay there, which is damaging to both parties.
Turning team members into advocates
Is your team speaking positively about your organization as a place to work when they're talking to people in their network? More than that, do they actively encourage their friends to apply to work for you?
If they wouldn't recommend joining your team to a friend, something's gone wrong with their experience and you need to address it.
Do you have systems in place that actively encourage your team to be advocates of your employer brand? Employee referral schemes are structured programs designed to encourage existing employees to recommend contacts in their network for open vacancies.
Are you empowering and encouraging your team to talk about their employment experience in the real world?
Your alumni network is a powerful tool
What happens when a team member leaves your organization? Do you keep in touch? Do they still recommend your company as a great place to work? How are you associating your brand with them in the long term?
Previous employees can be (in most cases) a fantastic representation of your employer brand and a testament to your business. If a whole bunch of disparate previous employees have each gone on to do bigger and better things after leaving your business, that can reflect powerfully on your business. You've helped shape their success. Think of the Paypal Mafia or Google's APM programme as examples.
Keep your previous employees as engaged as your future ones.
Lots of organizations invest a lot of time/money/effort into being a 'great place to work', but very few invest enough effort in being a 'great place to have worked'.
There's a large difference here that most people don't appreciate. In a world where people have multiple careers, not just multiple jobs, being able to position yourself as 'the best place for you to be right now' or 'the best place to learn how to do X really well' is arguably the most desirable employer brand proposition you could possibly hope for.
This is exceptionally powerful as you grow and there are more people who have previously worked for you than currently work for you. If you've helped them on their career journey, they're likely to be speaking positively of you in the marketplace.
Getting started with inbound recruiting
Recruitment needs to be at the top of the agenda for everybody within your organization.
Great leaders cite 'people' as both their greatest asset and their greatest challenge.
Businesses are powered by people and your team has more of an impact on your success than any other factor conceivable. Despite this (and seemingly widespread agreement that this is a fact), look at your business' focus:
How much time/money/resource is dedicated to people?
Is HR is considered an overhead?
How many people (not in HR) have people (and specifically hiring) related objectives?
Do you dedicate as much effort to the 'who' as to the 'what' or the 'when' or the 'how'?
Getting recruitment right doesn't have to be expensive and the vast majority of the Inbound Recruiting concepts we recommend can be implemented at organizations of any size.
It's obviously easier to make an impact in many of these initiatives when you can have people and budgets dedicated to them, but an inability to do that isn't a reason not to try and move the needle at all.
We hope you've found our five-part series useful. If you have any questions about any of the insight we've shared in the posts or you'd like to find out how inbound recruitment can transform your recruiting success, get in touch.
You can schedule a call with one of our inbound recruiting experts here. No hard sell, just a chance to ask us any questions you have about inbound recruiting.
You can get a demo of our talent acquisition software that's designed to make the whole inbound hiring process easier here.
And we have a huge range of resources related to inbound hiring available in the resources section of our website. Some of the most popular are:
A complete recruitment planning guide
Employee value proposition guide and template
Programmatic recruitment advertising guide
Complete guide to social recruiting
How to design the perfect careers page